How to Choose the Right Floral Roses for Valentine's Day
Translation of red rose is deep love. It took on the meaning due to affiliation with the love goddess, Aphrodite. According to Greek mythology, rose bushes used to grow from her tears and her lover, Adonis's blood.
Aphrodite was turned into goddess Venus by the Romans who kept this flower as symbol of her beauty and love. All this made the rose a very obvious choice as a fitting gift when Valentine's Day came to be a mainstream holiday.
Valentine's Day is the most rose-centric time of the entire year. With an extensive array of beautiful colorful roses seen at a number of florists as well as some of the grocery stores around you, you may wonder; What is the best gift for you to give your Valentine?
Here's all you should know so that you choose the right floral gift for your special someone: 
Mix It Up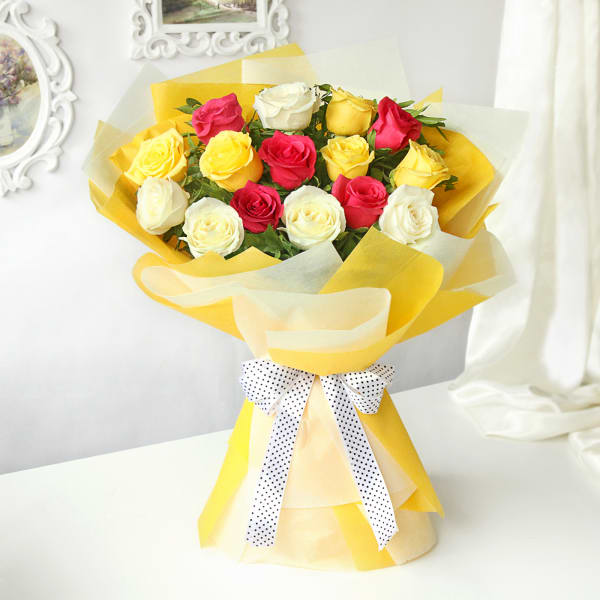 You could always mix roses of different colors to make a beautiful bouquet. Flowers other than roses can also be paired with roses to make for an attractive flower bouquet  gift.
Why stop at just flowers? Make a combination of flowers and chocolates, cake, nuts,etc or even a cute soft toy! Some good options for this melange would be:
Subtle Bunch of Lilies and Roses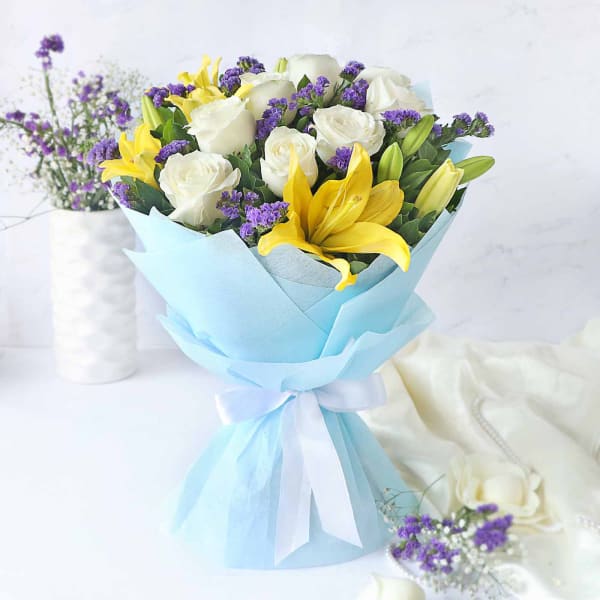 Go for a combination of pink roses which would represent your appreciation and love to accompany the beautiful lilies which symbolize purity. This set would make for a perfect intricate floral gift.

Cuddles With Bites In Floral Hamper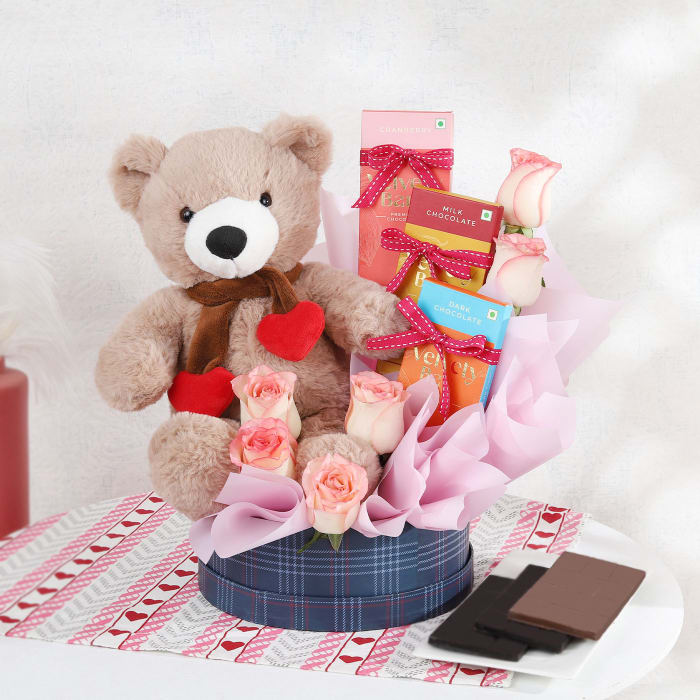 A loving and adorable way to send smiles and warm cuddles to all your special people. Make a hamper by adding a hugsy bear and sweet treats to accompany your flowers. This combo is sure to cheer up your loved one almost instantaneously.
You could go for premium smooth melt in your mouth chocolates, artisanal truffles or alternatively, heart-shaped delicious and crunchy cookies would also make for a good addition.

An Enchanting Floral Bouquet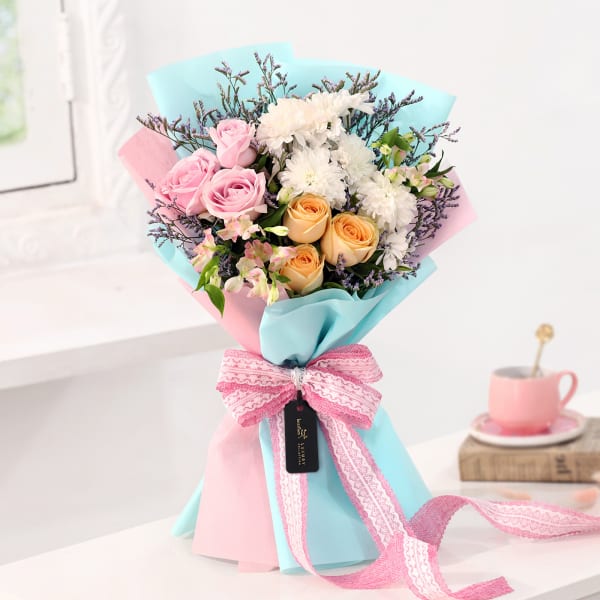 This versatile gift would let you speak with a floral tongue with words of adoration, admiration with sweet scent of flowers enrobed all around them.
Sweet blush roses, white chrysanthemums, peach roses, light pink coloured alstroemerias, mauve kaminis and limoniums would make for an amalgamation of variety and beauty. Surprise your special ones with this exceptional floral extravaganza.

Purple Orchids and Pink roses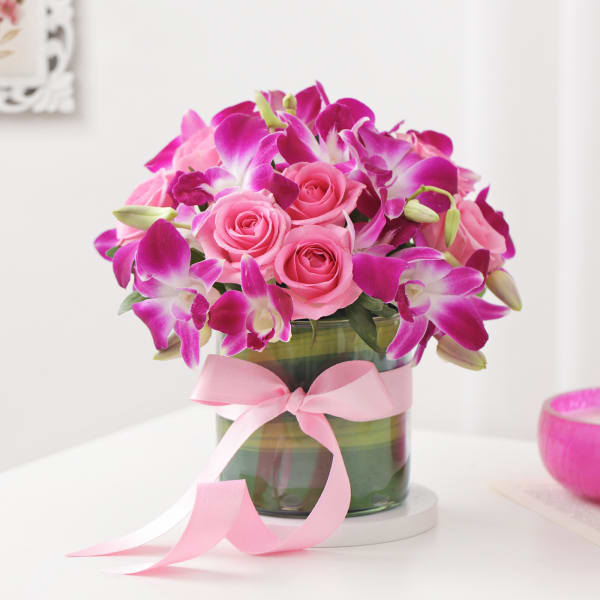 This combination would make for a wonderful center table piece of attraction that perfectly fits all your gifting and pampering needs.

Roses with Ferrero Rocher chocolates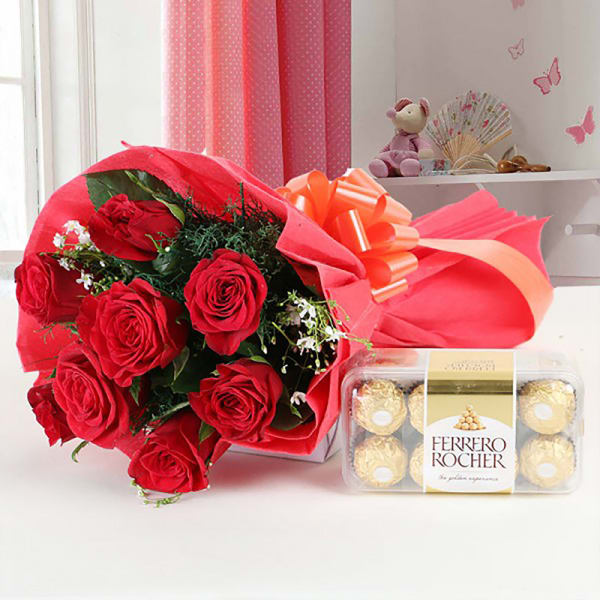 This deliciously indulgent and sweet arrangement will for sure make your better half smile with joy. Filled with breathtakingly gorgeous roses along with Ferrero Rocher balls beautifully arranged in a heart shaped box is surely apt for creating an everlasting valentine moment.

Floral Sunshine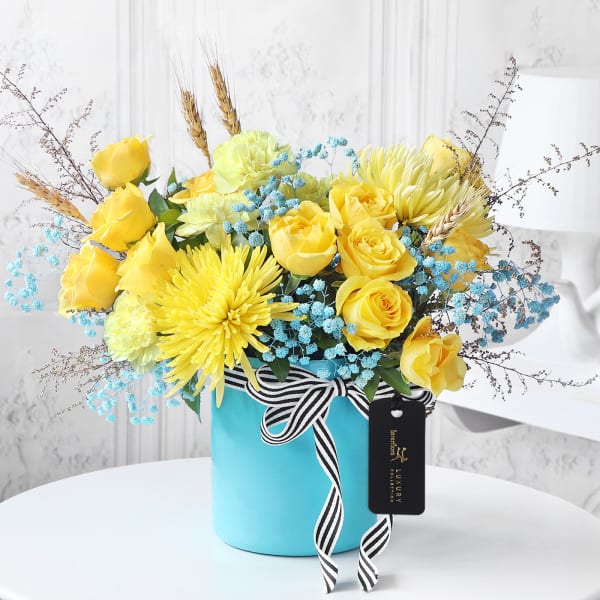 Go for lively blooms which scream positivity and radiance! The versatility of a bunch filled with lively yellow coloured flowers bringing a charm as glorious as your relationship. An assortment of yellow flowers would surely pep up their day!
Some Other Options to Help You in Decision are:
A bouquet of ombre roses
A bouquet of red carnations and roses
An assorted mix of flowers
A tasteful indulgent hamper
Hamper with flowers and nuts with chocolates
No matter which stage of a relationship it is, there's an appropriate floral rose laden gift for everyone. Roses are quite meaningful, however, their numbers can convey a lot as well. A single flower would represent love at the first sight, while a bunch of 21 roses in a bunch would represent sincere and loyal commitment.
So choose your flowers wisely to speak your heart! 
Also Read,
Express Your Love with Heartfelt Rose Day Quotes
Valentines Gift to Give to Your Loved Ones This Season
Top 20 Valentine's Day Gifts For Girlfriend
Is Gifting Necessary in Valentine's Week?