2023's Most Trending Rakhis
Are you a fashionista who loves following latest trends? Then this blog is for you. Raksha Bandhan is a very auspicious and traditional festival. To give some twist to this traditional thread, the market gets flooded with Rakhis flaunting a theme year after year.
The following rakhi types will give you a glimpse into some of the most happening Rakhi trends that are going to hit the market in 2023.
Eco-friendly Rakhis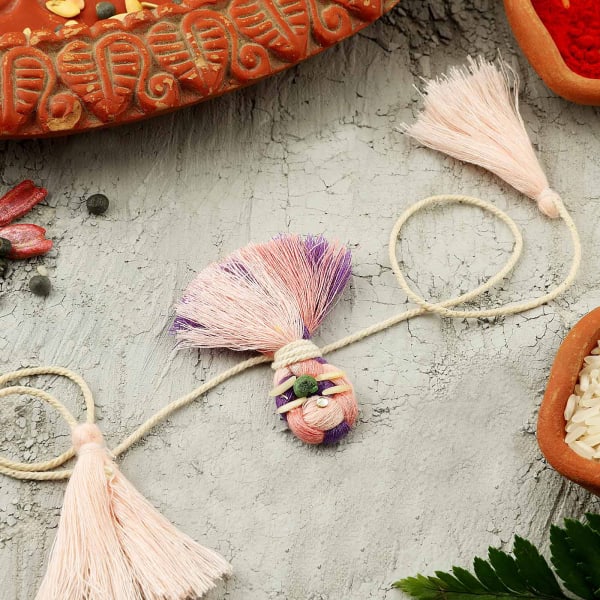 An eco-friendly Rakhi is a Rakhi made from sustainable and natural materials that are not harmful to the environment. There are many different types of eco-friendly rakhis available, such as plantable rakhis, recycled paper rakhis, and more.
Funky Rakhis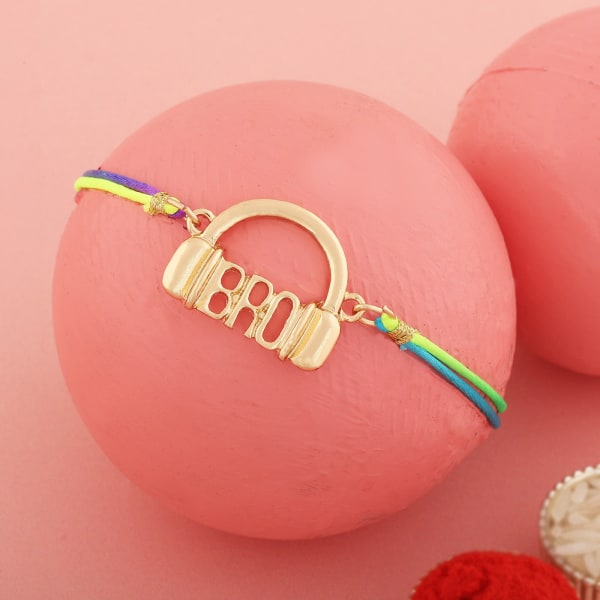 Funky rakhis are a type of rakhi that is designed to be unique and eye-catching. They often feature bold colors, patterns, and designs, and they may be made from a variety of materials, such as beads, thread, and metal.
Funky rakhis are a great way to show your brother that you have a unique sense of style, and they are sure to make him smile.
Rakhis with a Cause
Rakhis with a cause are a great way to celebrate Raksha Bandhan and give back to the community. These rakhis are made by organizations that support a variety of causes, such as education, environmental protection, and animal welfare.
When you buy a rakhi with a cause, you are not only supporting your brother, but you are also supporting a good cause.
Tech-savvy Rakhis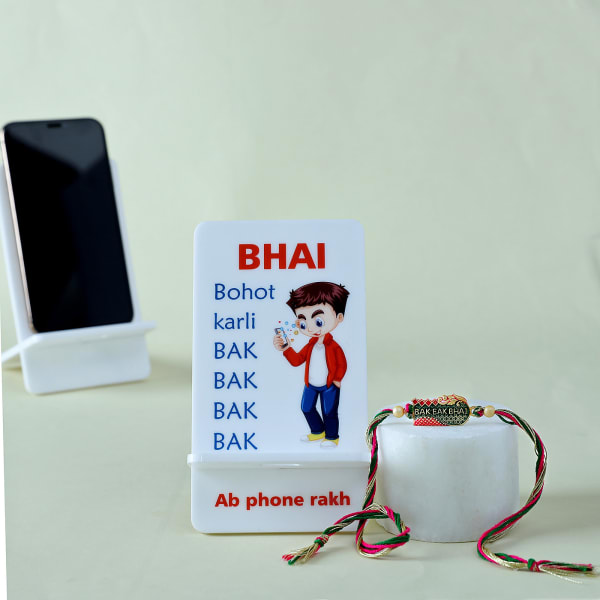 Tech-savvy rakhis are a great way to show your brother that you are in touch with the latest trends. These rakhis come in a variety of forms, such as LED rakhis, Bluetooth rakhis, and even rakhi smartwatches. Tech-savvy rakhis are a sure way to impress your brother and show him that you care.
Humorous Rakhis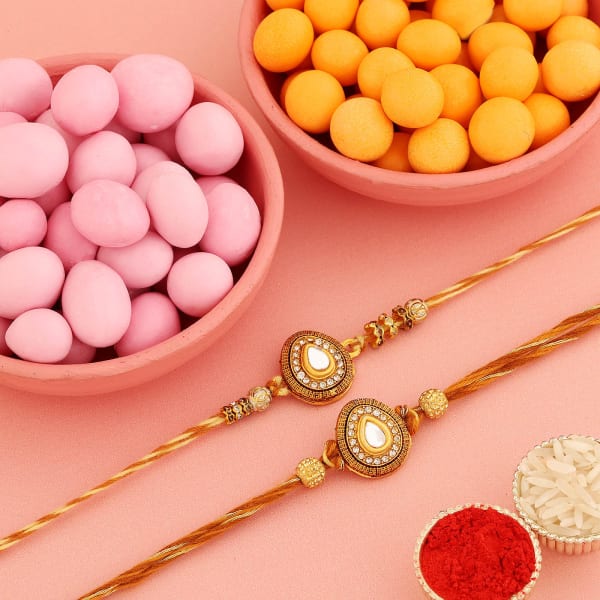 Humorous rakhis are a great way to show your brother that you have a sense of humor and that you love him even when he drives you crazy. These rakhis often feature funny sayings or jokes, and they are sure to make your brother laugh.
Food-themed Rakhis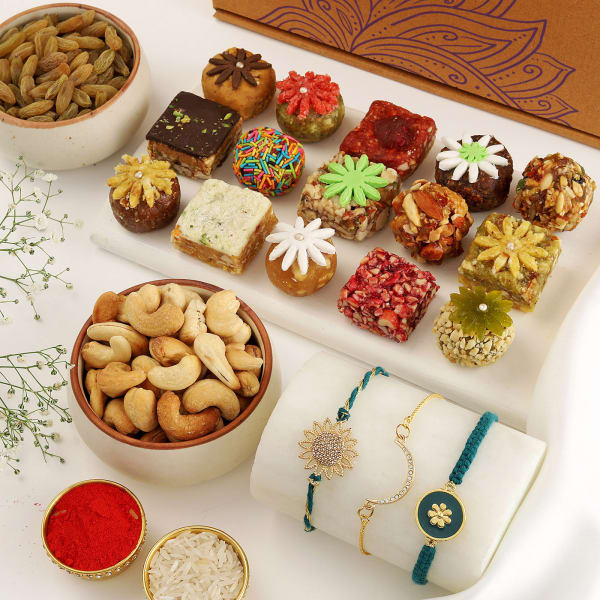 Food-themed rakhis are a popular choice for those who want to show their brother how much they care about him and his love of food. These rakhis are often made with edible materials, such as sweets, fruits, or desserts.
They can also be made with non-edible materials that have a food-related theme, such as a rakhi shaped like a pizza or a cupcake.
Musical Rakhis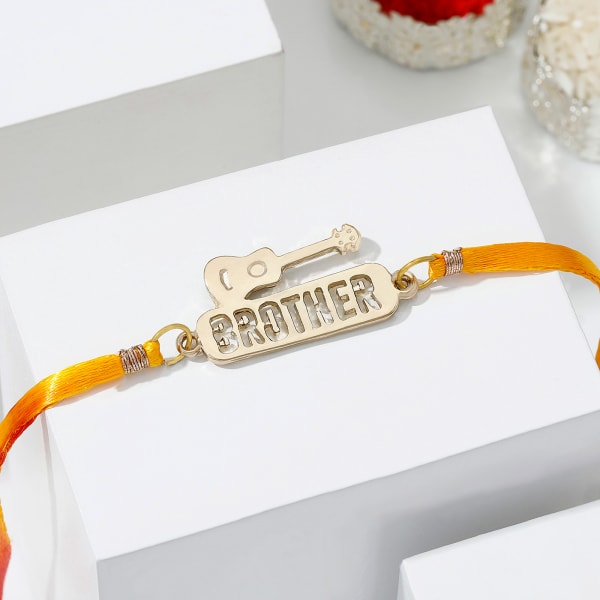 Musical rakhis are a unique and thoughtful way to celebrate Raksha Bandhan. These rakhis often feature small bells or chimes that make a pleasant sound when they are shaken. They are a great way to show your brother that you have a musical side and that you care about his well-being.
Designer Rakhis

This is one evergreen Rakhi that always trends. Carrying beautiful, attractive designs and adorned with pearls and jewels, this designer rakhi makes it to the top list of most buyers year after year
Rudraksha Rakhis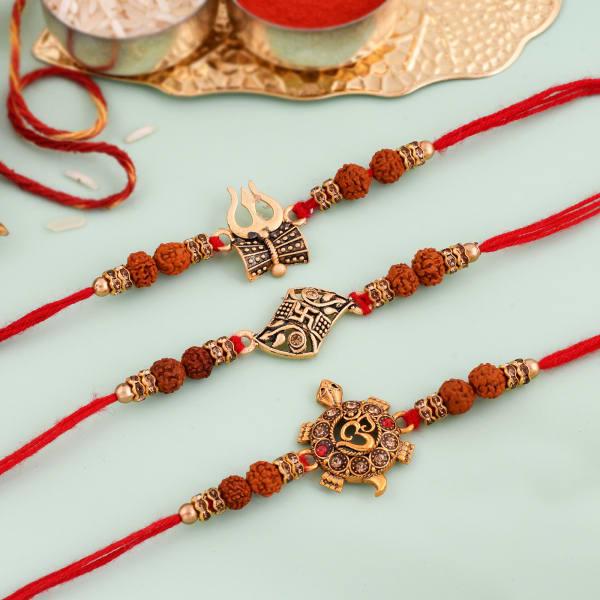 Rudraksha has a very striking visual appeal. And besides, it has many positive effects on one's mind and mood. Present your brother with a splendid Rudraksha Rakhi to add power to his mental health and make him look smashing at the same time.
Personalised Rakhis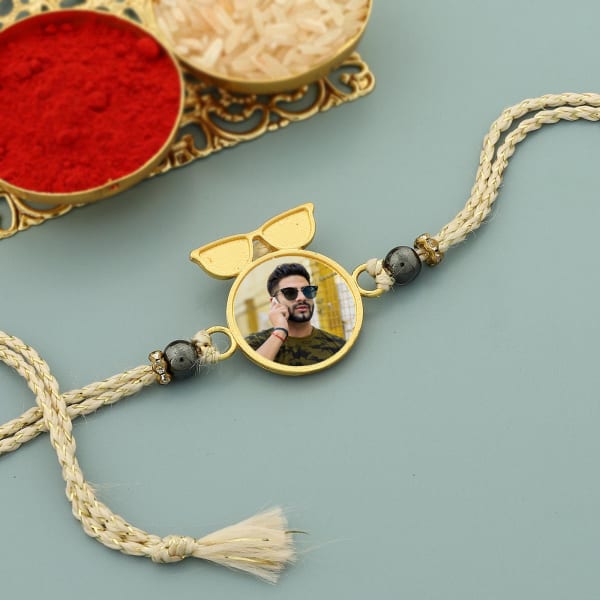 Do you wish to add an element of surprise to your rakhi celebrations? Go for Personalized Rakhis. These give you the liberty to add personal messages, names and photos. Your brother is bound to keep it as a treasure for a lifetime.
Animal Themed Rakhis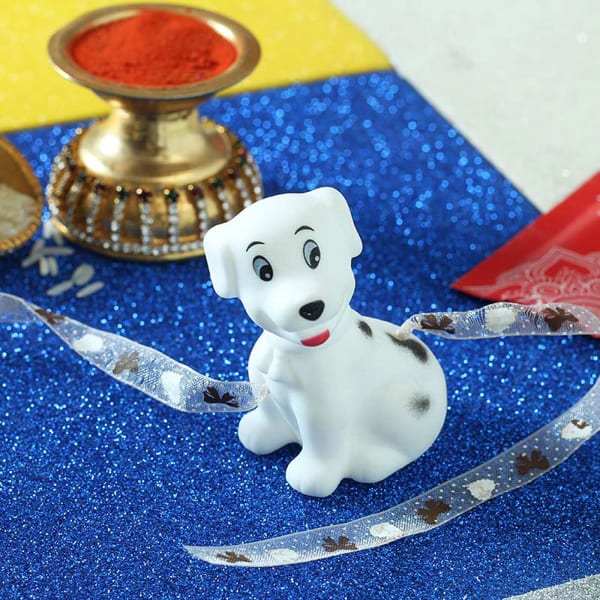 For little brothers, this is one of the most apt rakhis. These kids rakhis are available in a number of animal themes such as lions, tigers, pandas, and many more members of the jungle.
Superhero Rakhis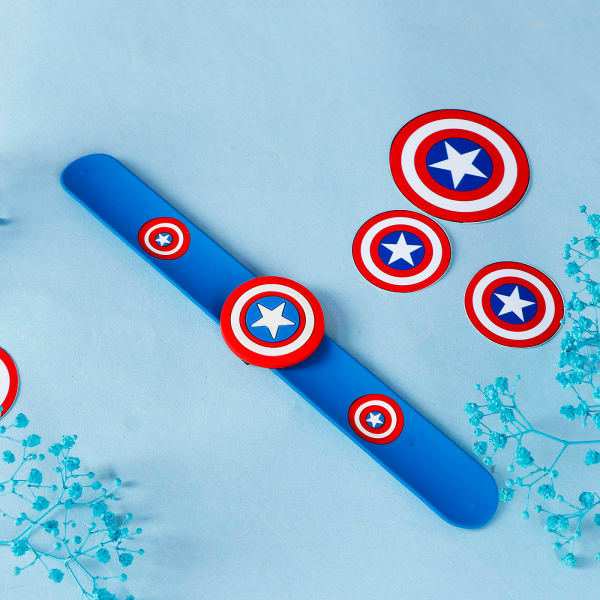 This is another rakhi trend which will be a huge hit amongst children this Raksha Bandhan. Every boy idolizes and admires the superhero figures. If you are really confused about the type of rakhi to buy for your kid brother, this is a perfect kid's rakhi choice. But make sure you find out about his favorite superhero first.
Zari Rakhis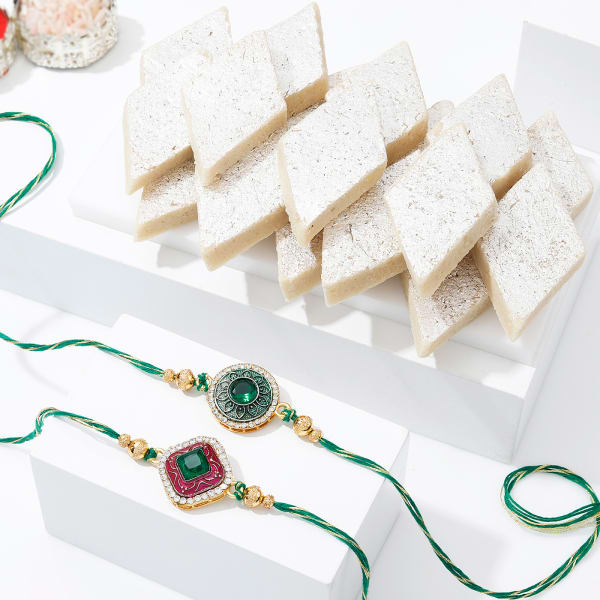 Zari Rakhis are perhaps one of the most beautiful, stylish and elegant looking traditional threads. These are created using silk thread that is adorned with gold and silver zaris. Sequins, beads, pearls, and glitter work add the final touch and a wow effect to this masterful creation.
Paper Quilling Rakhis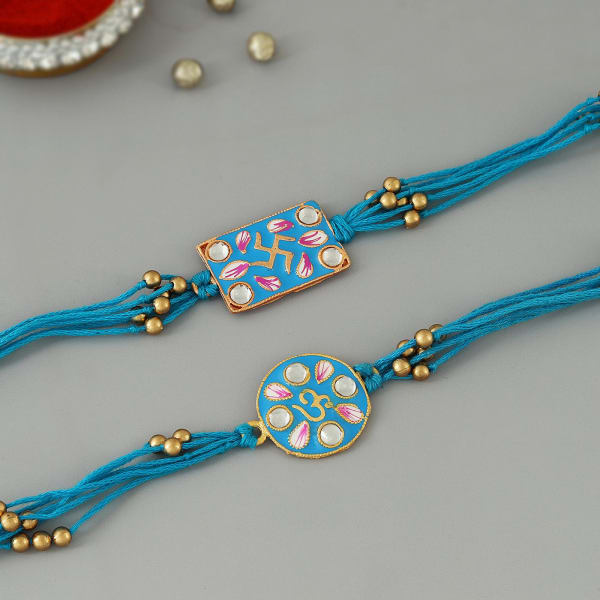 If you love all things handmade, this is the best handmade rakhi for you. Paper quilling rakhis have an almost innocent and tender look because of the materials used. They are not completely made out of paper. The thread is usually of cotton or silk. The centre design of the rakhi is crafted out of paper, giving it a unique look and feel.
Silver Shield Rakhis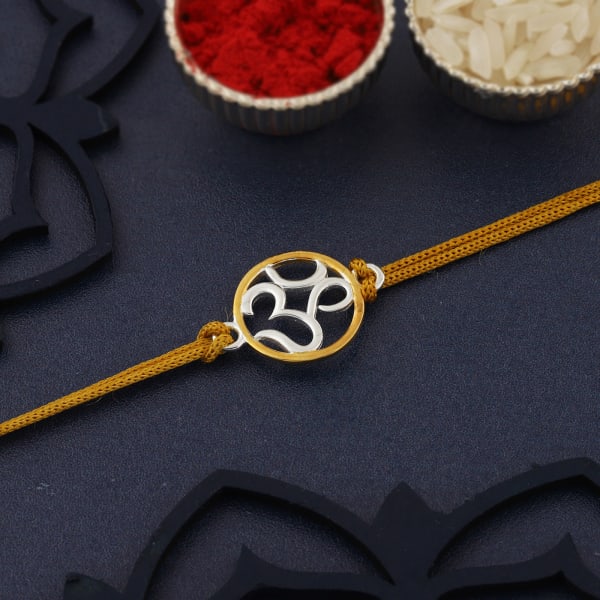 This rakhi is perfect for the uber-classy brother. It is adorned with silver metal with a matte finish and gold coated thread. This Rakhi, apart from a mesmerizing look, also has a unique facet. Its central silver shield can be used as a keychain after being worn as a rakhi.
Bracelet Rakhis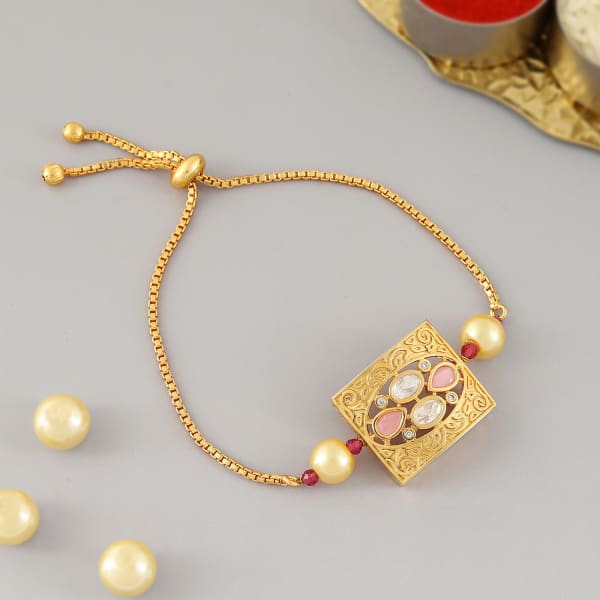 Bracelet has the potential to turn a person's appearance into something appealing. Its this amazing quality has made it a part of many wonderful accessory creations. Bracelet Rakhi is one of them. It is available in a variety of styles and designs. And the best part is, your brother can flaunt this rakhi all day, courtesy of its high stylish appeal.
Elegant Peacock Rakhi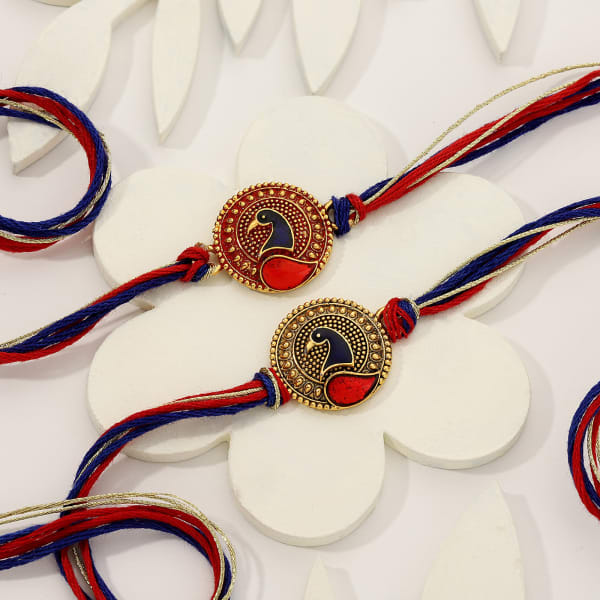 Peacock is undoubtedly the most beautiful bird. The use of peacock feather and design in Peacock Rakhi naturally earns it the tag of the most beautiful and elegant rakhi. Not just this year, it has been one of the favorites among buyers for years.
Om and Swastik Rakhis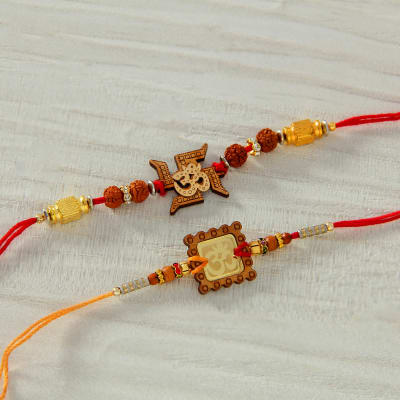 This rakhi with red and yellow beads on red and yellow thread makes it a traditional and decent piece. It comes with a roli and chawal card. You can deliver it worldwide via Igp.com.
Blue Stone Rakhis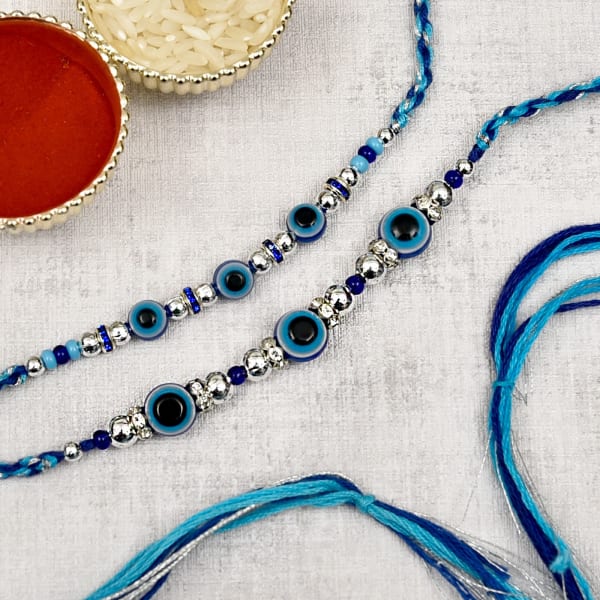 This beautiful blue colour rakhi reminds of Lord Krishna. Convey your love and wish through this blue colour stone rakhi to your naughty yet lovable brother. This rakhi comes with a pack of roli and chawal in it.
Zardori Work Rakhis
This red colour zardori rakhi conveys your love and best wishes itself. The leaf and the beads on the dial looks like a crown and expresses a sister's heart well – "Brother you are the best".
Also Read,
Happy Raksha Bandhan Wishes, Messages for Brother (Unique & Heartfelt)
Types of Rakhi – Explore Variety of Rakhi Styles and Designs
Top 07 Handmade Rakhi That Are Perfect For Your Brother
How to Make Rakhi at Home in Easy and Beautiful Way
10 Raksha Bandhan Food Ideas to Make Your Brother or Sister Smile