Explore Variety of Rakhi Styles and Designs
While most festivals are all about rituals and customs, Raksha Bandhan expresses the essence of love between siblings. A silent promise is made when a sister ties a rakhi on her brother's wrist.
They are thin threads filled with great affection and love. From traditional to modern, there are different types of rakhis. Come, let us tell you more about each one.
Traditional Rakhis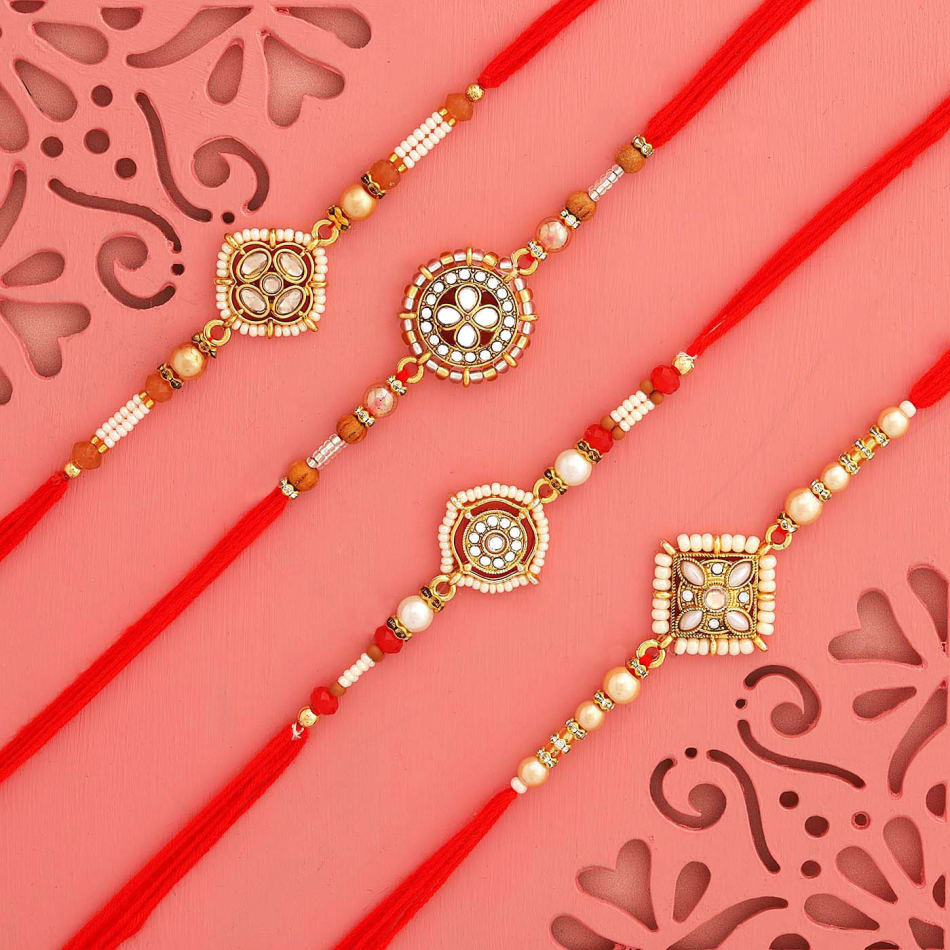 Traditional Rakhis represent the rich culture and heritage of India. These types of rakhi designs often come with religious symbols like Om, Swastika, or Ganesha. They are Vibrant; colourful threads and embellishments such as beads, sequins, kundans, or zari work are used to make these types of rakhis.
Divine Antique Pearl Rakhi, Gold and Black Meena Tirupati Rakhi, Kundan and Meena Rakhi, etc., signify a traditional charm.
Modern Rakhis
These types of rakhis come with contemporary designs. You can find elegant rakhis, minimalistic designs, and even trendy bracelet-type rakhis that can be worn daily in style.
The modern rakhis offer a stylish and unique twist to the traditional kind. You can find modern rakhis with metals, crystals, and even technology. Cool Bro Personalised Rakhis, Evil Eye Meena Rakhis, 925 Sterling Silver Rakhis, etc, come under modern rakhi.
Kids Rakhis
As the name suggests, kids' rakhis are designed to make little brothers happy. They come in different types of rakhi materials, such as threads, rubber, metal, etc. As they are made for kids, it is ensured that they are safe and comfortable to wear.
Such rakhis often carry cute cartoon characters, superheroes, and other motifs kids love. Slap band rakhis that snap on the hand are a hit with kids already. Peppa Pig Rakhis, Pop It Rakhi, etc., capture children's imagination.
Ethnic Rakhis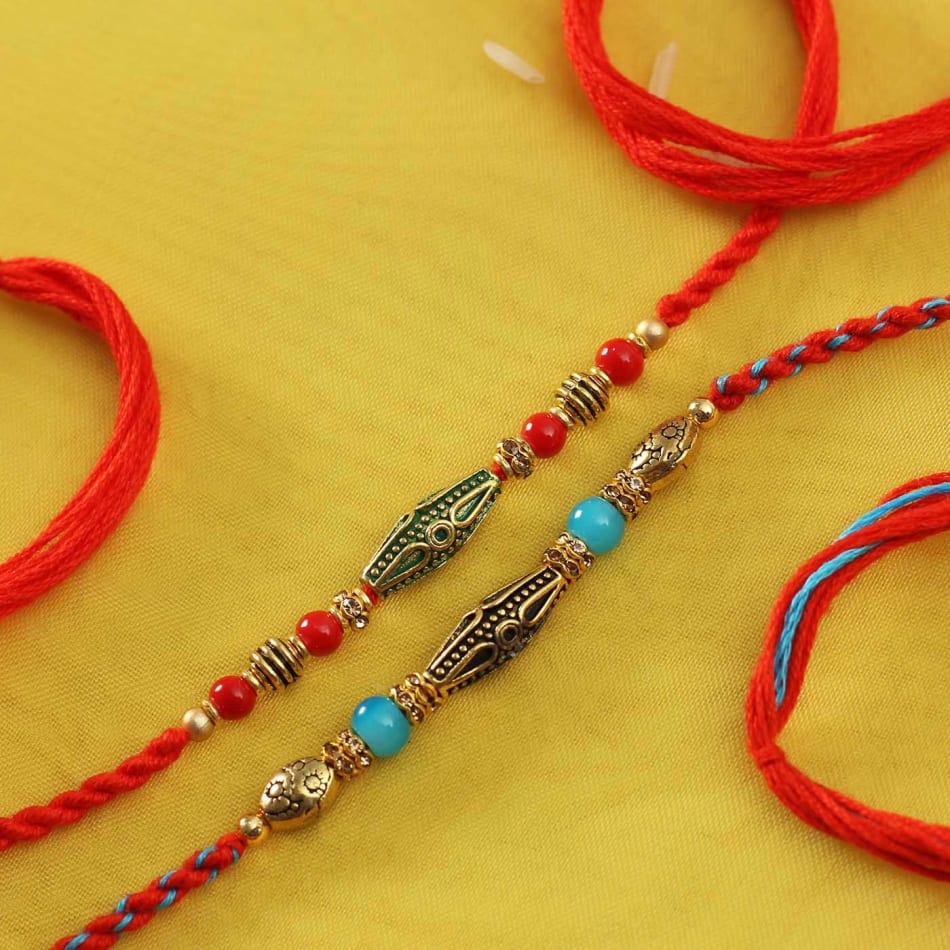 The true beauty of India lies in its various cultures and traditions. Ethnic rakhis represent the different states and communities with regional designs and motifs.
Durga Maa Raksha Bandhan Hamper, Gold and Black Meena Tirupati Rakhi, CZ Ganapathi Rakhi, etc., reflect the ethnic identity and enable the people to celebrate their individuality and heritage while being united by Raksha Bandhan.
Eco-Friendly Rakhis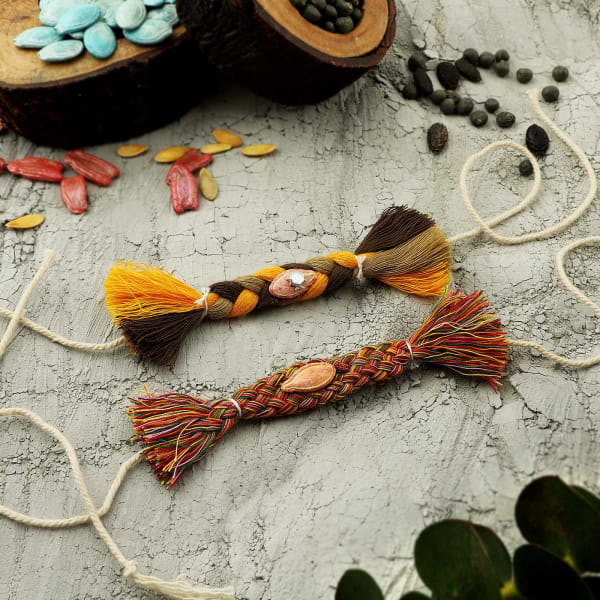 Eco-friendly rakhis are your promise always to love and protect the Earth. Made from biodegradable materials such as jute, cotton, or recycled paper, these types of rakhi promote sustainability.
Metal Filigree Rakhis, Half Sun Rakhis, Uber Cool Bro Rakhis, etc., let you celebrate the festival and take care of the planet. These types of rakhi prices are affordable and totally worth it.
Personalised Rakhis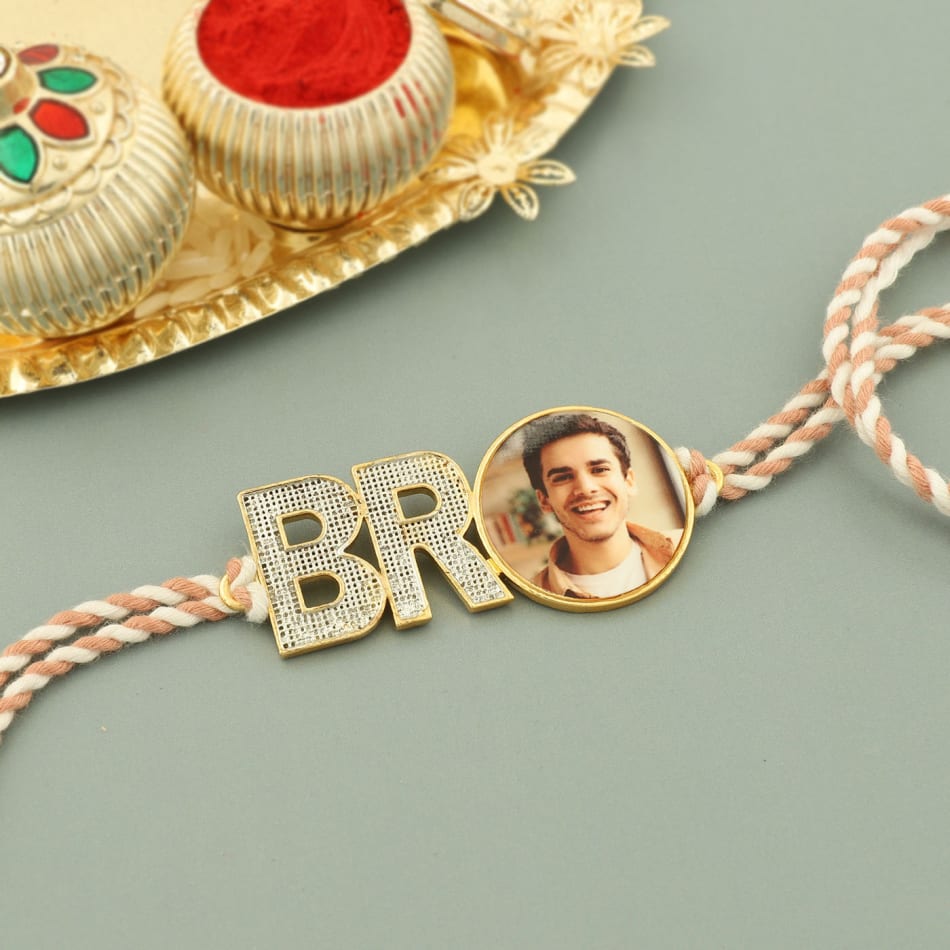 If you are looking for unique rakhis that reflect your brother's personality, you can opt for personalised rakhis. Different types of rakhi themes, such as Musical Brother Rakhis, Doctor Brother Rakhis, Bearded Bro Rakhis, etc., are one-of-a-kind rakhis.
You can also personalise rakhis by adding your brother's photos to photo rakhis, such as the Cool Bro Personalised Photo Rakhi.
Bracelet Rakhis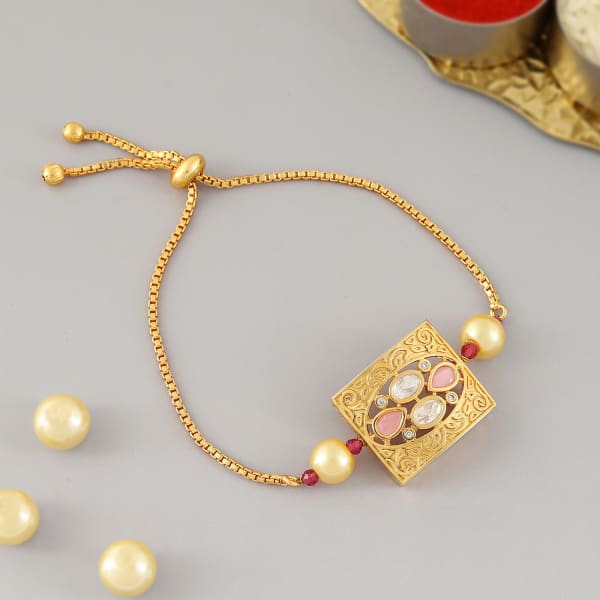 Bracelet has the potential to turn a person's appearance into something appealing. Its this amazing quality has made it a part of many wonderful accessory creations. Bracelet Rakhi is one of them. It is available in a variety of styles and designs. And the best part is, your brother can flaunt this rakhi all day, courtesy of its high stylish appeal.
Handmade Rakhis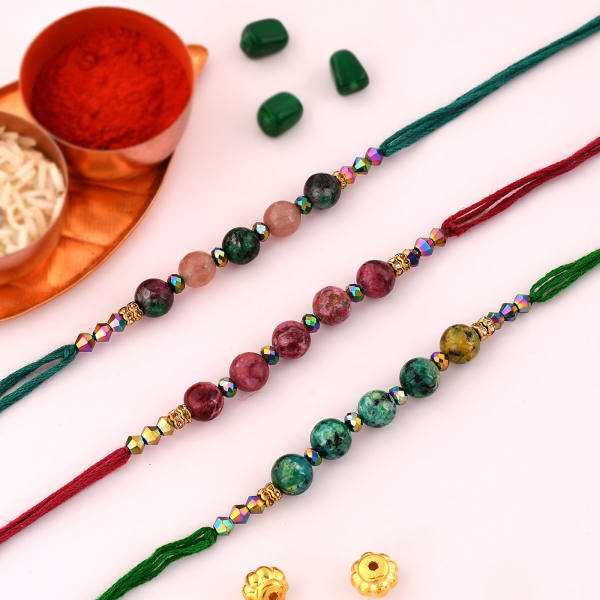 Handmade rakhis carry all the love and creativity. You can use embroidery, quilling, beadwork, or threadwork techniques. Handmade rakhis have a unique charm as they represent the bond of sibling love and showcase the skills and craftsmanship of artisans. Rakhis, such as Pearl Rakhis, Colourful Beads Flute Rakhis, etc., work like a charm.
Rudraksha Rakhis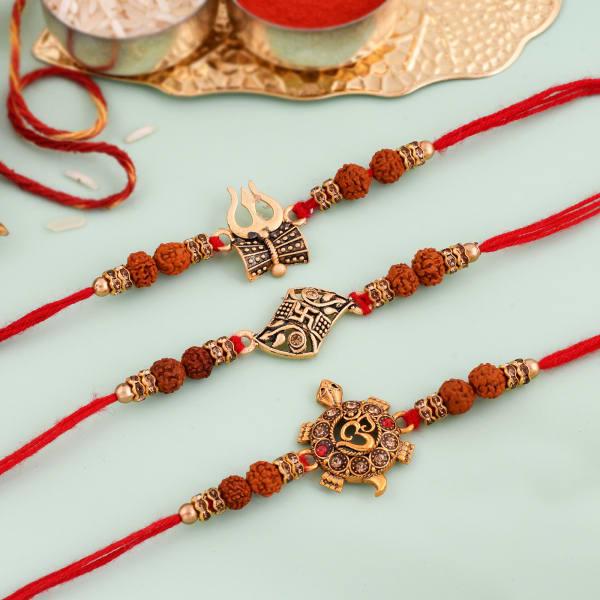 Rudraksha has a very striking visual appeal. And besides, it has many positive effects on one's mind and mood. Present your brother with a splendid Rudraksha Rakhi to add power to his mental health and make him look smashing at the same time.
Rakhi Sets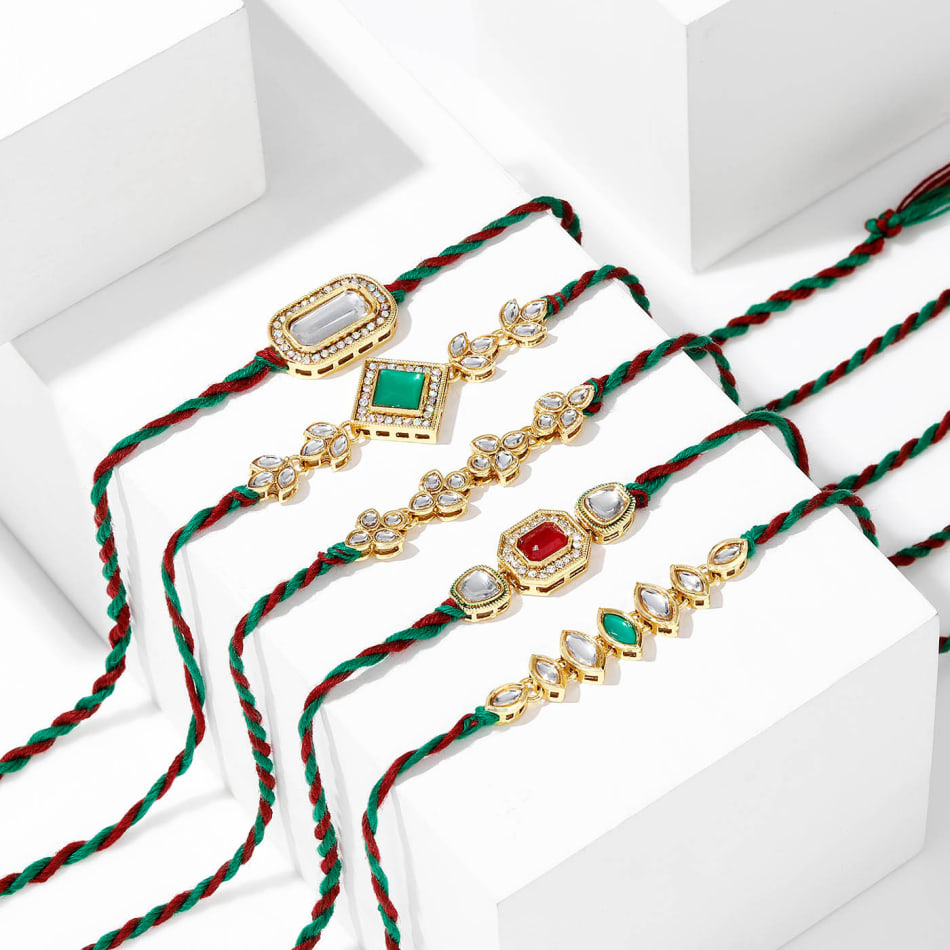 If you want to order multiple rakhis for all the beloved brothers in your life, buy rakhi sets. Om Rakhi with Leaf-Shaped Rakhis, Ghunguroo Rakhis, Set of Five Urbanity Rakhis, etc., include multiple rakhis, often designed to complement each other.
One of the best ways to impress your brother is to make his wife happy. Send The Golden Delight Rakhi Set, Meena and Pearl Bhaiya Bhabhi Rakhi Set, Kundan, and Velvet Rakhi Sets, etc.
These sets come with a rakhi for your beloved brother and one for your bhabhi that she can wear as a bracelet for twinning with her husband. It ensures that the bond of protection and affection becomes stronger with both your brother and sister-in-law.
Also Read,
07 Raksha Bandhan Activities That Will Keep Your Kids Entertained
Top 07 Handmade Rakhi That Are Perfect For Your Brother
Trending Rakhis of 2023 to Look Out for
Most Beautiful Rakhi for Your Stunning Brother