How to Make Rakhi at Home
The spark in your eyes and the ardent desires in your heart shows us a clear picture that you have Rakhi surprises going on in your mind! Do you know what that means? It means that Raksha Bandhan is in the aisles, leaving very little time for preps.
Raksha Bandhan is a festival that celebrates the bond between brothers and sisters. It is a time for love, laughter, and giving.
But what if you want to make this year's Raksha Bandhan even more special? What if you want to create a handmade rakhi that your brother will cherish for years to come?
If you're short on time, you can order rakhi online from IGP.  But if you're looking for a more personal touch, why not make your own?
In this blog post, we will show you how to make different styles of DIY rakhis. These rakhis are easy to make and require only basic materials that you can find at your local craft store.
So what are you waiting for? Let's get started!
Homemade Rakhi Guide For Raksha Bandhan
The true essence of Raksha Bandhan lies in the love and affection shared between brothers and sisters. While a store-bought designer or personalised rakhi can also convey your feelings, a homemade one brings a sense of creativity, personalization, and heartfelt connection. It is a unique expression of love entwined in every stitch and knot.
Materials Required
The joy of making homemade rakhis and the satisfaction of creating something with your hands and infusing your care and love into it remains unparalleled. Below are the necessary materials and steps to make a homemade rakhi.
Rakhi Thread
The thread becomes the base of your rakhi. You can choose any material, such as silk, cotton, or any other decorative material. Depending on your chosen design, opt for a thread with your preferred colour, thickness, and texture.
Sisters often choose threads according to their brother's taste or auspicious colours like red, yellow, or gold.
Beads
Beads are a popular choice for making rakhis. They are available in various shapes, sizes, and colours, which allows you to make a rakhi of your choice. Choose from glass, plastic, metal, or even gemstone beads to add sparkle and charm to your homemade rakhi.
Flowers
You can use artificial or even fresh flowers to make your homemade rakhi, as they add a touch of nature to your design. While fresh flowers can last a few days, artificial ones can be preserved far longer.
The use of flowers adds a layer of elegance and symbolizes growth, positivity, and the fleeting nature of life. Small flowers like roses, marigolds, or orchids can enhance the beauty of your design. They add a vibrant and fragrant touch to the homemade rakhi.
Sweets
Sweets are an important part of Raksha Bandhan. Sisters often prepare homemade sweets to showcase their culinary skills and convey their love and care. If you can incorporate them into your rakhi design, it can become one of the most unique ideas.
Attach small packets of traditional sweets, such as ladoos or chocolates, to the rakhi and give your beloved brother a sweet and nutritious surprise.
Also Read – Special Songs for Raksha Bandhan in Hindi
How to Make Rakhi at Home with Paper
Here's what you need
* Colorful Paper (Preferably in 2 different colors)
* Ribbon
* Glue
* Scissors
* Coin
Procedure
* Cut different size 4 Squares of the colored paper.
* 2 big, 2 Small of the size 1 inch – 1.5 inch respectively. You can also choose the size you want. Also, cut small circles as that will be the base of your Rakhi
* Put some glue on the Bigger Squares and attach the Smaller Squares on it
* Turn the squares you glued upside down and start folding them in a zigzag pattern as shown in the picture.
* Repeat this procedure with the other square as well
* Attach these two zigzag squares together. Bring the remaining sides together to form a fan.
* Take the Ribbon you cut measuring your brother's wrist. Glue the circle in the center of the Ribbon
* Place the DIY Fan on it and let it dry
* Your Customised DIY Rakhi is Ready
Style 2: Make a Rakhi for Small Children
Here's what you need
* Colorful Silk Threads or Satin Ribbon
* Cartoon Stickers
* Glue
* Cardboard or Craft Paper
* Sparkles (If you have or optional)
P.s: Even a glittery nail polish can be used for this purpose.
Procedure
* Cut the cardboard or craft paper into a 2-inch circle or the size of your Sticker
* Take the ribbon. Glue the circle you cut in the center
* Stick the sticker on top of the circle
* Add sparkles on the side for more fun
Pro Tip: Sticker Rakhi can be made in various shapes n sizes. If you don't have a sticker you can create animals with colorful cloth.
Style 3: How to Make Rakhi at Home with Photo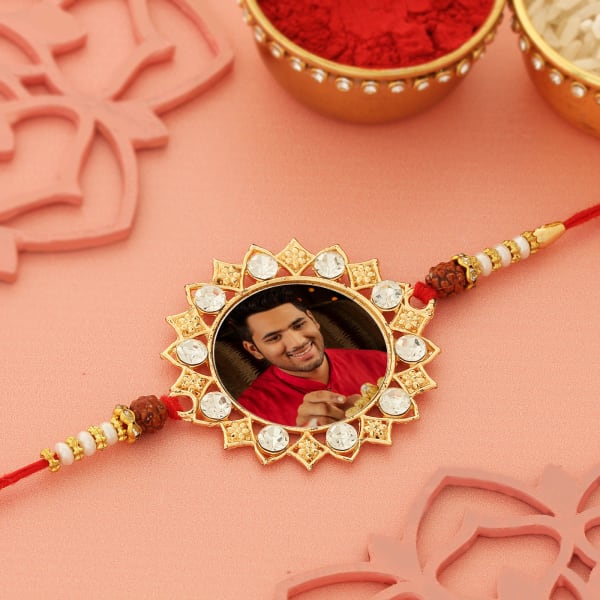 Here's what you need
* Nylon Thread
* 1 Coin
* 1 picture of your brother
* Glue
* Soft Cardboard
Procedure
1. Take a picture of your brother and sisters. Cut it in the size of the coin
2. Glue the picture on the coin
3. Now take a craft paper cut it into a small square
4. Glue the coin in the center of the square
5. Now decorate the square paper with pearl chain, glitter or Kundan stick-on. (Anything that you have handy)
6. Then take the Nylon Thread and glue this square in the center.
7. Picture Rakhi designed is Ready
Pro tip: You can make it in various shapes, sizes and decorate it to look fancy. There is no end to creativity.
How to Make Rakhi With Wool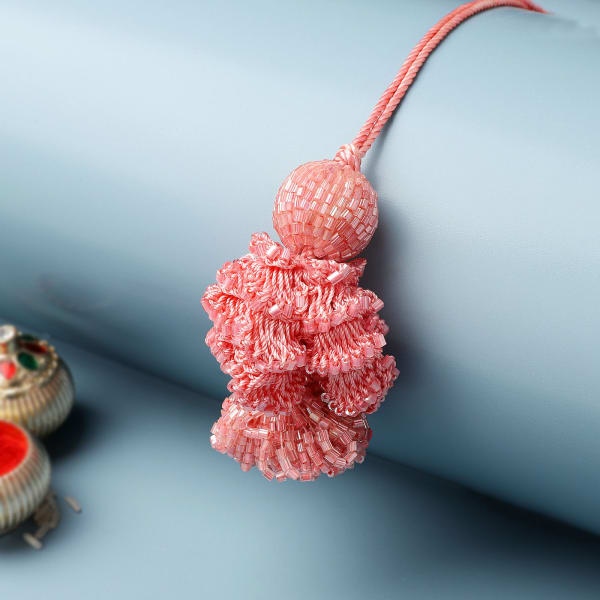 Make Rakhi with wool is very easy and interesting task. You can make Rakhi with wool within few minutes. It is very beautiful and attractive Rakhi. You can also design it with different colors.
For making Rakhi at home you will need some materials. You can collect all materials from any craft shop. For making Rakhi with wool you will need
Here's what you need
* Woolen thread
* Scissors
* Beads
* Glue
* Chain
* Lace
Procedure
1. Cut two pieces of wool, each about 60 cm long.
2. Make a loop with one piece of wool and tie a knot at the top. This will be the center of your Rakhi.
3. Take the other piece of wool and start wrapping it around the center, making sure to cover the knot completely.
4. Continue wrapping the wool around the center until you have used up the entire length.
5. Tie a knot at the end of the wool to secure it in place.
6. Trim any excess wool from the ends of your Rakhi.
So now that you know the basics of how to make Rakhi at home go ahead and choose the style you liked the most and start making your DIY Rakhi. If you enjoyed this blog you will surely like this one on Best Rakhi & Gifts for Brother on Raksha Bandhan.
Also Read,
Types of Rakhi – Explore Variety of Rakhi Styles and Designs
Heart Touching Raksha Bandhan Quotes
Best Rakhi Gifts for Sister on Raksha Bandhan Under 500
Special Songs for Raksha Bandhan in Hindi