Which Gift Is Best for Anniversary?
Your wedding anniversary is that special day that reminds you of yet another added year to your happily ever after.
Together, you recollect those fun memories of your cherished wedding day and look forward to many more years of togetherness, love and joy. 
Be it to gift your significant other or to present it to your adorable parents or the best couple in your friendliest, there is a wide range of options to choose from, when it comes to the Best Marriage Anniversary Gifts Online.
Picking good-quality, thoughtful Wedding Anniversary Gifts can be a task at times but let us make this an effortless process for you and you can thank us later:
I Love You Flower Box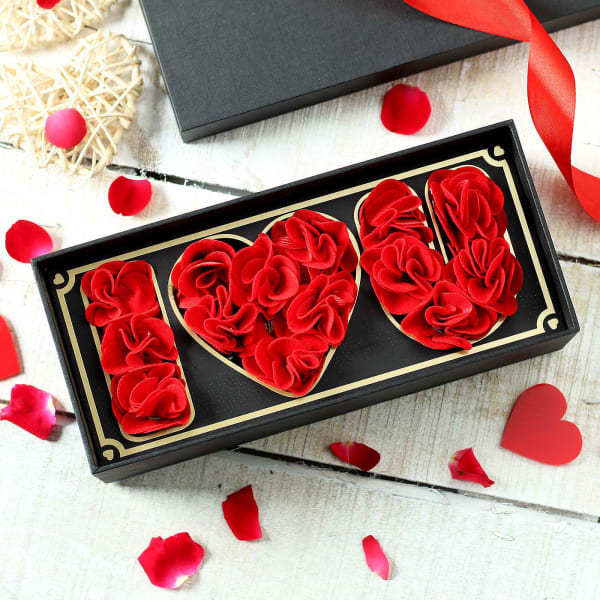 Flowers are the number one gifting option that comes to mind when you want to make someone feel special. This unique I Love You flower box is made to express your deep love for your special one on a significant day of you'll lives.
It makes a perfect first anniversary gift for the young couples out there. We bet you that it will leave him/her truly surprised and feeling a little extra dose of special.
Healthy Feast Gift Hamper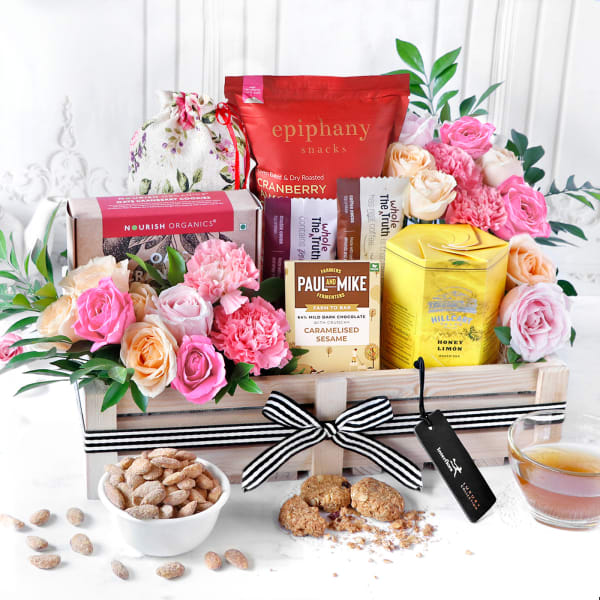 Looking to Buy Anniversary Gifts For Couples? Check out this one. If you want to gift a health conscious couple, then this hefty hamper that comes in premium packaging and contains healthy goodies is the best option.
It is an assortment of cranberry almond crisps, oats cranberry cookies, vegan caramelized sesame chocolate, double cocoa, coffee cocoa health bars, honey roasted almonds, Honey Lemon tea,printed jute bags, with shades of pink and peach roses & carnations.
Personalised Adventure Ride Caricature with Wooden Stand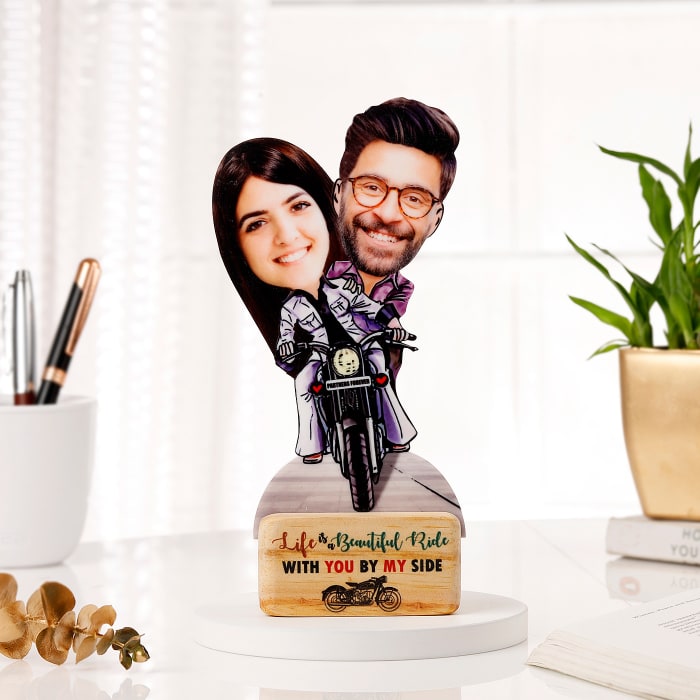 This is for the fun-loving, adventurous couple who loves to go on long distance bike trips and make countless memories together. They have experienced every shade of the journey and inspire others to do the same. Now, it's your turn to make them know how their relationship stands out.
Give them this cute personalised caricature and as their happy anniversary gift. This will stand as a reminder of their journey through the road of marriage. .
Personalised Wooden Heart Tealight Holder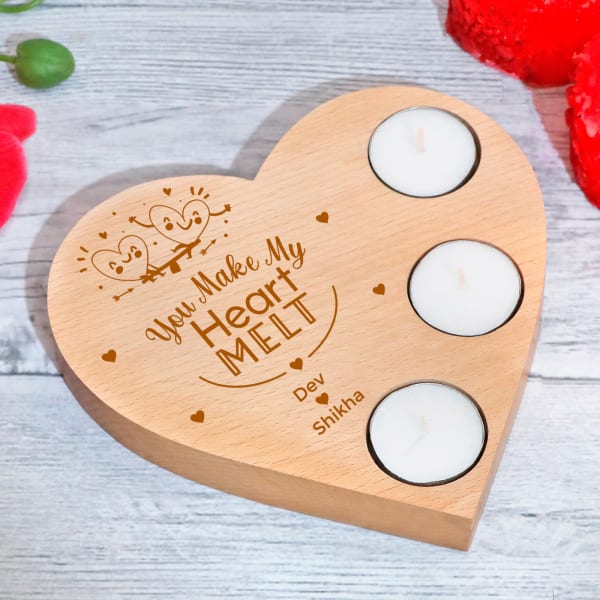 Shout it out loud with this Personalised Tea Light Holder that is beautifully carved in a heart shape. This makes a heartwarming home decor item for candle lovers. Personalize the tealight holder with the couple's name and you have an amazing gift ready to be adored.
Anniversary Personalised Heart Pop-Up Box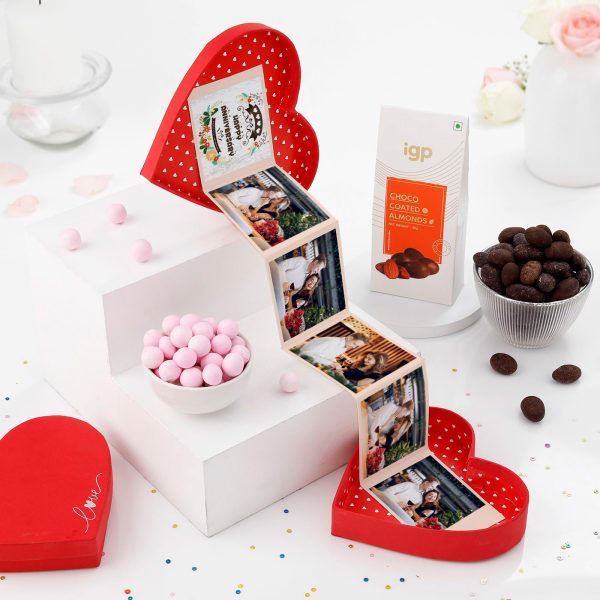 Looking for Anniversary Gifts Delivery for your spouse who stays in another city/country? Consider making this personalised heart pop-up box one of your options. It's like sending a piece of your heart that is filled with the most cherished moments of your marriage.
Fill it with love and send it across to wish them on this special day. It also comes along with a box of chocolate coated almonds for them to relish. 
Wooden Blocks with Love Message in Tray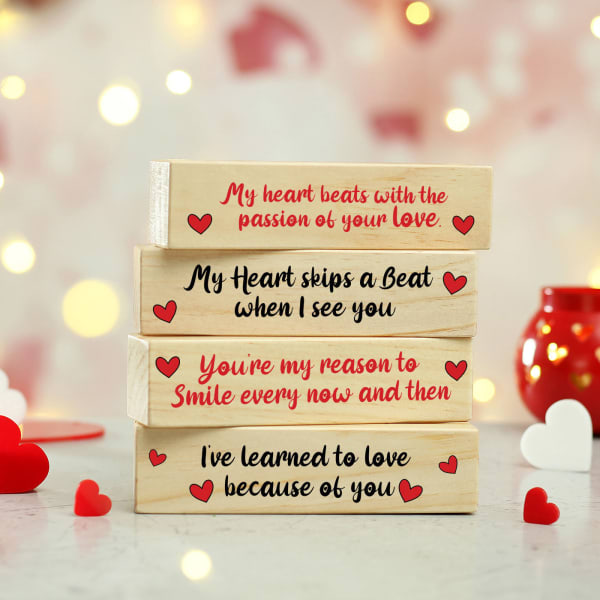 Not good with words but want to pour out your heart this marriage anniversary? Fret not. These wooden blocks have sweet little love notes to tell the love of your life just how much they mean to you.
Give it together or hide each of the four pieces in different locations around your room and make them stumble upon it randomly. We guarantee you the sweetest blush on their face.
Personalised Sequined Cushions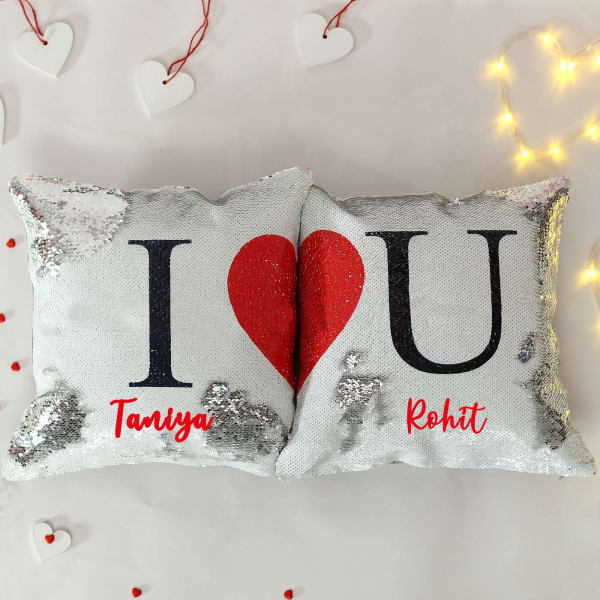 This pair of personalised cushions are eye-catchy and look amazing together or apart – just like the couple that you are. Your individual personality shines bright but when you're together, your dazzling light of love is enough to brighten a dull room.
If this description suits you and your partner, then this is the right gift to personify your relationship.