List of Indoor Plant Names and Pictures
Who doesn't love a good looking indoor plant? Not only are they excellent air purifiers, they also add to the aesthetics of your space and can instantly enhance the appearance of your rooms.
Indoor plants are the easiest, natural way to add a splash of color to boost the ambiance of your comfort zone.
These plant babies look petite and pretty and when added to varied eye-catching pots they aren't just easy on the eyes but soothing to the mind and beneficial to your well being too.
Many people want to include these indoor plants in their home but are confused which one to go with.
So, if you are just getting started and trying to figure out indoor plants and their names, here is a list of indoor plant names and pictures for you to explore:
Peacock Plant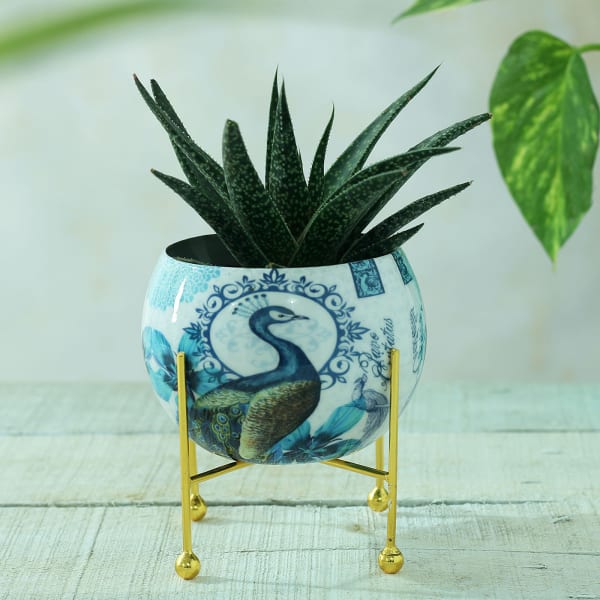 This royal looking plant is honored as a 'Garden Merit' among indoor plants. Its name itself represents beauty. It is a commonly seen indoor plant that has amazing air purifying qualities and is pet friendly too.
Perfectly placed in any corner of your home, its translucent leaves' beautiful purple shade will stand out among its contemporaries.
Philodendron Birkin Plant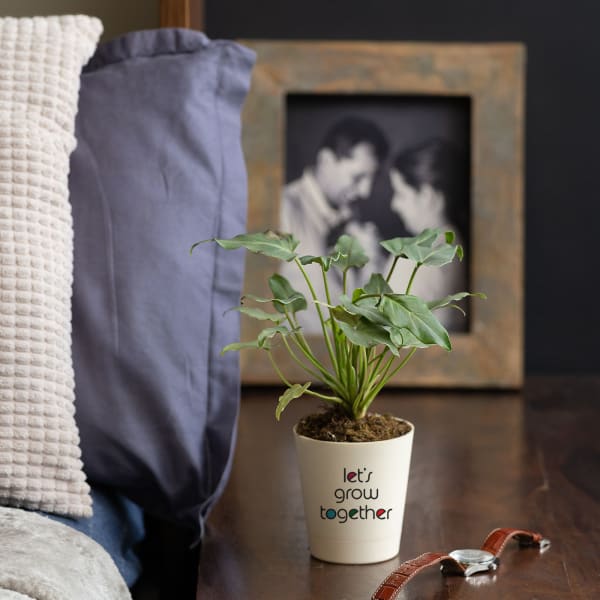 The medium sized Philodendrons are among the most popular indoor plants names in the world. Their dark green, glossy heart shaped leaves can instantly spruce up any corner of your home, adding a chic look to that space.
Jade Mini Plant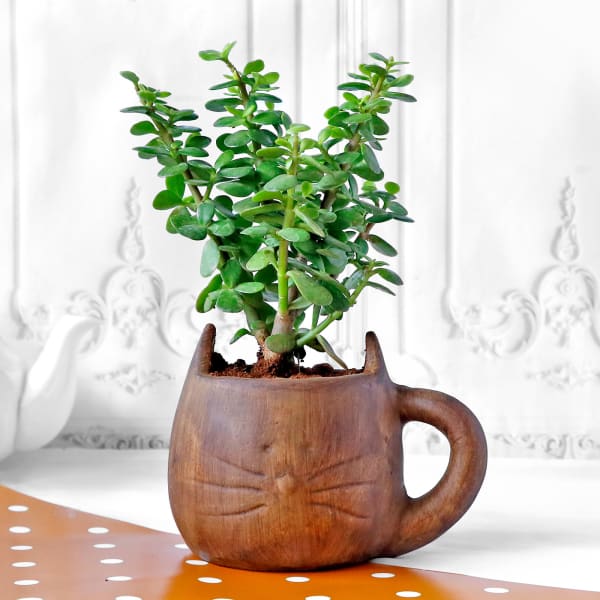 You've surely heard this indoor plant's name. The easy to maintain Jade plant is considered lucky to its keeper. This is one reason for its huge demand.
Its tiny round leaves grow close together and provide a lush foliage to an indoor setting. Place this tiny Jade Plant in Feline Ceramic Planter at your home workstation or near your window to get a cozy instagrammable spot in your house.
Snake Plant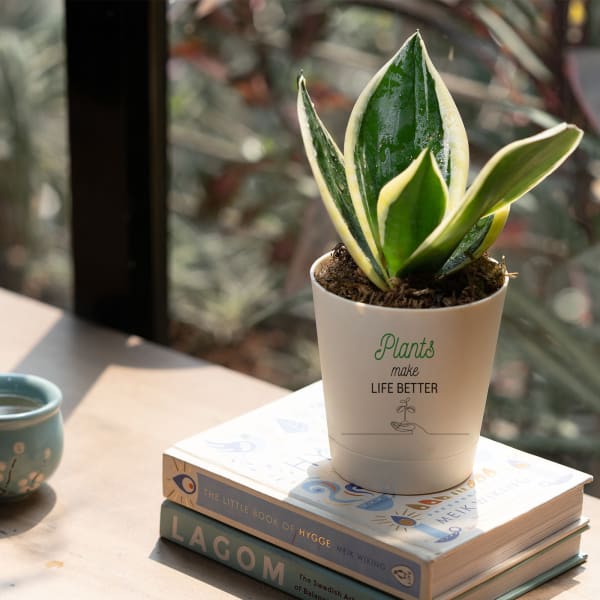 This Snake Plant – Golden Hahnii indoor plant is a pretty yet low maintenance plant that grows well even in low sunlight. You can easily place it in any dull corner of your house and conveniently forget about it.
Its green variegated leaves and warm yellow undertones add rich texture and ornamental value to its surroundings.
Anthurium Red Mini Plant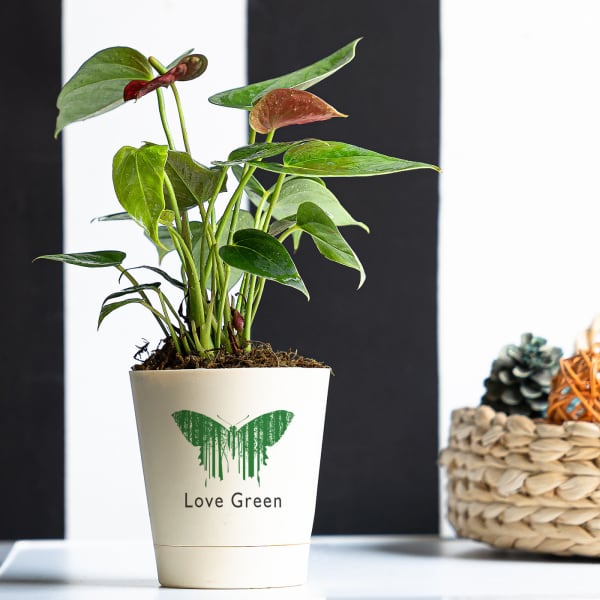 This mesmerizing Anthurium red mini plant's heart shaped waxy blooms shouts out love and attention.
Add it to your room or garden and it's sure to liven up the space with its bright, shiny presence. This one might just become your favorite!
Spider Plant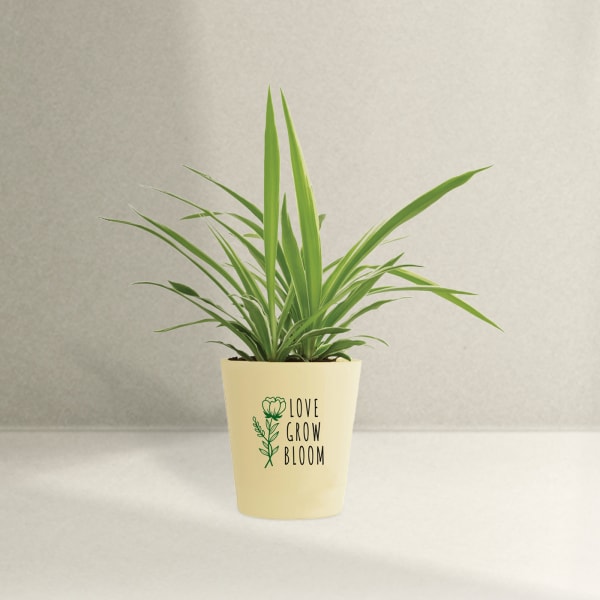 Justifying its name, this plant has long, drooping green leaves that remind one of a spider's legs.
These plants have white variegations and are amazing air purifiers. It doesn't require much attention and this makes it a hassle free plant that is easy to maintain.
It also provides excellent foliage and can be kept indoor or outdoors. In favorable conditions, it blooms with small white flowers and its pups grow on stems cascading from the plant. Keep a watch out for this amazing spider plant.
Dracaena Compacta Plant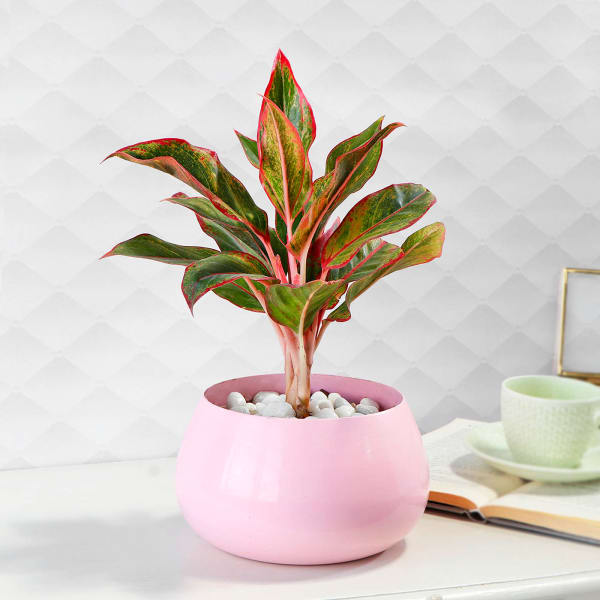 This low maintenance, fuss free plant is compact and grows steadily over time. It does not require too much sunlight, so it can be kept in dull corners of the house.
Their bunched, green look makes them a popular indoor plant option. Add Dracaena Plant in Pink Round Pot to your plant collection to get a lush green look.
Philodendron Micans Plant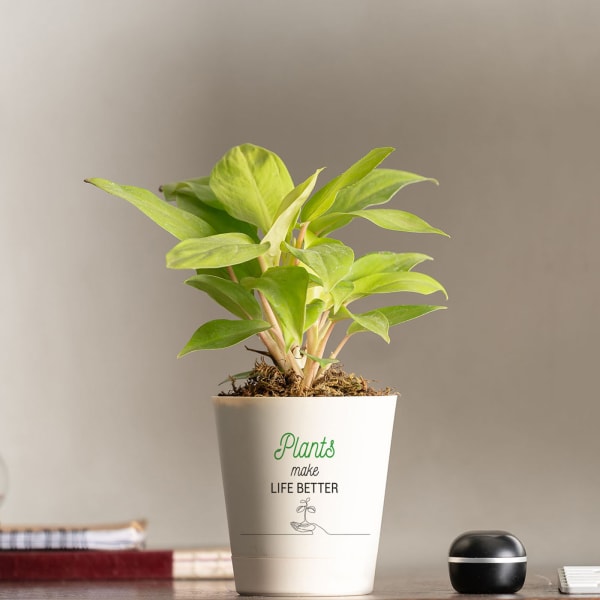 This creeper is surely a showstopper and can't afford to be missed. Its dark moss green heart shaped leaves with a hint of red surely makes it stand out among its green companions.
This Philodendron Ceylon Golden Plant can be kept near your window sill or any area where you want a natural leafy frame. We're sure you're going to love this look.
Fittonia Green Plant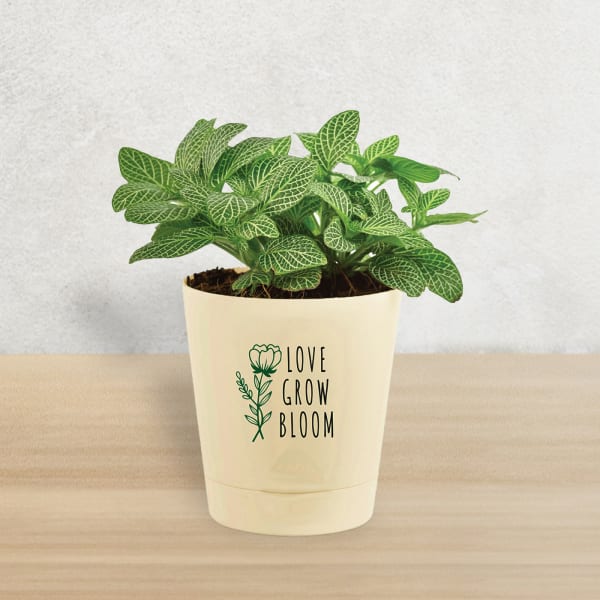 Did you know that green plants have so many varieties? each one is so unique that you can't just classify them as one.
This dark green plant with white veins running all across the leaf looks like a mesmerizing canvas that has been carefully created by an artist.
Place it in any area of your home and see the look of that space instantly uplifted. If you want some variations in your interiors then you must include this Fittonia In Motivational Planter to your list.
Dracaena Coffee Plant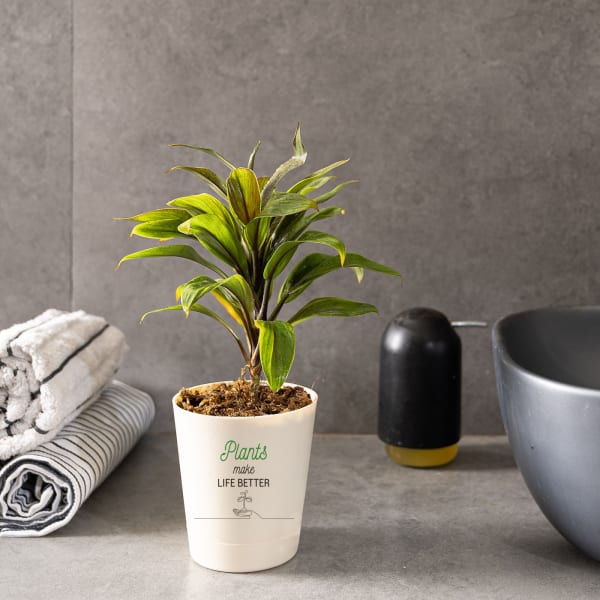 Looking for a plant to add ornamental value to your interiors? This Dracaena Coffee Plant does that like a pro. It thrives in the Indian climate and is ideal for sprucing up small spaces.
Owing to its narrow growth pattern and low maintenance nature, it is mostly placed in small empty spaces of homes to enhance the landscape.
We hope this list of indoor plants with their images has eased your plant choices.
Also Read,
Health Benefits of Indoor Plants : 10 Unique Benefits Proven by Science
List of Great Plant Gift Ideas That Will Make the Recipient Thank You
Everything You Need to Know About Touch Me Not Plant
Purpose of Gemstone tree and its secret in Feng Shui