Giving gifts is always a special feeling to the giver and receiver. It contends our hearts to bring a genuine smile onto our loved one's faces. There are innumerous occasions where we express our love by going that extra mile and choosing thoughtful gifts of various kinds. But many times we fall short of options. 
In those times of doubt, give a plant. Did you ever think of what a beautiful gesture gifting a plant makes? It is of course an amazing option as gifts for plant lovers but works well for everyone else too. 
Wondering why and how do you present a plant as a gift? Well first of all it has great symbolism. It represents sustainability, longevity, endurance, love, luck, peace, growth and everything in between.
Just by its grit and determination to grow against all odds, it teaches us valuable life lessons such as patience, persistence, strength and a giving nature. Unlike pet animals, plants are low maintenance and do not need constant attention or expenditure.
So this makes them a good gifting option that can be given regardless of occasion or time. This isn't only for those with a green thumb; plant care can be very therapeutic, providing one with a sense of calmness and tranquility to their pacing minds.
Plants are more of an investment than expenditure. Several generations can nurture, maintain and care for the same plant and that creates a close bond between the two.
Other than plants providing a little area of greenery and foliage, they act as natural air purifiers, level up the ambiance of indoor and outdoor spaces, enhance your work space or office cubicle and make you feel connected to a little piece of nature. Place them in your favorite spaces and watch your surroundings come to life.
Now you must be thinking, what is the best plant to gift? 
Here is a c several times over.
Air purifying plants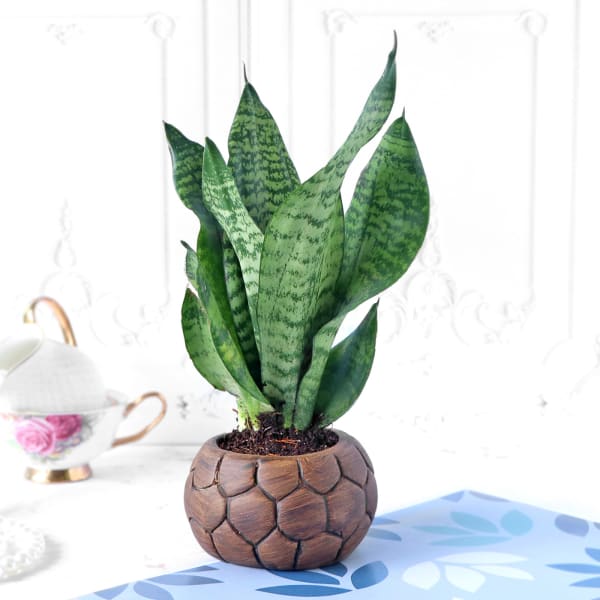 Need we specify how important it is to have air purifiers around us in today's time and space! Not only are plants cost effective and natural air purifiers, they come in different varieties to suit every need. Take for example this Snake Plant in a football designer ceramic planter. Its brilliant long green leaves twirl as if in a slow, dancing motion.
These days, many of these plants are being used in events and marriage celebrations too. The football shaped ceramic planter is apt as a decor item to accessories your living space. It doesn't require too much water or direct sunlight and that's what makes this a hassle-free unique plant gift.
Personalized Lucky Bamboo plants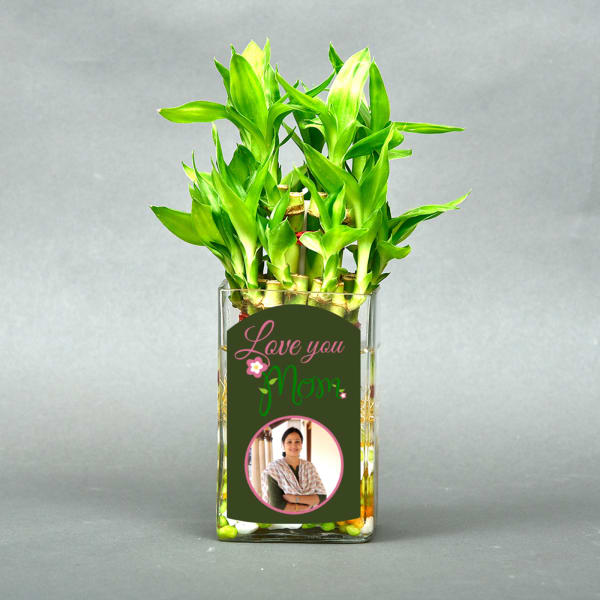 Bamboo plants are a hot favorite among gifting options. Better known as a lucky plant, this plant comes in several layers, each representing love, luck, wealth, health, prosperity, growth and perfection. Add a personal touch to this propeller of all things good, by putting an image or message for your favourite person on it. 
Money plants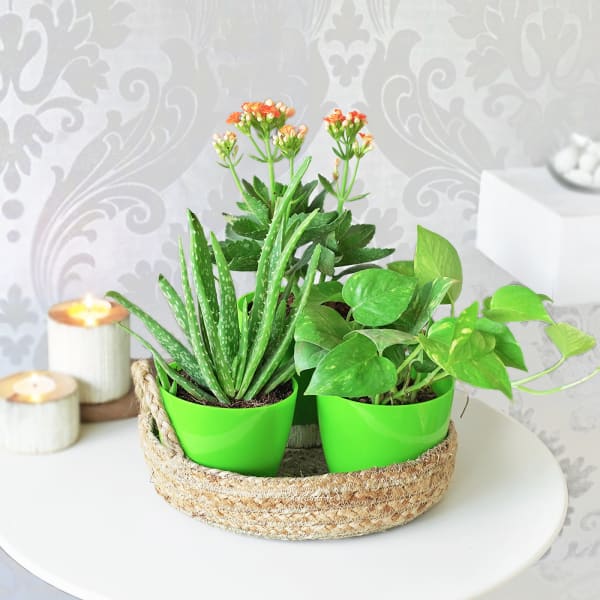 We all know how popular this plant is and benefits of keeping money plant. Money plants (Devil's Ivy)  are said to bring prosperity and wealth to its recipient. Add to that the benefits of aloe vera  (Acemannan) and the petite looking chandelier plant (Kalanchoe) and you have a set of 3 plants that represent nature's gift to us.
They come placed in green BPA free plastic planters that will brighten up any living space. This set is a combination of the best indoor plants to gift.
At IGP, you can find a variety of money plants in different sizes and styles, including hanging money plants, potted money plants, and more. These plants come in beautiful planters that will complement any home decor. Additionally, IGP offers delivery services to various locations across India, making it easy and convenient to buy and send money plants as gifts to your loved ones.
Flowering plant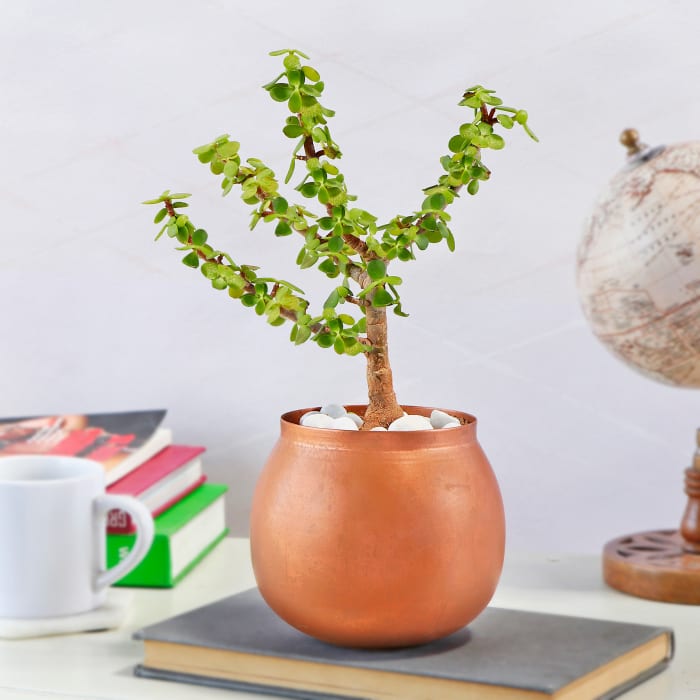 The most common varieties of plants are the flowering ones. You can choose from an unending list of them. The Torenia Purple Flower Plant, also known as the wishbone or bluewings, is compact and grows in partial or full shade.
It should definitely be on your purchase list for it makes a bright, good looking choice that can enliven any dull environment.
Succulents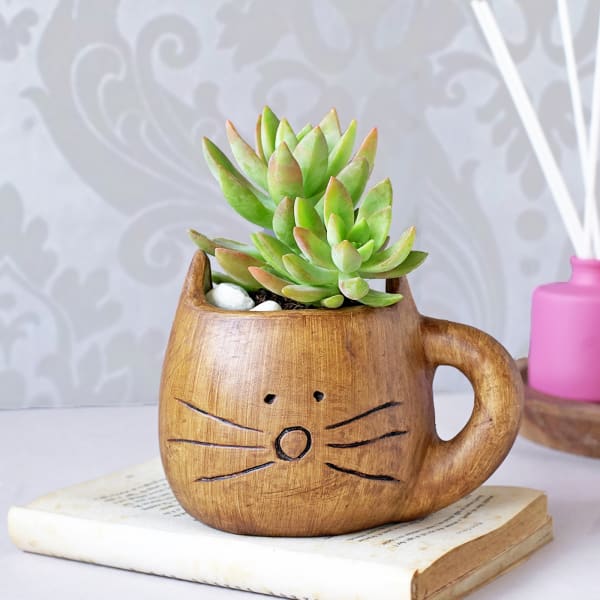 These tiny green plants are cute and compact making them ideal for office desks, or study tables. You can use them in combination with bigger plants or as a standalone and they never fail to shine through. The Stonecrop Succulent Plant (Sedum Cuspidatum) is a fuss free plant and does not require much attention.
They come in beautiful urns or cute kitten planters. Choose what suits your fancy!
Ornamental Croton Bangalore Petra Plant – its beautiful shade makes it a winner.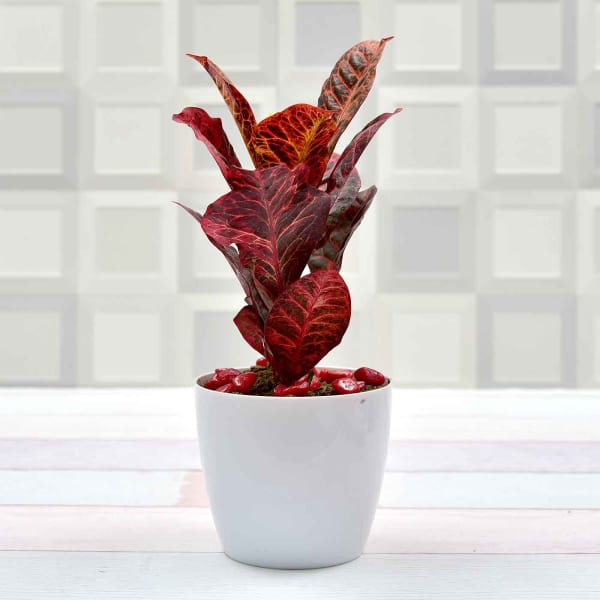 Peperomia Plant with Hand Designer Ceramic Planter – if nothing else, gift this plant for its beautiful ceramic planter that comes in the shape of two hands clasping the plant. It has such great symbolism. We heart it!
Also Read,
Indoor Plants For You To Explore
Ornamental Plants – Types, Benefits, and Care