Traditional Housewarming/Griha Pravesh Decoration Ideas
Housewarming celebrations are a big deal and are celebrated with much pomp and show. The joy of moving into a new space coupled with the enthusiasm of seeing your dream shape into reality, is completely overwhelming.
So, throwing a housewarming party for friends and family to mark this milestone, is a great way to get started. After all, it's this kind of positive energy that you want to welcome into your new abode.
For a house warming ceremony, floral decorations are regarded as an invaluable factor and are of immense importance as it is something which creates the ambience and can make all the difference in a newly built home.
Here are 9 housewarming decoration ideas that are easy to create:
Traditional Marigold Floral Decor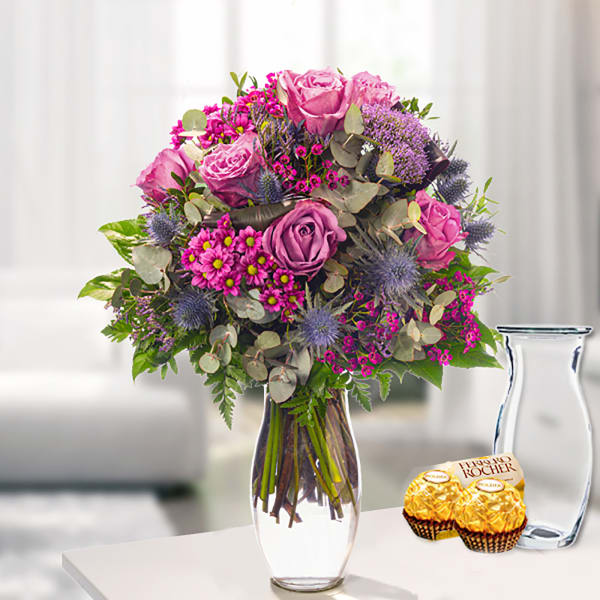 This is one of the most common housewarming decoration ideas. The traditional marigold floral decor is seen at almost every house during any celebrations.
Strings of yellow or orange marigold are hung as scallops on doors and railings with the sides left hanging loose.
Sometimes both these coloured flowers are mixed and used with a combination of white flowers and deep green leaves. The latest designs involve them being wrapped around wooden divider frames or in diagonal and swastika shaped designs.
They can also be wrapped around hoops or circular wooden frames to add an extra edge to the decor.
Artificial Gold Leaves Decor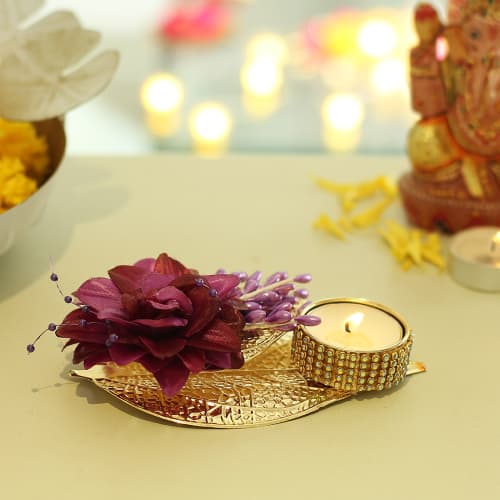 From being used at celebrity events to birthday parties, this amazing gold leaf decor is slaying and how! With its long intertwining leaves and shiny foliage, it adds a splendid metallic shine and the right amount of glamour to your celebration and makes for a glitzy Griha Pravesh Decoration Idea.
What's more, you can also use this as a regular decor even after the party is long over.
Ganesh Decor with Roses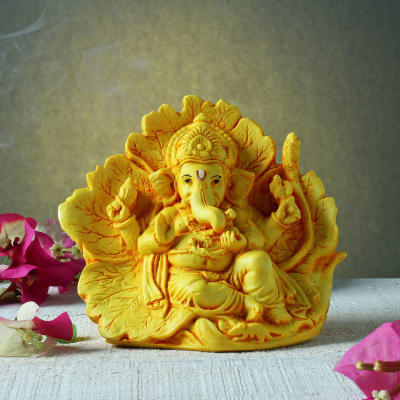 Among the many Simple Housewarming Decoration Ideas, this one is a must try. You could either use full roses (without stems) or just loose rose petals to create this decor.
On the auspicious occasion of housewarming, its always advisable to include Ganesh ji and Lakshmi ji's image or idol to attract wealth and prosperity into your new home.
Alternatively you can also create an outline of these Gods, with roses or fill in the figure with rose petals. The result will be stunning anyway. Make sure to keep this decor at a place facing the entrance of your house.
Ceiling and Floor Decor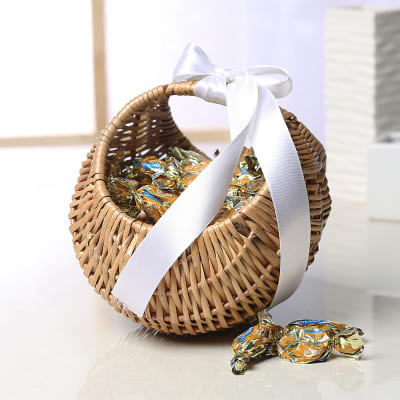 Why just decorate the doors and windows when you can beautify your ceilings and floors too. Cane baskets (tokri) come in various shapes and sizes. Choose one of your liking and hang a few of them from your ceiling.
Then place a healthy bunch of colorful flowers within them in such a way that it looks as if the flowers are springing forth to life. It gives one an image of a window garden.
You can also use round tokris with strings of flowers piled into them and place them together in one corner of your house along with other decor. It is aesthetically pleasing, to say the least.
Flower Arches and Bouquets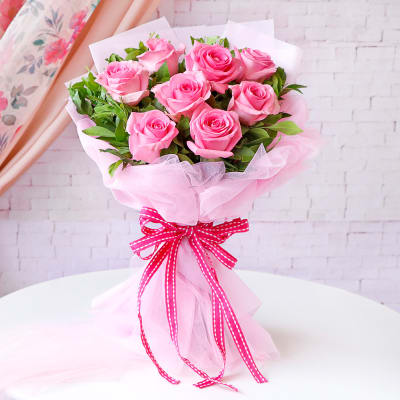 Though overused, floral arch decor is here to stay. Making your grand entrance fairytale like, these arches are filled with various seasonal blooms and are exquisitely decorated for every occasion.
This makes it one of the easiest housewarming decoration ideas that can be tailored to Indian look and style.
When these floral arches are complemented by beautiful bouquets in different stands, throughout the house, the fresh blooms fill the air with their sweet aroma, inviting good vibes into your space.
Flower curtains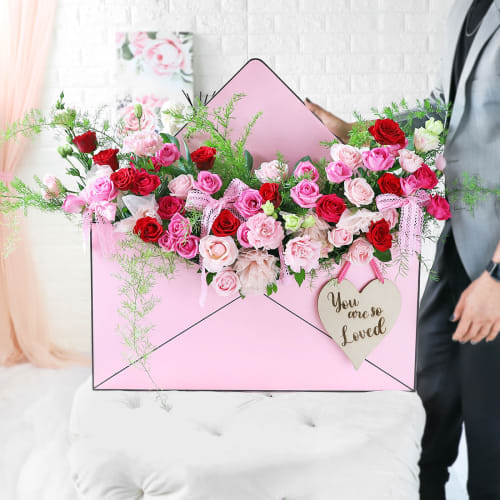 String many flowers together in long lines creating a curtain like look. It doesn't just work great as a decor, it could also double up as a divider, cutting off the puja area in the house from the remaining housewarming celebrations.
Brass and flowers
The combination of brass and flowers can be used in several creative ways. One of them is the commonly seen brass decorative bowl of varying sizes, filled with water and adorned with flowers and candles floating on it.
Another amazing housewarming decor idea is to use brass pots or matkas with flowers overflowing and pouring out of them.
Flower backdrop
Floral backdrops are the latest rage in many celebrations. Apart from being Insta worthy they help to enhance the look and feel of even the smallest of spaces.
Create a rose filled backdrop or make large floral designs filled with loose petals, to add a vibrant touch to your housewarming celebrations.
Floral Rangoli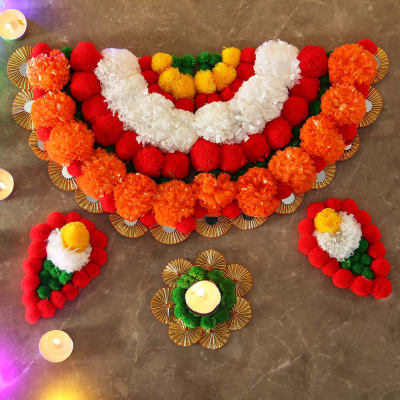 Make Elaborate floral Rangolis for your housewarming celebrations. Transform the entrance of your home and spruce them up with fairy lights and colorful Rajasthani umbrellas. Why just stick to flowers, give your new home entrance and interiors the glamour it needs.
Use pastel coloured cloth, neem and mango leaves, flower balls, candles, Diya stands, cane stool covered with flowers and metal cage decor with little birds to add to the beauty of the floral decor.
Wish you luck and happiness in your new home!
Also Read,
How to Wrap Gifts Like a Pro: 10 Unique and Eye-Catching Ideas
Best Raksha Bandhan Songs to Play for Rakhi Celebration
Raksha Bandhan (Rakhi) Quotes, Messages & Wishes
Most Beautiful Rakhi for Your Stunning Brother