Bakers and patisserie chefs are getting more and more creative with their designs and detailing of fondant cakes.
Their skills clubbed with the increasing demand for personalised cakes has made fondant cakes a growing rage currently.
What is Fondant Cake, You Ask?  
A fondant cake is a cake that is covered in a smooth, thick layer of fondant. Fondant is a type of sugar paste that is made from sugar, water, and gelatin. It can be flavored and colored, and is often used to decorate cakes and cupcakes.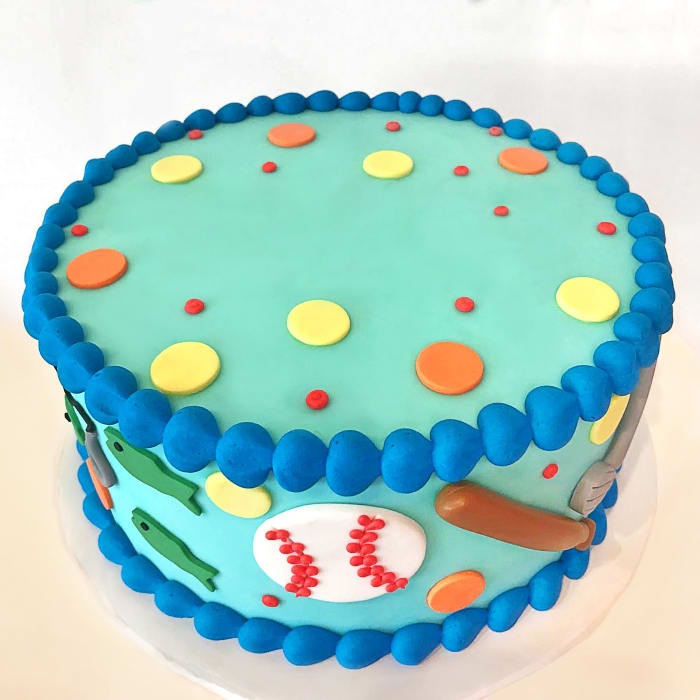 Fondant cake meaning – For the unversed, fondant is a soft creamy preparation of sugar, water, and flavorings that is used as a basis for candies or icings.
It is a dough-like paste that is rolled out and carefully maneuvered onto a simple cake to sculpt it into a particular design or decoration.
This preparation gives the cake a smooth, seamless finish that can be made into any colour.
So, not only would you get a tasty cake, but a chic looking one too. Additionally, for those looking for anniversary gifts for parents, consider well crafted fondant cakes in designs such as cocomelon, baby shark, Unicorn, makeup, shopping, Jack Daniel, Pinata etc.
Difference Between Fondant Cakes and Cream Cakes?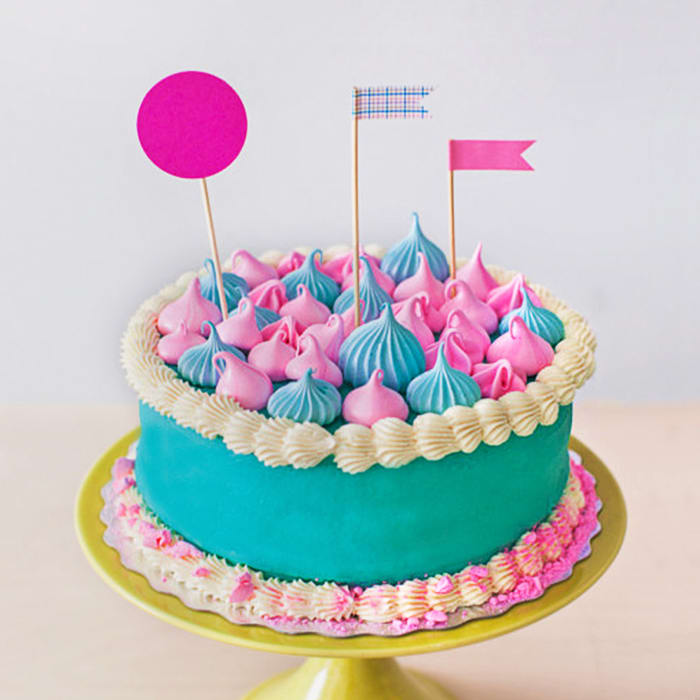 Fondant cakes are covered in a thick layer of fondant, while cream cakes are covered in a thin layer of buttercream. Fondant cakes are typically more smooth and sleek in appearance, while cream cakes can be more rustic looking.
While fondant cakes have a regular cake base like chocolate or butterscotch, their outer covering is that of a smooth sugar paste. The fondant adds a glamor to the otherwise normal looking cake.
It's heavy designs and precision with which each detail is added to the cake, adds to the value of the cake.
Whereas, cakes when topped and covered with an icing made up of sugar, butter, and cream whipped together are known as cream cakes.
These are the regular cakes that have been around for the longest time. Their cream base makes the cake look soft and fragile.
Fondant and Semi Fondant cakes are a popular choice with bakers as it gives them the creative expansion of manipulating colours, designs and textures to get the desired outcome of a beautiful looking cake.
How to Make Fondant Cake?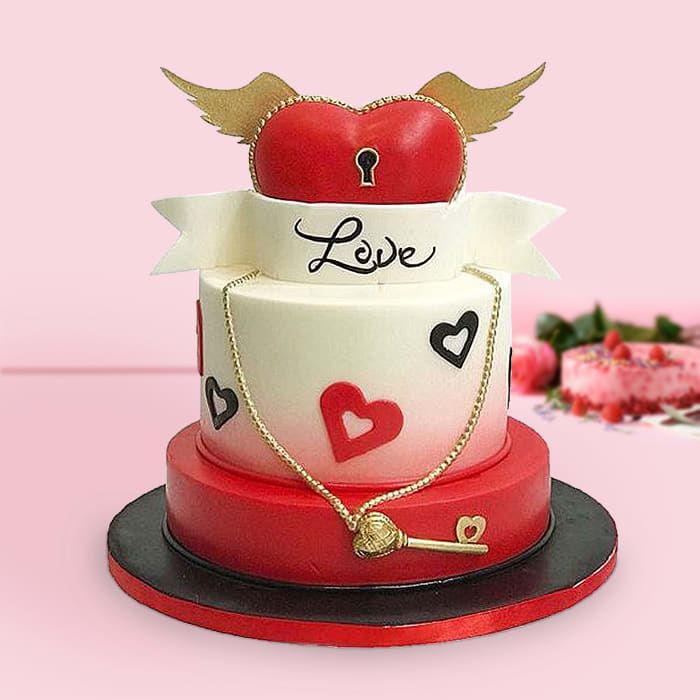 For starters, keep in mind that fondant has a little weight so make sure that your cake's texture is not too light or heavy. Try to keep to the regular best cake flavors of chocolate, vanilla, etc.
First, measure the diameter and height of the cake so that you can make almost double of that size diameter for the fondant.
Knead the fondant until it's pliable. Add and work in food coloring at this point if you're planning to tint your fondant.
Use a rolling pin to roll out the dough in 1/8th thickness of the cake. Keep rolling till you achieve the desired shape and size for the cake. Remer not to roll too much, else it tears.
After baking your cake, you need to crumb coat it with a thin layer of buttercream so that it holds the fondant in place. Always remember to give your cake a smooth finish.
Fondant will dry out if left out for too long, so it will need to be placed on the cake immediately while it's still fresh and pliable. If your crumb coat has crusted or the frosting on your cake is dry, lightly mist your cake with water before covering. 
place your fondant roller in the middle of your rolled out fondant. Using both hands, fold one side of the fondant over the roller. Pick up the fondant roller by both ends.
Working from the back of the cake to the front, touch the edge of the fondant to the cake board and start draping the fondant towards you, trying to keep it as centered as possible.
Gently roll out the fondant, guiding it as it drapes over the rest of the cake.
If the fondant doesn't fully cover the bottom edges of the cake, don't worry! As you smooth the fondant, it will stretch to better cover the edges.
If the fondant is not centered, you should be able to gently remove the fondant and re-center it. 
Fondant Cakes Vs Cream Cake Pros and Cons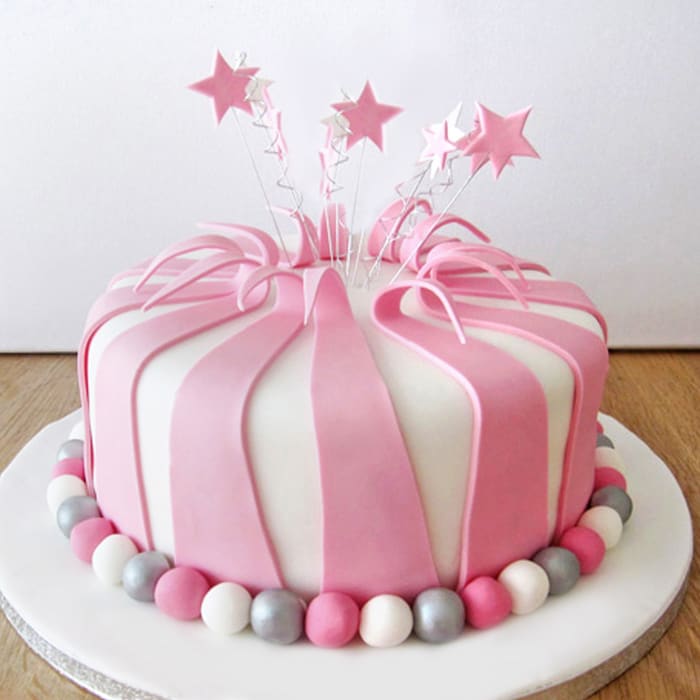 While both look beautiful, there is a vast difference in preparation and texture of both types of cakes. Here are some differences between both:
The option of using  flavors in cream, are very limited, unlike fondant.

Many designs can be made using buttercream, but they can't outlast the advantage of fondant.

While fondant gives a smooth finish, it's taste might not be as enjoyable as that of a cream cake. Cream cakes have a more soft finish.

Fondant cakes are much more appealing and long lasting than cream cakes.

A fondant cake is sweeter as compared to a cream cake. Cream icing is made using butter, sugar, and cream, whereas fondant icing is made using gelatin, glucose, and sugar.

Fondant icing gives freedom to decorate cakes in elaborate ways. This is not possible with cream icing
Final Thoughts

Regardless of the sort of frosting you use, it will be great. At the end of the day, it's all about your particular preferences.
So, based on your taste preferences and design requirements, choose fondant or cream cakes.
Visit IGP.com if you're looking for the best cakes. For all events, we have a large selection of cakes with a variety of frosting possibilities.
Place your cake orders online with IGP and take advantage of the greatest cakes available.
Happy baking!
Also Read,
Everything to know about Pinata Cakes with hammer
Celebrate Your Anniversary with Cakes Sent From Your Loved Ones
Discover Different Types of Birthday Cakes to Celebrate Your Special Day!
List of Most Popular Bollywood Birthday Songs