Rakshabandhan is an auspicious celebration of the bond between a brother and a sister; it's one of the most prime festivals celebrated in India as well as outside of the country for which Nepal is a big example. Find some more fascinating facts on Rashabandhan on our previous blog.
This bond does not have to start within the same womb, it can be between two people who met under some circumstances which created a bond that is meant to be cherished forever. Your brother is your first friend that you make, your first accomplice, your first partner in crime, so, naturally a sister would like to make up for all the things that they did together as a team.
Although, after growing up it becomes difficult to celebrate the festivals together as people fall apart; whether due to a job, education or even marriage; the togetherness slowly disappears but that's only when it comes to the physical form of it. You can always remind each other of the love you two share by sending gifts to one another and it doesn't get easier than online gifting because of its convenience and variety of options. Here is a list of 10 best Rakhi Hampers for your brother:
Rakhi with Kaju Katli and Puja Thali Hamper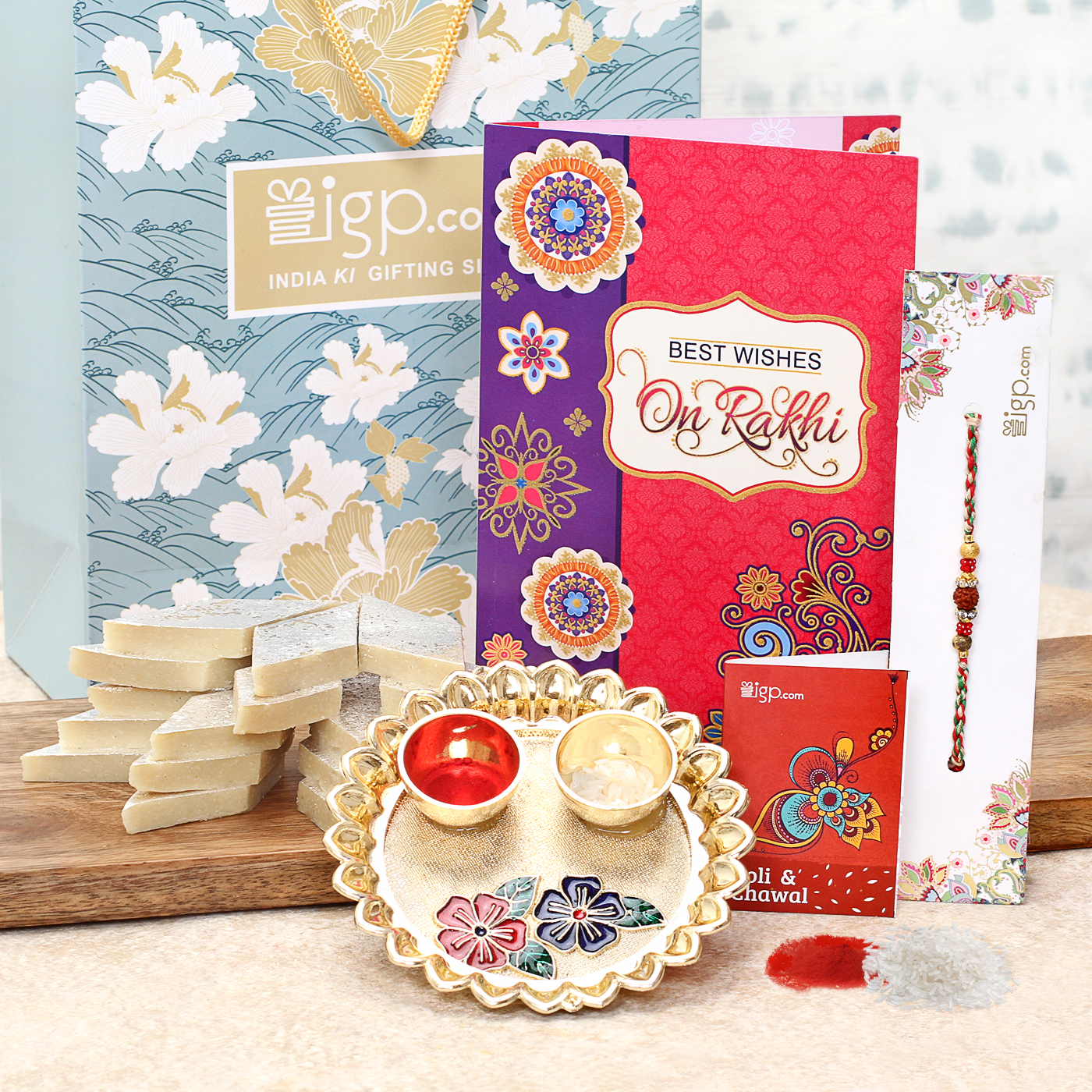 If your brother loves Kaju Katli then this hamper will surely cheer him up. There is a beautiful Rudraksh Rakhi with gorgeous Mauli thread-work, Kaju Katli and a greeting card. It's a complete set as it also includes an adorable Puja Thali with Roli & Chawal. Surprise him with this bundle of joy!
Trendy Meenakari and Beads work Rakhi with Assorted Chocolates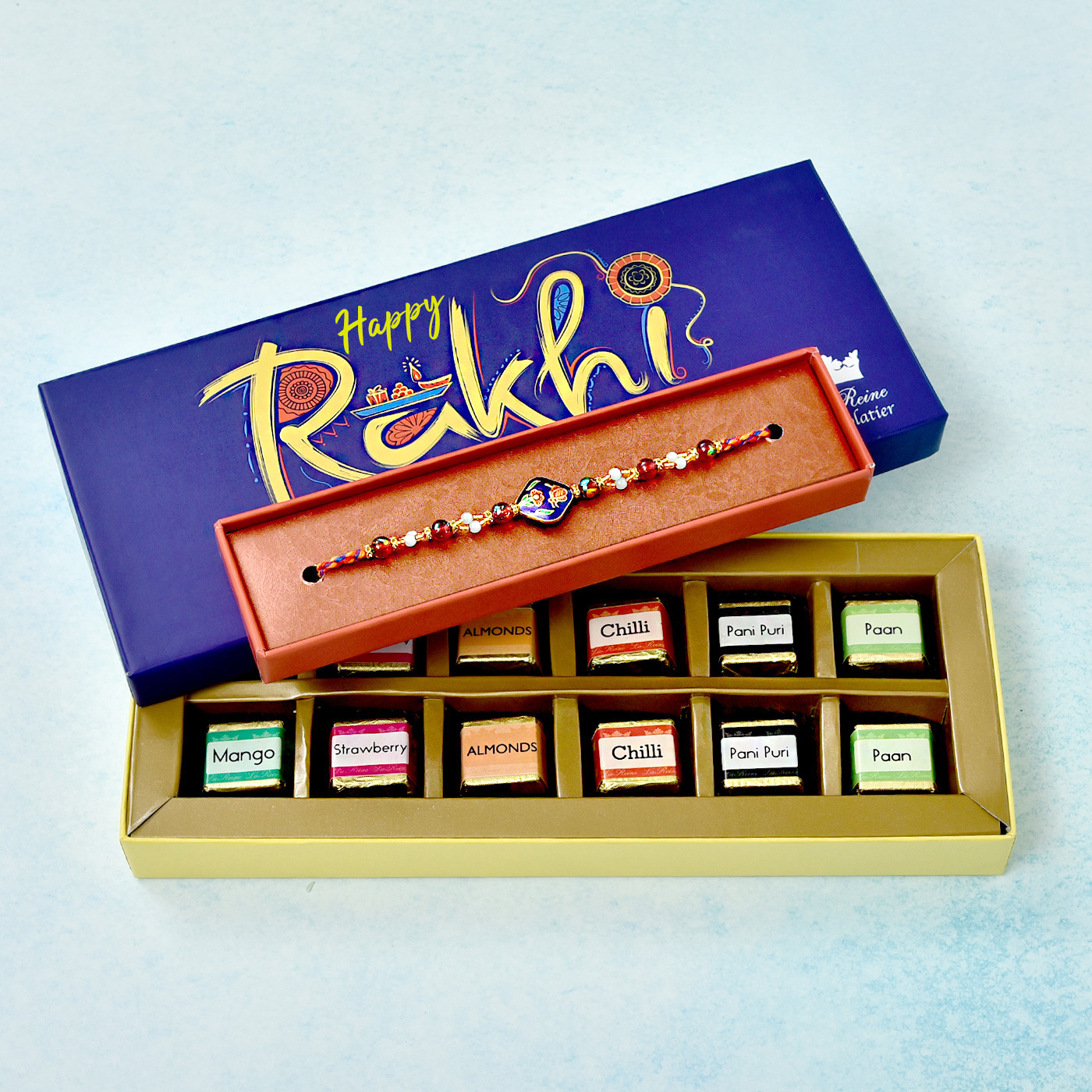 Who does not love chocolates? Especially when they come in fun flavors! This Rakhi will be sweeter and flavorful for your brother when you will send him this surprise. A Blue Meenakari Rakhi comes with six unique flavors of chocolates which will satisfy his sweet-tooth.
Copper Kundan Rakhi with Cashews & Pistachio in Wooden Metal Embossed Box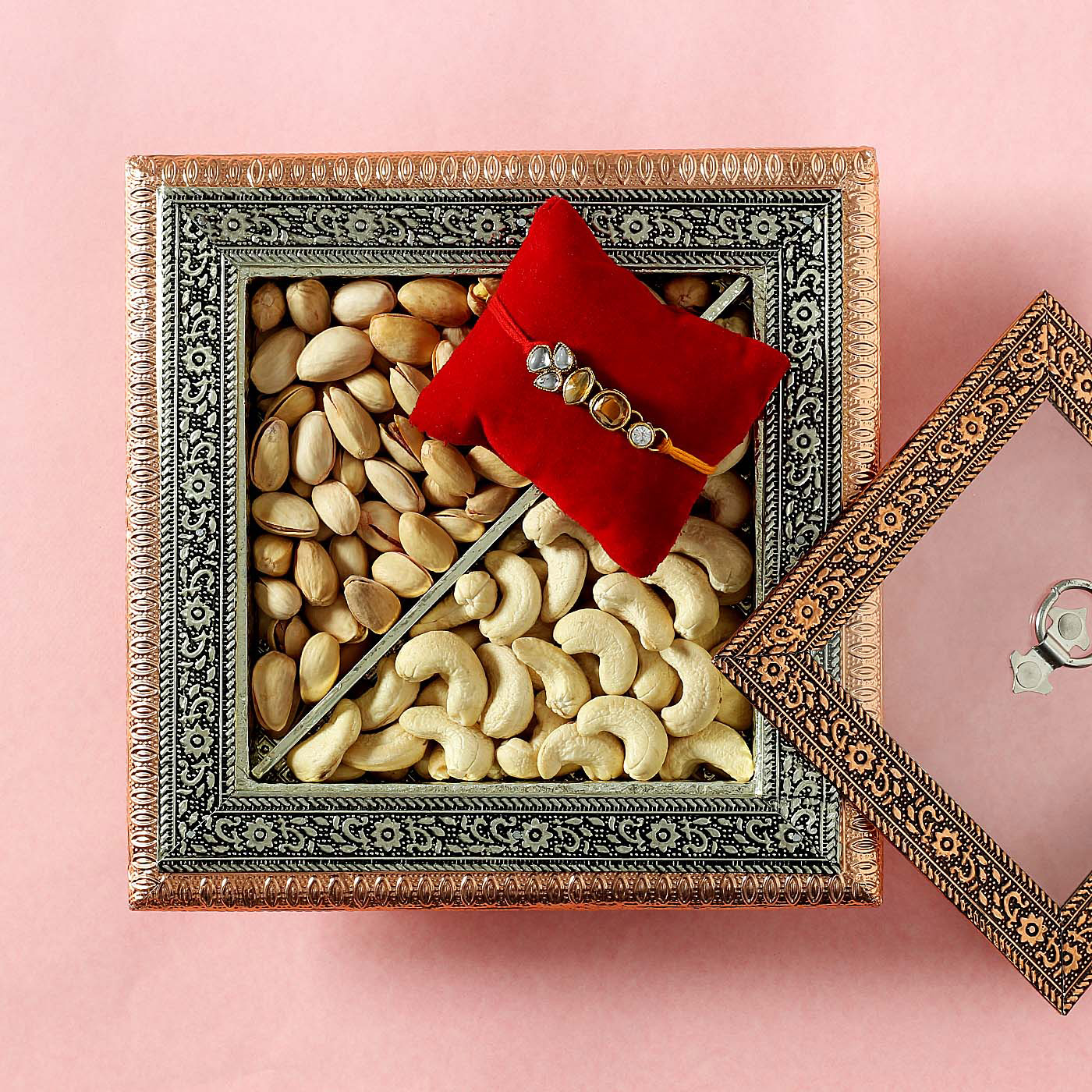 This is for all the health-conscious brothers out there. Celebration with sweets is not really their thing, dry-fruits on the other hand, makes them happy! Surprise your fitness freak bro with this beautiful Hamper that comes with a unique gift-box. The Rakhi itself is embellished with attractive Kundan work.
Colorful Stones & Beads Embellished Rakhi with Panjiri Laddoo & Designer Thali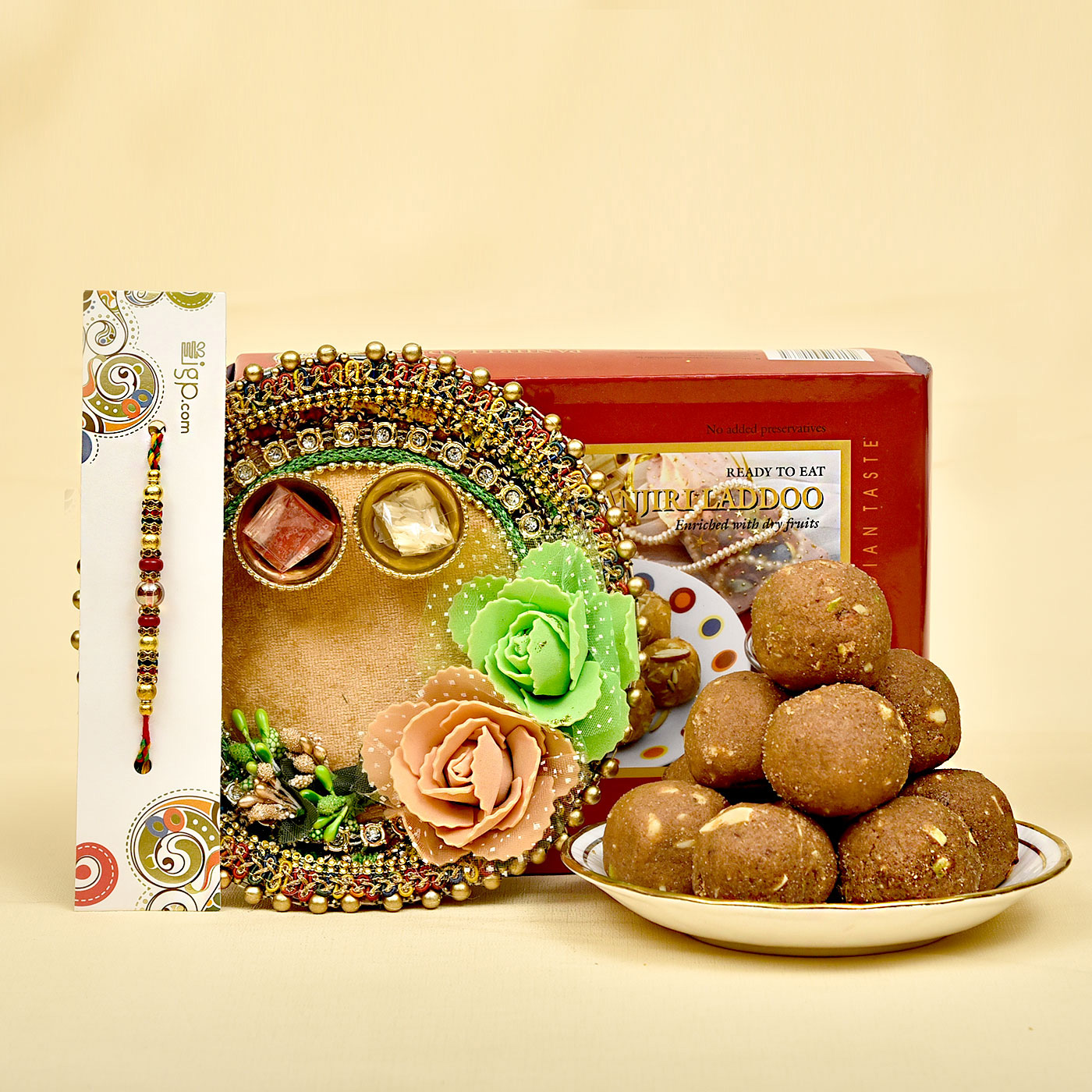 You want to send your brother something eye-catching? Perhaps a Rakhi Thali that he will keep with himself forever? Here is the perfectly curated hamper for that purpose. This gorgeous Puja Thali is a part of the hamper which also has a gorgeous Stone & Beads embellished Rakhi and Panjiri Laddoos too.
Superhero Kids Rakhi with Black Printed T-Shirt and Choco Blast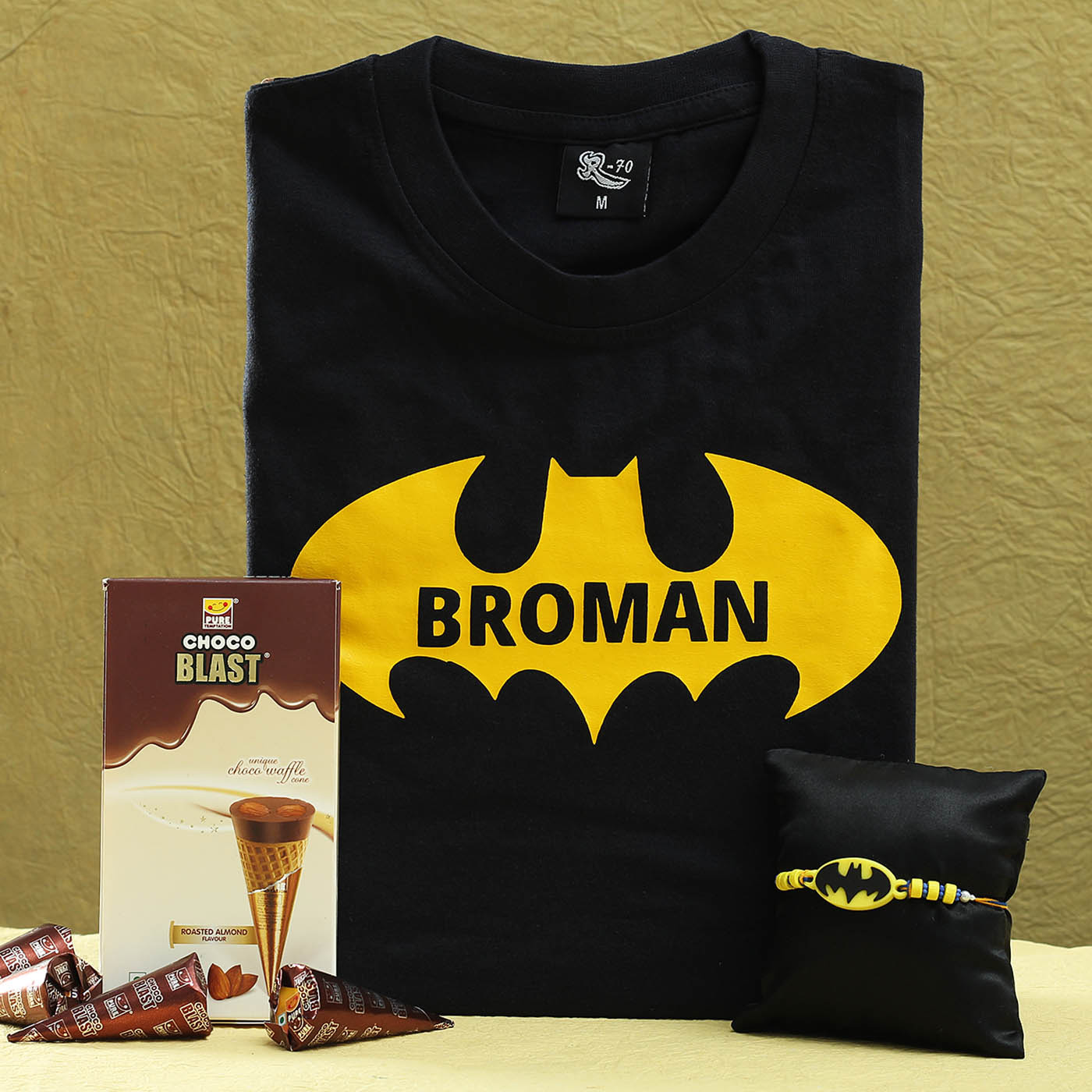 Looking for the perfect Rakhi Hamper online for your little brother or a brother who is still a kid at heart? Here is one that has been specially curated for that purpose. Get him this adorable Batman Rakhi along with a t-shirt that says "Broman", how accurate right? Choco Blast is included too, if this wasn't just meant for him…!
Traditional Om Design Rakhi with Black Personalized Diary & Health Bar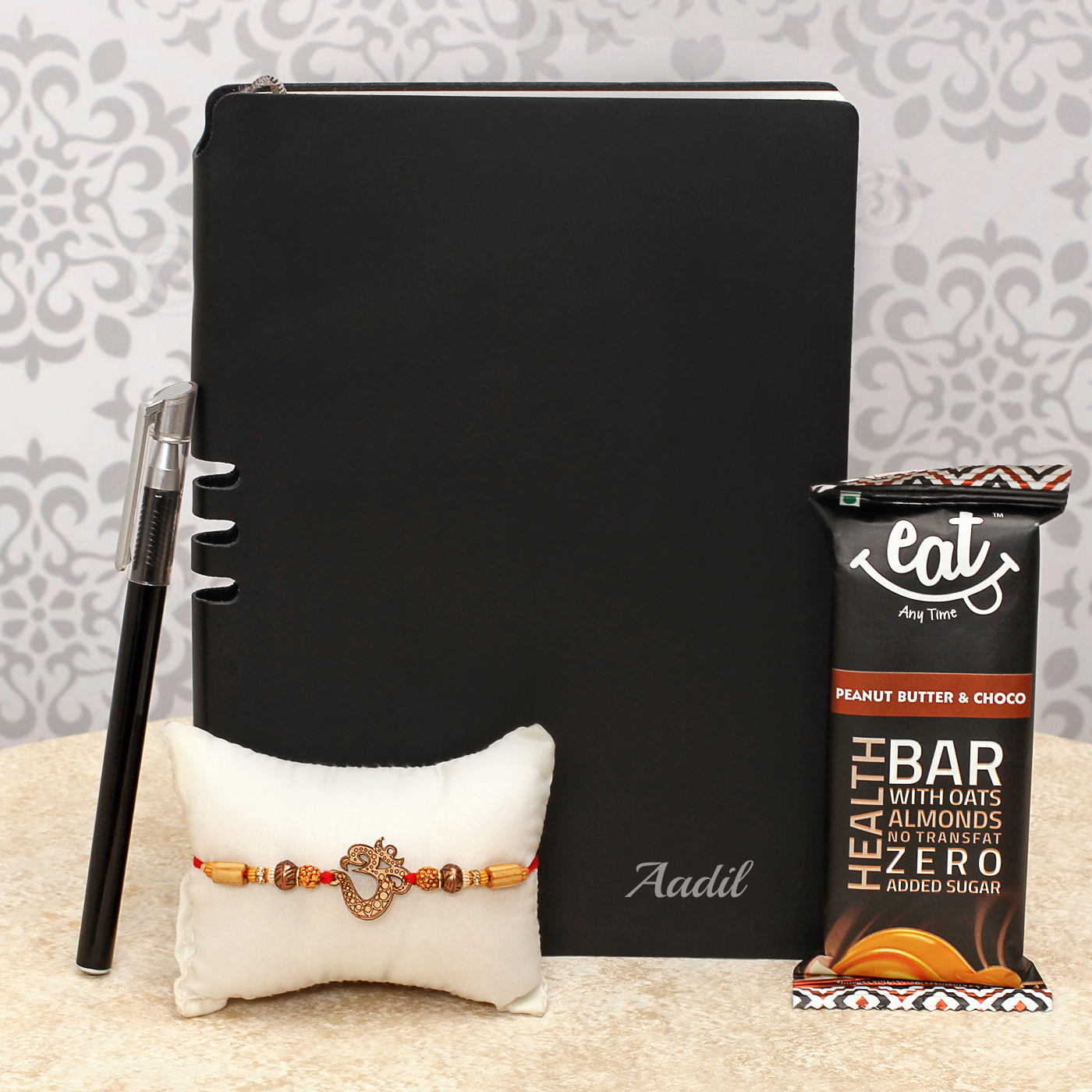 The best Rakhi Hamper for the working brothers! Accessories that he can carry along with himself. If your brother has recently joined a new company and you are wondering what to gift him then you have found the right option. This Hamper includes a classic Black Diary that can be personalized with his name on it.  There is an auspicious Om Rakhi and a protein Bar too. The Black Pen completes the set.
Rudraksh Rakhi with Tie, Cufflinks & Pocket Square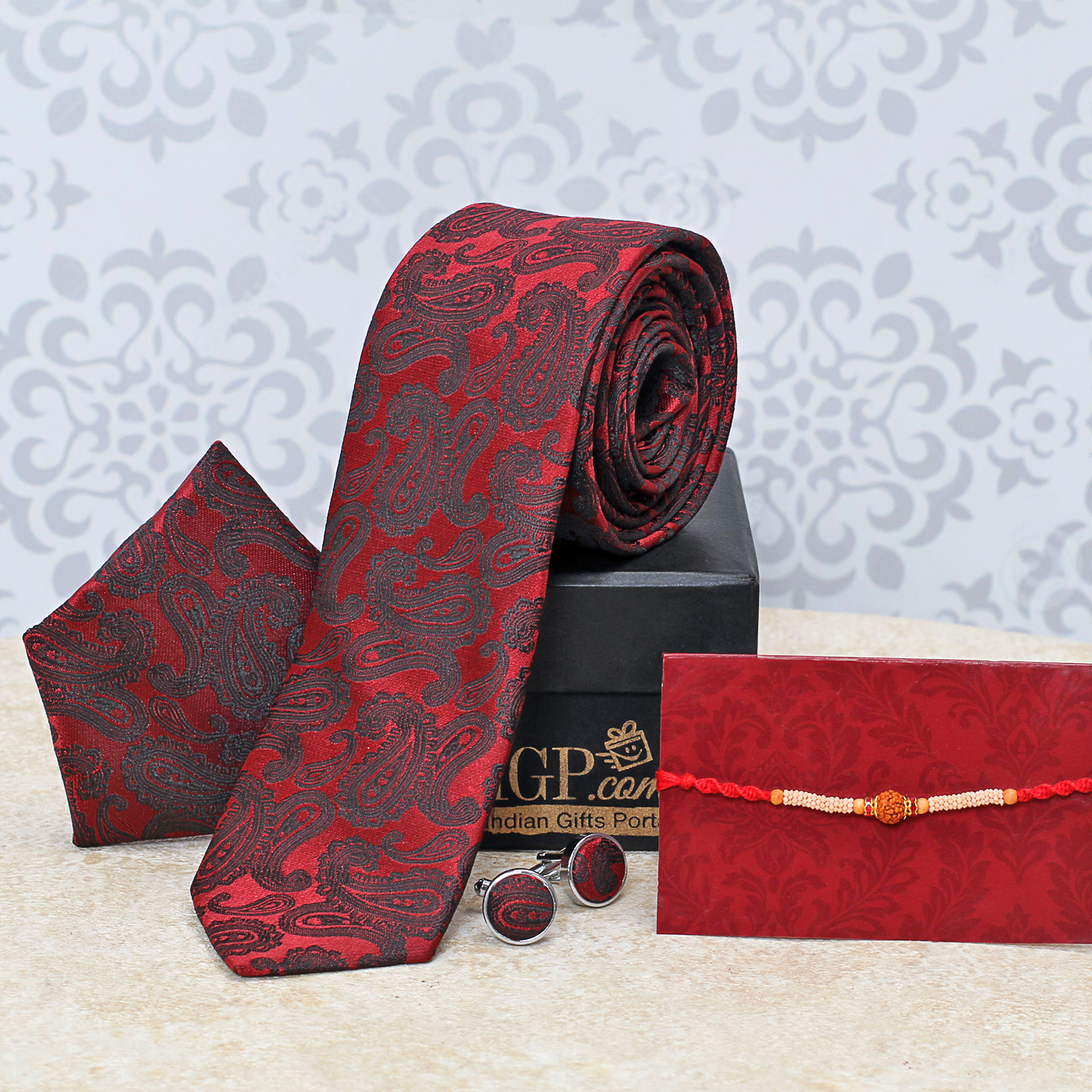 He loves wearing formals? You have a CEO for a brother or a new-joinee who is struggling to find the perfect tie? This Rakhi Hamper will work as a lifesaver for him. A classic Red and Black tie with cuff-links and a Designer Rakhi with tiny beads will remind him how much you adore him as a brother.
CZ Metal Rakhi with Dryfruits, Chana Badam Barfi, Chocolate pack and Bluetooth Speaker in a Basket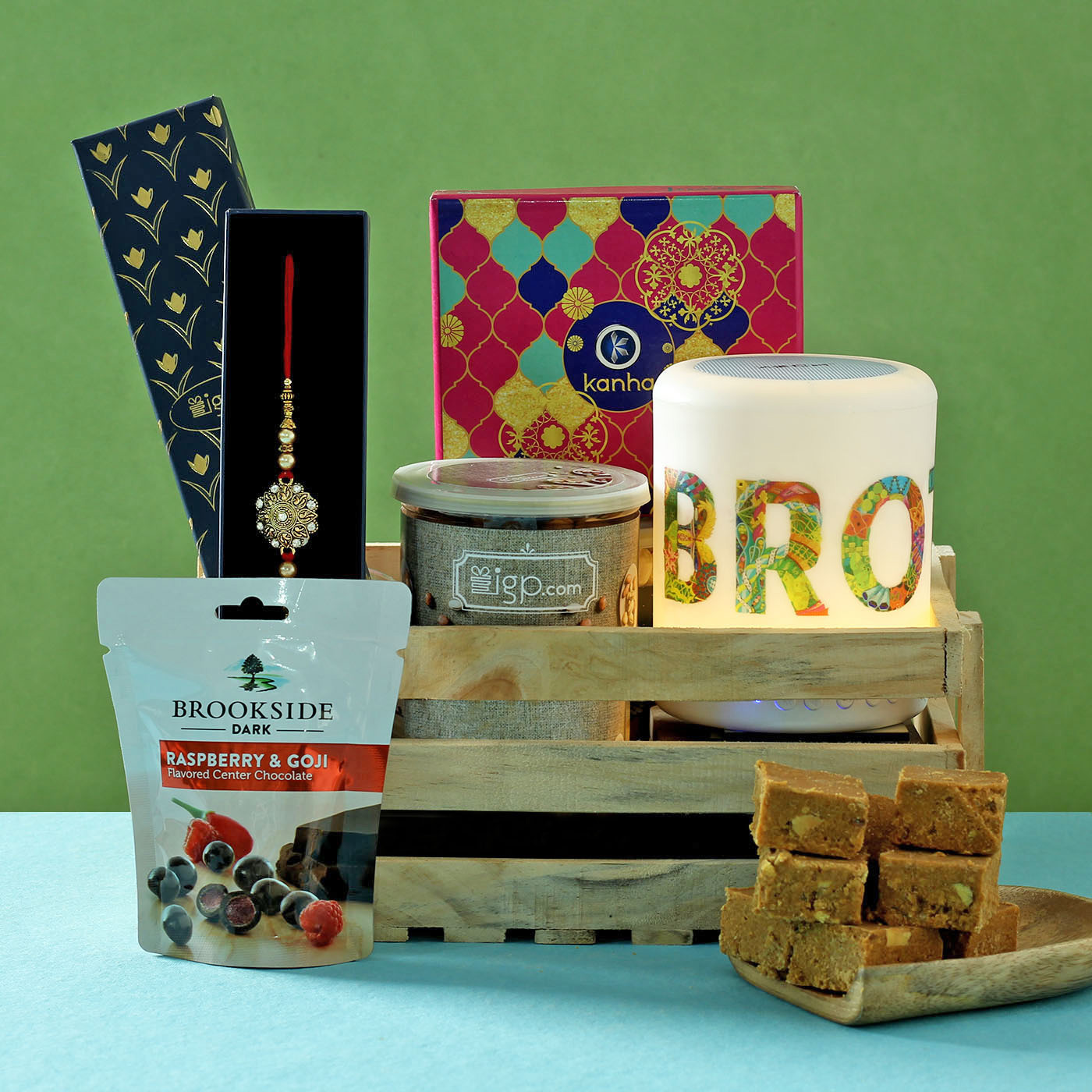 A big Rakhi Hamper for your big brother. A hamper curated with care that comes with a Metal Floral Rakhi studded with CZ stones and Pearls, Chana Badam Barfi, Roasted Cashews and Almonds, Personalized Smart Touch Mood Lamp Speaker, Raspberry & Goji Flavored Center Chocolate and a Wooden Box; so much so that he cannot finish in just one go.
Smily Rakhi with Personalized Smily Round Cushion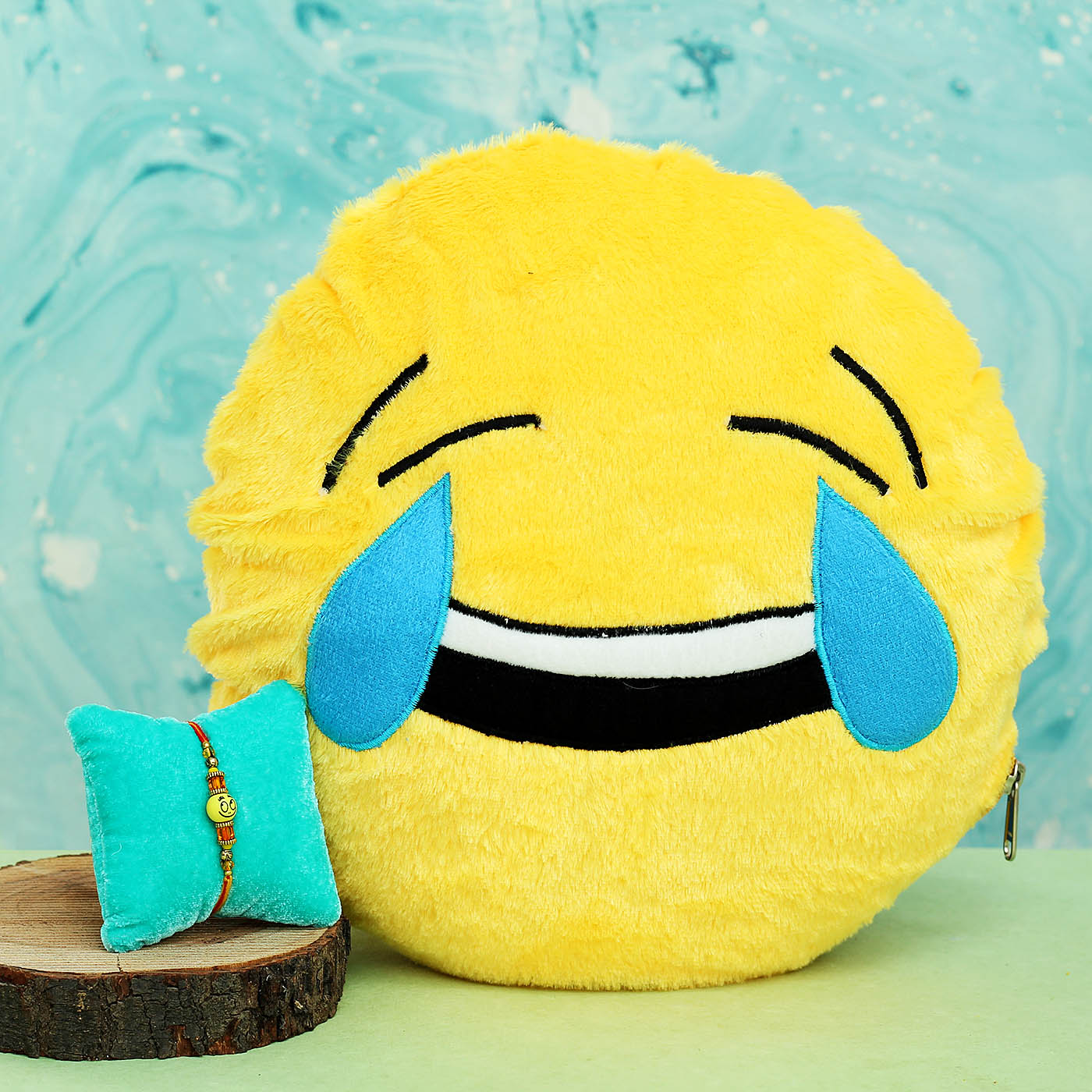 He is the one who always makes you laugh and you want to remind him of the very same thing? This is the Rakhi Hamper for him. This personalized cushion will remind him the jokester that he is. It is also paired with an adorable Rakhi with smiley face.
Metallic Flower Dial Rakhi with Sugar Free Anjeer Dry Fruit Barfi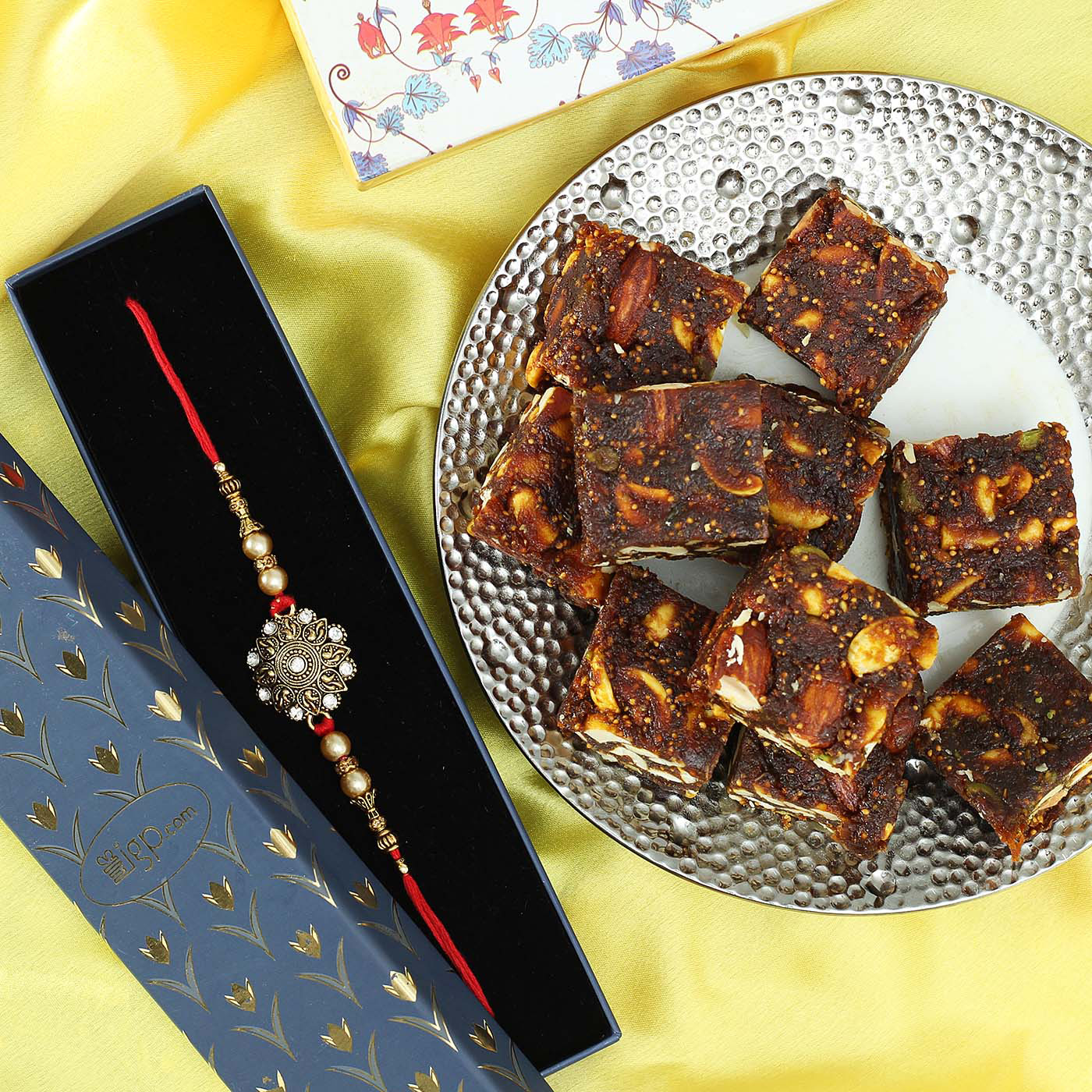 On Rakshabandhan the sweet guilt-free experience is now possible with this Rakhi Hamper. A Metallic Flower Dial Rakhi comes with Sugar-free sweets which will let him enjoy indulging in these delicacies without thinking twice.
Now you have a list so go ahead and gift away!