10 Best Valentine's Day Gift Ideas to Impress Your Beloved
Geared up for the dose of love on Valentine's Day? Well, you must have surely made some sort of plans for Valentine's week, got everything ready, booked a table for a romantic dinner, sketched out the entire itinerary for the day, and decked up the place for a relaxing romantic ambiance.
Kudos to that! But, have you still figured out which gift would make your significant other know that this Valentine's Day is making up for the loss of ditching all the staycation plans and dinner dates you missed the previous year.
We think not! So, whether you have shortlisted some thoughtful tokens of love for your partner or not, we are happy to help you with an excellent collection of Valentine's Day gift ideas that will leave your partner wanting for more and of course will leave them LOVESTRUCK!
So, get your shopping carts ready and bring some joy to your Valentine's week celebrations:
All Hearts Personalized LED Lamp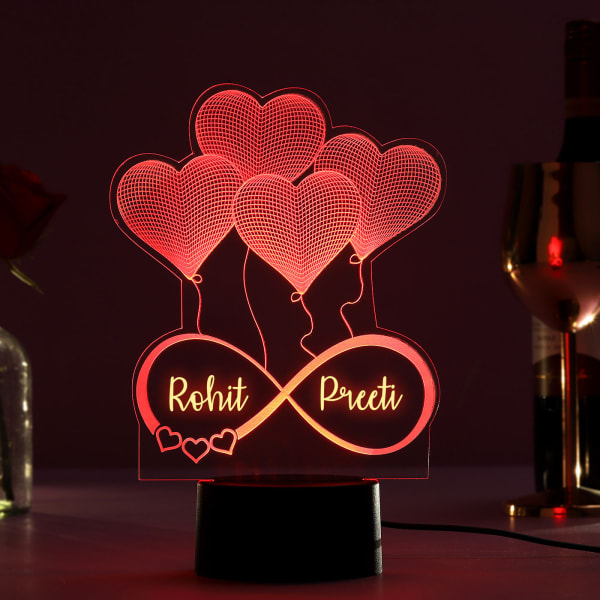 Your partner illuminates your life like no other.
This Valentine's Day, light up their mood with an exquisite acrylic 7 RGB colors LED Lamp that's embellished with four hearts.
Personalize and engrave the hearts with names and place it in any corner of the house.
Box Of Romantic Roses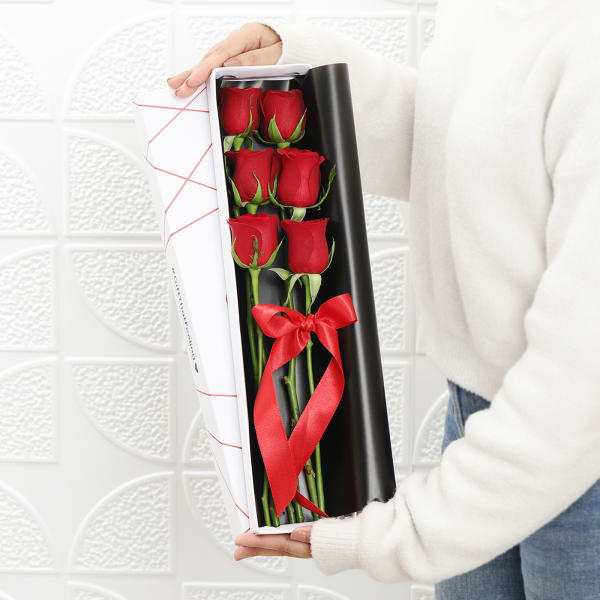 Red roses are the perfect representation of love, romance, passion, joy and admiration.
Convey it to your Valentine with this reusable keepsake box that comes with a bouquet of pretty red roses. A super romantic gift for him/her.
Personalized Caricature with Wooden Stand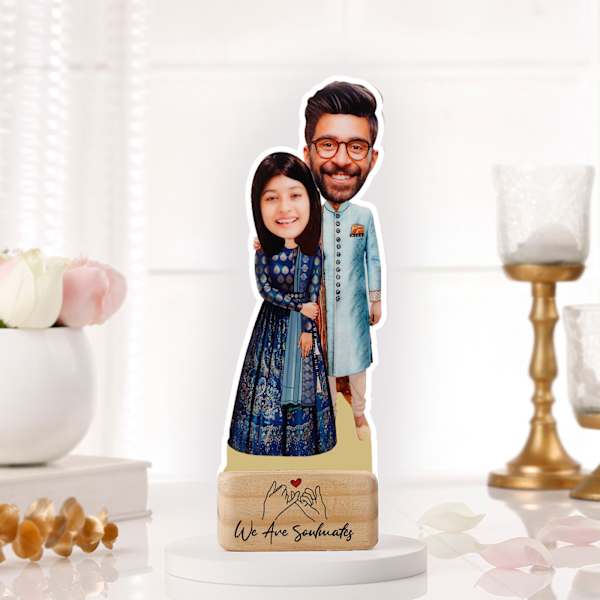 Capture the traditional essence of an Indian wedding, this cute caricature is perfect to display the moment of forever love and bliss.
An ideal gift for valentine, the caricature comes with a wooden stand. Personalize with 2 faces for a quirky touch.
It is a lovely present for those who are celebrating the new year and is ideal for displaying on tables and desks.
Lovers Personalized Photo Wall Decor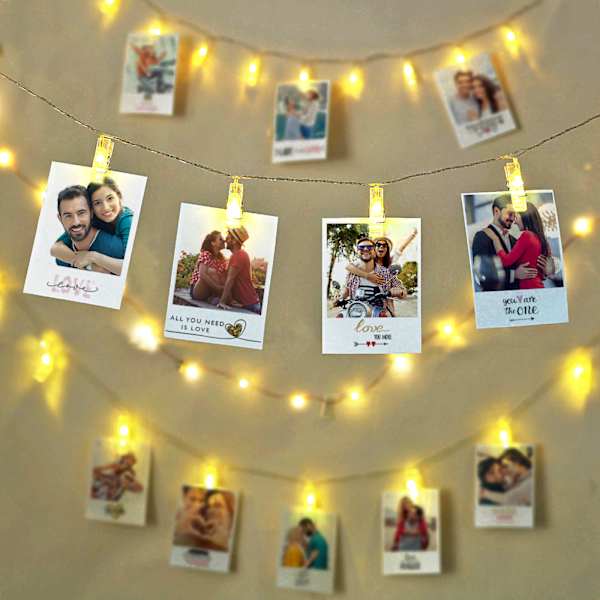 Make everyday Lit with this extravagant Lovers Personalized Wall Decor to enhance the look feel of the room, it is displayed with LED lights adding an oomph factor.
Personalize it with pictures of your beloved to create your happy corner in home.
Purple Orchids & Pink Roses In Round Vase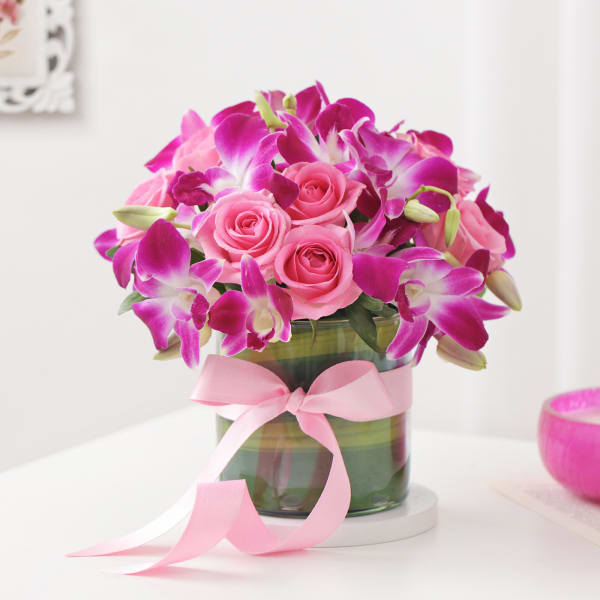 Straight from the royal garden, this arrangement of purple orchids & aqua pink roses in an elegant round vase, adorned with ribbons, gives the perfect gifting feel to all your heartfelt emotions.
A great center table attraction that is perfect for gifting and self-pampering.
Floral Hearts Openable CZ Pendant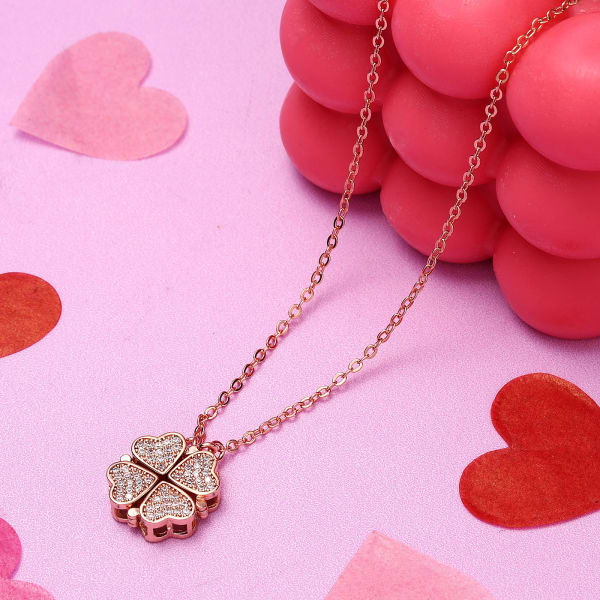 A mesmerising design of a flower with 4 CZ stone studded heart-shaped petals; the brass pendant has a tiny magnetic closure which opens and becomes a necklace with a string of hearts.
It comes with a delicate stainless steel link chain. Both chain and pendant are finished with a rose gold polish.
I Love You Flower Box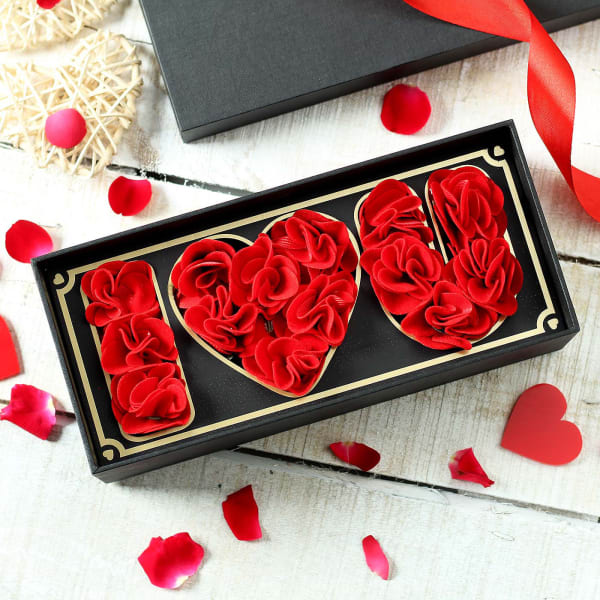 A Gift Box that will open your heart to your significant other – This unique Flower Box has something meaningful crafted inside.
Say your heart's truest desire out loud to the love of your life with the help of this exclusive Love Flower Box.
Truffle Delight Cake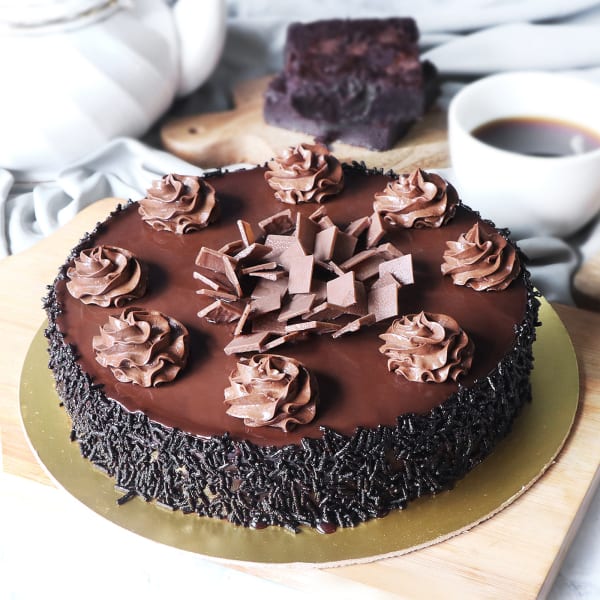 When in doubt, choose truffle! This yummylicious chocolate cake is covered in gooey, rich and creamy truffle flavoured ganache and loads of choco chips.
Let this heavenly half kg cake add more fun to your celebration. Key attributes :
It comes with a delicate stainless steel link chain. Both chain and pendant are finished with a rose gold polish.
Lovey Dovey Valentine Hamper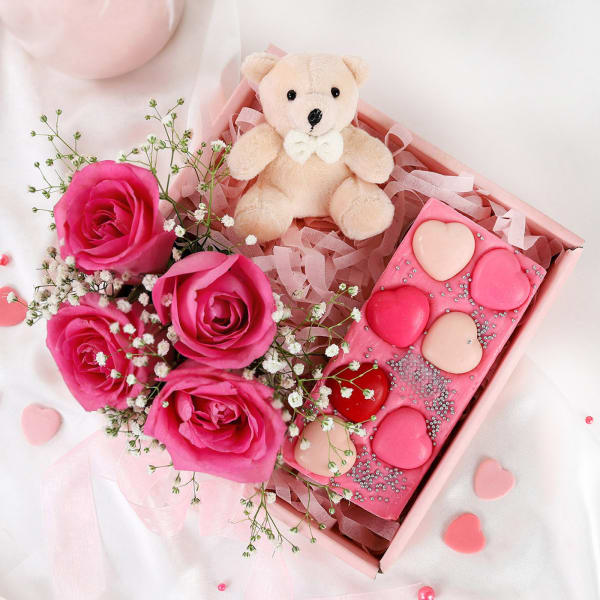 Make it super special for your beloved with this Lovey Dovey Valentine Hamper.
A curation that has a pink tray full of gourmet heart chocolates, a teddy bear, and romantic roses. It is as lovely as your lady love.
Heart Mug Gift Combo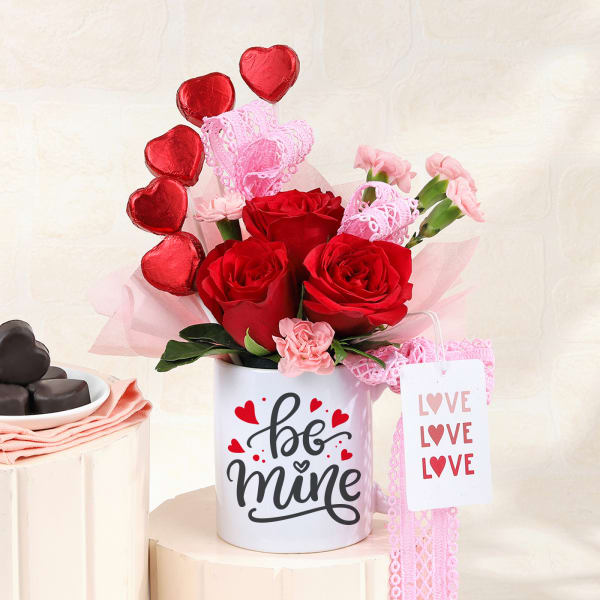 Match your lover's vibe with the Customized Heart Mug Gift Combo. . It has heart-shaped chocolates along with hand-tied roses and carnations. You can make your beloved's Valentine with this.
We gave you 10 mind-blowing gift suggestions and we hope you love them just like your significant other loves you.
Let us know whether your partner liked it in the comments below.
More Gift Ideas,
Say it with Flowers – Use the Language of Flowers to Send Your Love
Same Day Delivery Personalised Gifts