New Year Gift Guide: Find the Perfect Present for Everyone on Your List
New Year is a time of fun and frolic, parties, resolutions, hopes, positivity and aspirations of the year ahead. Beginning the first day of the new year by receiving gifts can make anyone feel special. So give your dearest ones New Year Gifts and create a memorable start.
If you are wondering what is the best gift for New Year, we have that sorted for you: 
Table Calendar 2023 in Black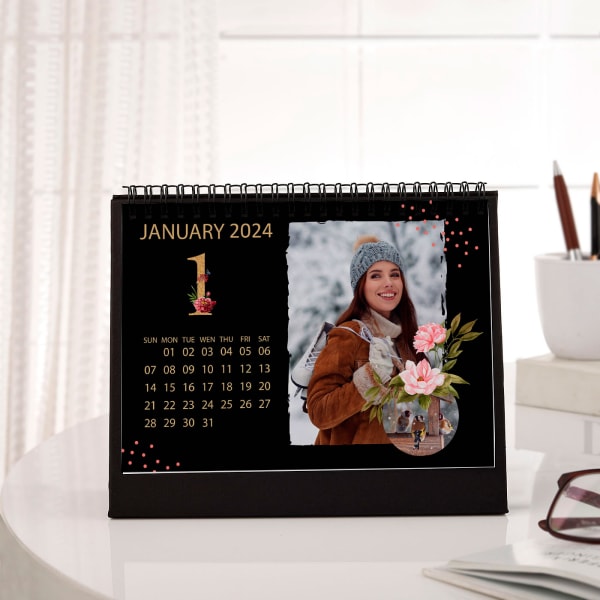 Treasured memories deserve to be showcased in the most spectacular manner. With this Black Base 2023 Table Calendar, you can give your 12 favourite pictures a seriously fashionable facelift. It is a lovely present for those who are celebrating the new year and is ideal for displaying on tables and desks.
New Years Celebration Cake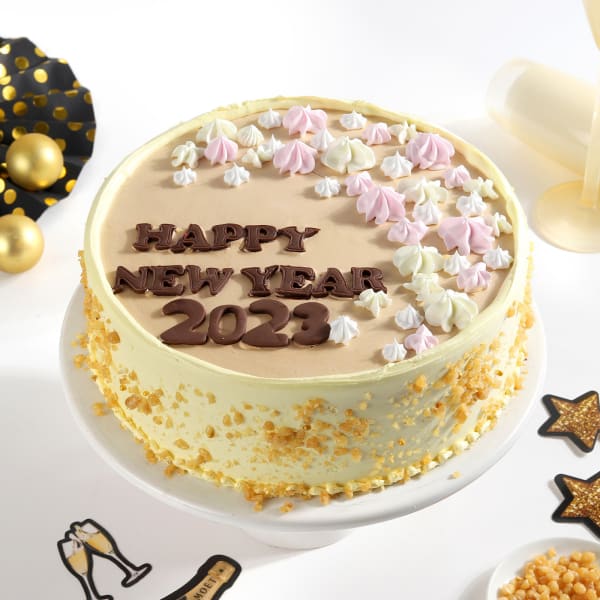 This 500 gram New Years Celebration Cake is the ideal sweet treat to welcome 2023 with layers of fresh cream, rich flavours, and a topping of crushed hazelnuts. When it's enjoyed with family and friends, it's even more enjoyable.
Personalized LED Lights Reusable Bottle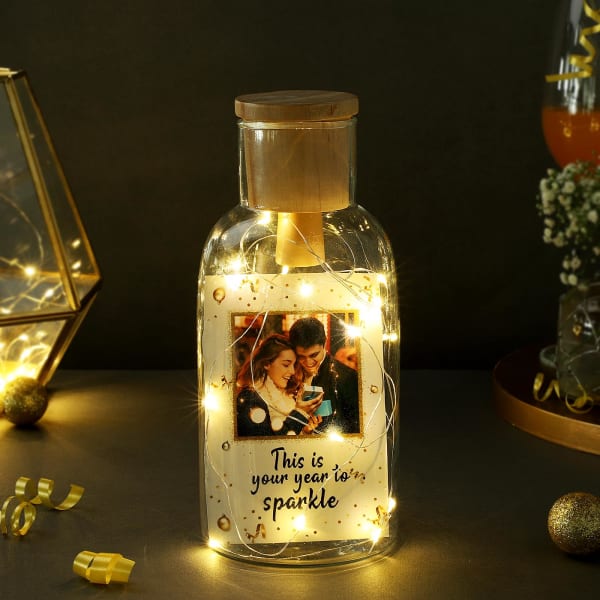 Send smart, dazzling and sustainable gifts to your loved ones on New Year. This glass bottle has a corked topper which holds an LED string light and its switch. It can be reused to store liquids and comes with a greeting card. Personalize the card with a beautiful memory.
Lets Read Wooden Planter Bookends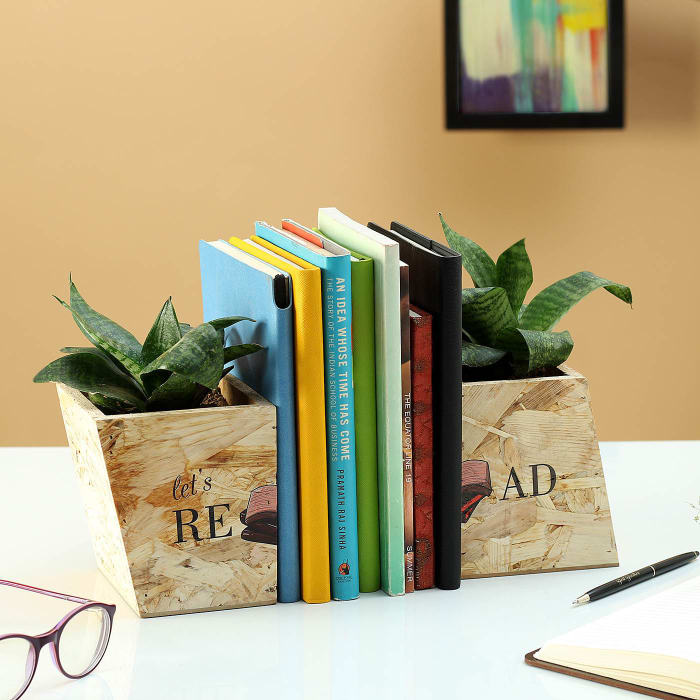 'New year, new me' is a common phrase heard during the start of the year. Gift this amazing Let's Read Wooden Planter Bookends set to the person who is a perfect combination of a book and plant lover. Nothing symbolizes the essence of a new life and growth more than plants.
This embodies resilience in the receiver and serves as inspiration for the year ahead. When a planter pot can double up as a bookend, you just know that it's a one-of-a-kind gifting idea! What's more? The hollow bookends can double up as pen stands too.
Its a New Year Personalized Calendar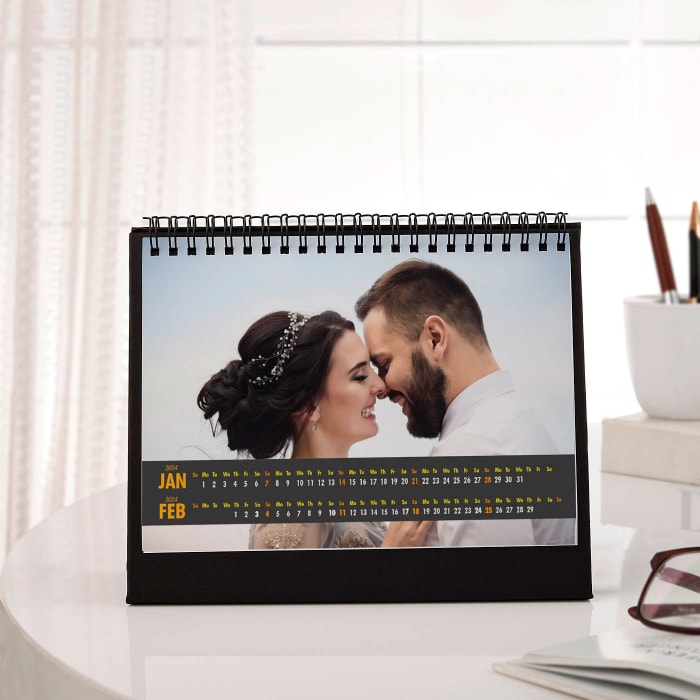 Among the Best New Year Gift Ideas, this one's at the top of our list. A New Year Personalized Calendar makes for an amazing gift, and it's super useful too! It serves as a calendar and collection of your best photos together.
Add some kickass motivational quotes and you are good to go. This spiral-bound table calendar with landscape pictures for every two months is a good accessory for your tables and shelves. Let your pictures do the talking!
Personalized Metal Keychain with Faux Leather Strap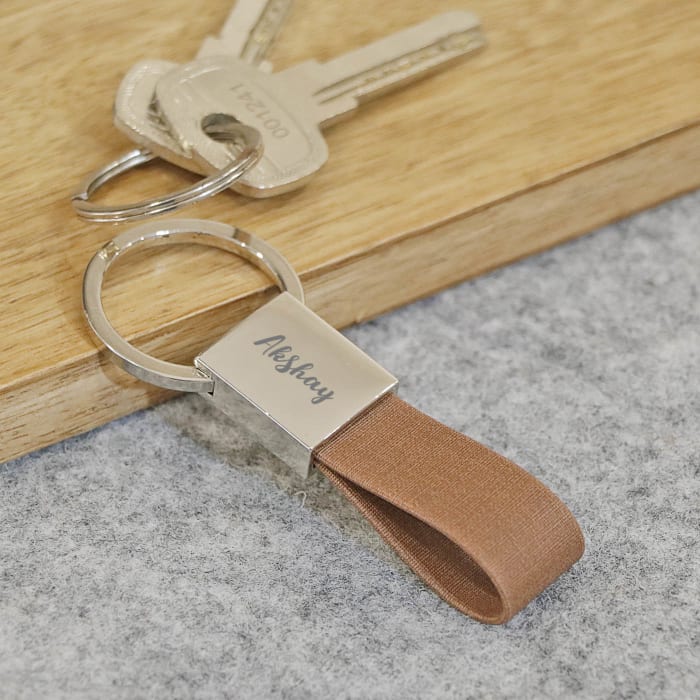 An important accessory of daily use in any adult's life is a keychain with several keys dangling from it. Many times, we do not find the best keychains for this purpose so we resort to using just anything to keep our keys together.
This Personalized name-printed Metal Keychain with Faux Leather Strap is a stylish choice, and totally apt to keep your keys safe and organized. Besides, it looks classy too!
Personalised Family Themed Wooden Keyholder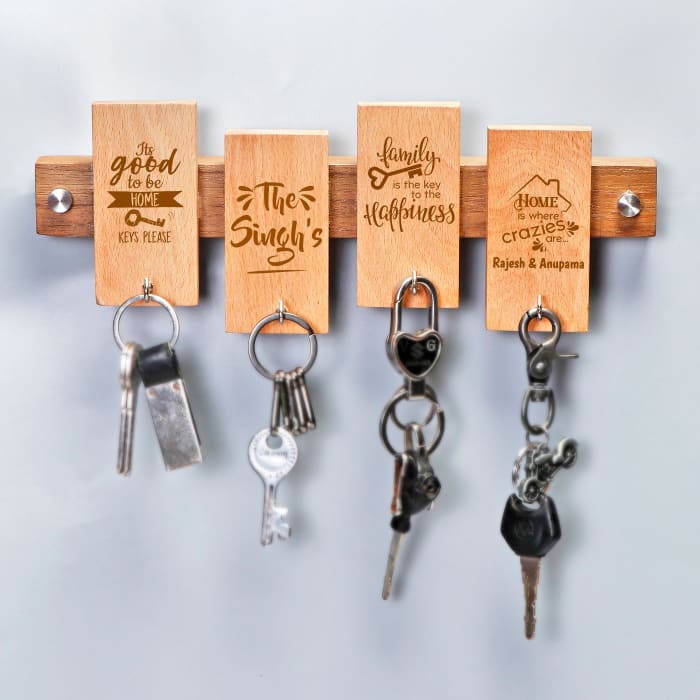 Talking about keys, this Personalised Family Themed Wooden Keyholder is an essential item for every household. Whether you buy it for yourself or give it as a new year's gift to others, this keyholder will surely be put to use.
Great for organizing keys, jewellery, trinkets and hanging small items (You can also add surnames for a personal touch) It's a perfect gift for the new year, when the family gets together.
New Year Personalized Chessboard Wine Kit
From the plethora of Happy New Year Gifts Online, I found this exclusive piece of New Year Personalized Chessboard Wine Kit, extremely classy to keep or gift to a wine and chess lover.
The premium wine tool set housed in a checkerboard box sets the perfect canvas for the party & serves as an interesting addition to the barware.
Personalized Ferrero Rocher Chocolate 16 Pcs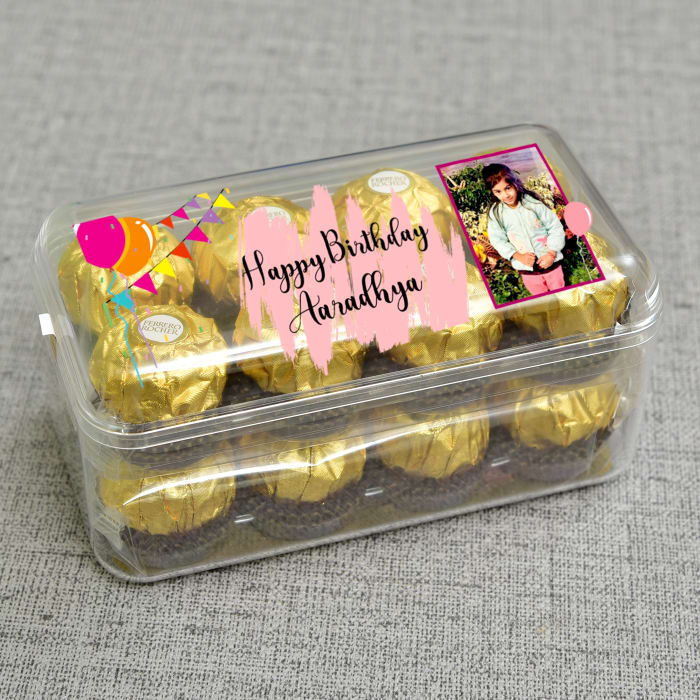 Calling out to all the Ferrero Rocher lovers out there! This new year get your hands on this customized New Year Special 24 Pcs. Ferrero Rocher pack and send new year wishes to your loved ones in the sweetest way.
The customized 'Happy New Year' print with colorful balloons makes the chocolates look even more appealing.
Dreamcatcher Inspired Oxidized Anklet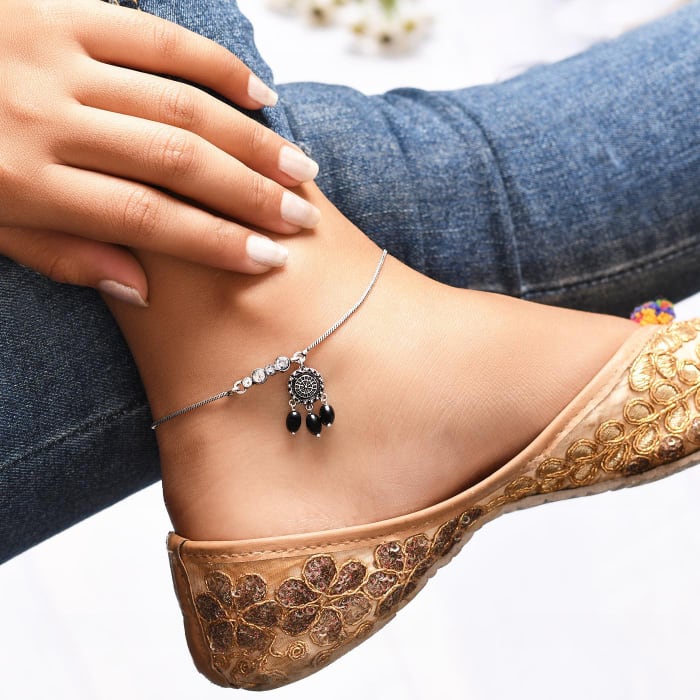 Dreamcatchers are said to ward off bad dreams. They are beautiful, trending and here to stay!  This Dreamcatcher Inspired Oxidized Anklet is a great gift to someone stylish and experimental.
With a beautiful mandala charm and 3 black bead danglers, it is a dreamy piece to own. This makes an apt gift for young ambitious girls who dream big.
Cool Dude Personalized Caricature
A fun gift to give this new year is a Personalized Caricature like the one in this picture. It's apt for your home or office space, adding a quirky and vibrant touch to your workplace.  Give this to the coolest dude you know and start their year on a happy note.