Light. Hope. Positivity. Three words to sum up the spirit of Diwali. And at a time when the world needs hope, Diwali 2021 will be a welcome respite. Full of energy and togetherness. No wonder then, it is a festival most loved. You witness joy in every neighborhood. The smell of fresh mithai fills the air. And the bustle around, is truly one-of-a-kind. 
The Diwali date for this year is 4th of November but as you already know, this celebration is carried across 5 days. Beginning with Dhanteras followed by Naraka Chaturdashi, Lakshmi Puja, Govardhan Puja and Balipratipada (Padwa) and concluding with Bhai Dooj and Vishwakarma Puja. Each of them observing their own traditions. Families and friends prepare delectable feasts, illuminate their homes and pray to the ancient Gods. And of course, no festival is complete without an exchange of thoughtful yet fabulous gifts. 
Now that you're reminded of your shopping list, don't worry, we got you covered. With a festive-edit range of products, that will brighten your festival and up your diwali gifting game. 
Celebrate this Diwali with IGP.
Apne Liye. Apno Ke Liye.
DIWALI ESSENTIALS
Diyas For Love and Light
They say a Diya is enough to weaken the negativity in your homes. This Diwali, choose from a range of Designer Diyas moulded to make this festival of lights, a tad brighter and a lot more positive. 
Gracious Ganesh Laxmi Idols 
Decorating your puja ghar to welcome Lord Ganesha and Goddess Parvati is not just a tradition but an inspiration of hope, love and joy. So go ahead, choose to bring home deities and add to the auspicious aura of this festival. 
Wholesome Puja Essentials 
Be it your own home or your puja ghar, you spare no attempt to adorn it with the prettiest pieces. Giving them the much needed festive fervor it deserves. And we bring you an exciting list of products for you and your loved ones.
No feast without sweets
Diwali is all about full-filling your mithai cravings and getting a bite of all that delicious food. Don't even try to deny it, we know. Which is why we have curated a mix of mouth-watering and healthy sweets that satisfy your sweet tooth. Now order online at your convenience. 
Diwali is almost here, and you know what that means, right? Family gatherings, carrying out traditional pujas, lighting up your home, and endless fun and frolic! October brings with it a special festive feeling, one that most of us eagerly await all through the year. Besides, let's not forget that this season also grants us a guilt-free pass to shop till we drop! 
From organizing get-togethers, to purchasing new clothes, picking out interesting home decor items, diyas, rangolis, putting together a menu — most of our to-do lists are endless! And with so much to tick off our checklist, it's truly a boon that IGP.com ensures the happiness of gifting is enjoyable, and not a tiresome task! 
If it's your first Diwali with your 'dil-wali' or yet another reunion with your near and dear ones, IGP.com has gifting options for everyone! What's more, there's a variety of online Diwali gifts ideas that have been created with a whole lot of love, to make sure your heartfelt wishes are conveyed effectively. 
Check out our exciting range of Diwali hamper boxes and place your order on time! That'll be one major tick of your checklist, atleast…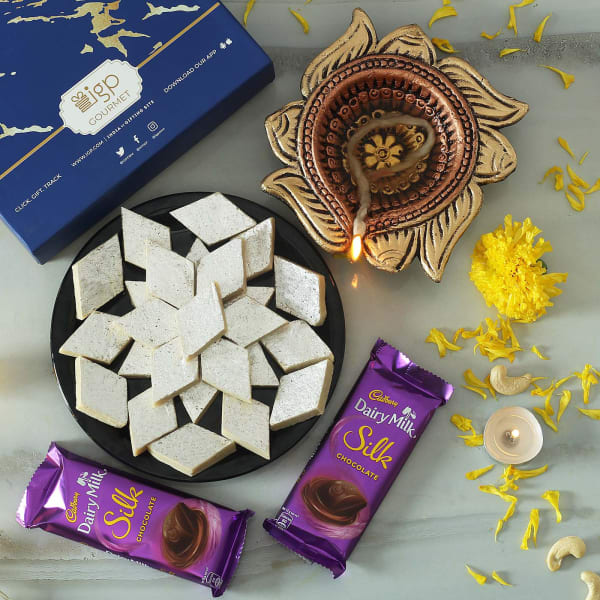 Who doesn't love Kaju Katli ? It's that perfect gift, and that highly-craved sugar rush for anyone with a sweet tooth! With the mouth watering pairing with Dairy Milk Silk bars, and a beautiful swastik diya; this one makes for one of the most classic diwali gift hampers of all time!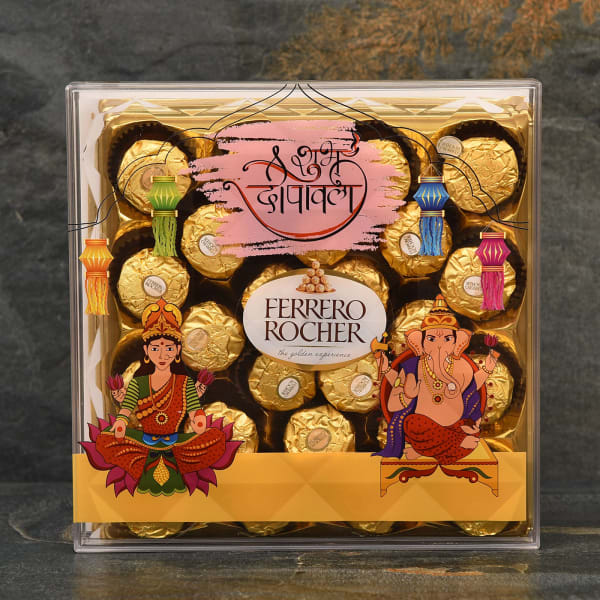 Shout out to all the Ferrero Rocher crazy lovers – Why just buy an ordinary box of these sinful treats when you can get a customized Diwali gift hamper of the same? This special pack is going to sweeten your days and satisfy your soul. Go ahead and indulge in the joy of giving… or maybe even keep a box for yourself? You decide.
While many traditions may fade away, somehow the Diwali staple – Soan Papdi, still has a special place in each one's house during this time. That makes this melt-in-the-mouth mithai a guaranteed hit when it comes to gifting. Adding to the sweetness and joy, IGP.com has paired the Soan Papdi with a intricately beautiful set of handmade diyas. Now that's a match made in heaven!

Confused about what to gift your relatives for Diwali? You can't go wrong with this one
It's the perfect time to give this heavenly pairing of Lakshmi ji and Ganesh ji idols, complemented with tempting Kaju Katlis, colorful handcrafted clay Diyas and even a small puja kit, to get things rolling. This thoughtful gift is a bestseller among our online diwali gift hampers!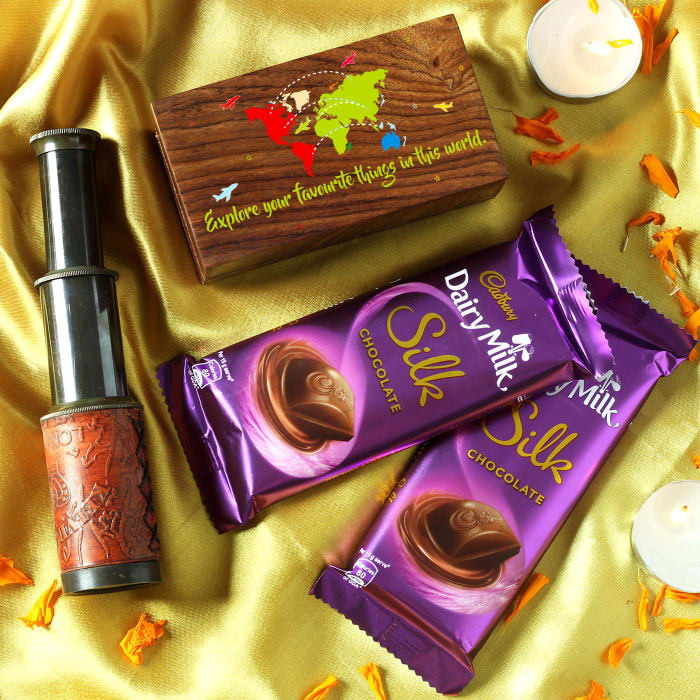 Away from home but want to make your presence felt this Diwali? We have the most meaningful  Diwali gift hampers online. If you're looking to give your loved ones something truly memorable, go for our out-of-the-box hamper that comes with a customized vintage telescope in a wooden box, along with Dairy Milk Silk chocolates. We assure you that this hamper will surely bring a broad smile to your loved one's face.
Categories: Diwali Gifts