There's something special about Diwali decorations. Be enhancing your homes or coming up with elegant Diwali decoration ideas for the office, there's always excitement and cheer in every corner. Which is why, families and friends never miss out on the opportunity to hand-pick items that add a touch of vibrancy and positivity to their space.
Now, we know what you're thinking. Diwali decorations are great but the hassle to physically go and pick out items for your home, not so much. Which is why IGP is here with a variety of traditional Diwali decorations for you. That too from the comfort of your home. So that you get to skip the hassles and simply wait for your decorations to arrive.
This Diwali, celebrate with IGP.
Apne Liye. Apno Ke Liye.
Here's a list of DIY Diwali decoration ideas, crafted especially for you.
Beautiful Torans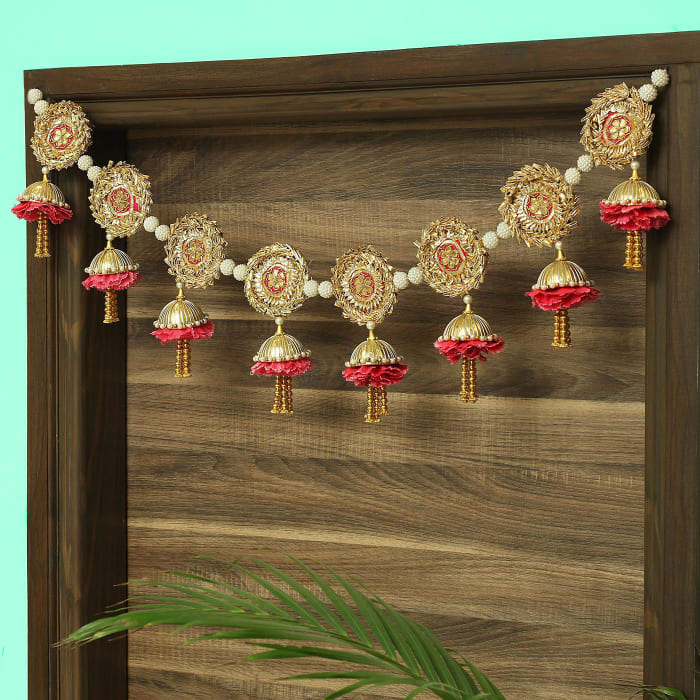 During Diwali, every door represents an invitation to Goddess Laxmi and all the love, luck and wealth she brings along. So it's only fair for you to adorn the gateways to your homes and offices with the best toran designs. Choose from a wide variety of embellished Torans with beadwork, pompoms, artificial flowers and more. And let the family fun to decorate homes begin!
Enlightening Diyas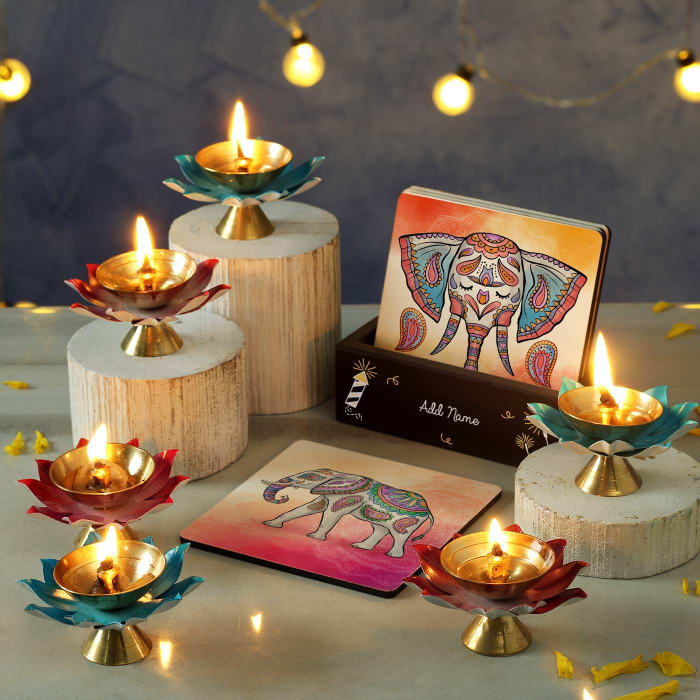 A Diya not only spreads light but marks the celebration of Diwali. Each year, people get busy spreading diyas across their homes and offices to illuminate any negativity and darkness that surrounds. So we bring to you a long-list of designer Diyas to choose from. Take your pick. Metal diyas with gotawork, clay Diyas or hand-painted Diyas. Each of them are sure to complement the festive fervor.
Creative Rangolis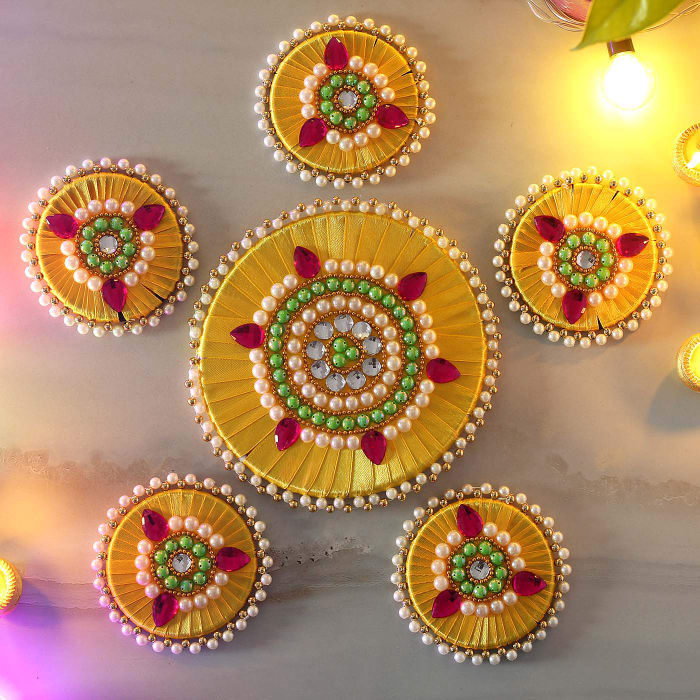 There's a charm in families getting together to create artistic Rangoli for Diwali. Their strong bond and happiness fills the air with positivity. And makes their home more vibrant. We have a range of colorful Rangoli ideas that you can use for the entrance to your homes and office or as tabletops to enhance the interiors. With pompoms, Patchwork, Minakari work and more, these DIY Rangoli kits will really get your festive spirit on.
Rangoli. A blend of colors and creativity, it enhances the Diwali spirit. Each year, families get together to create unique Diwali special Rangoli that adds a fun, vibrant and positive aura in and around their house.
Originally an art form born in the Indian subcontinent, Rangoli designs are patterns created on the floor using coloured powder and rocks. Even flower rangoli made with petals is pretty. It's almost like a tradition that is passed down generations, keeping the art form and ritual alive.
The symbolism of a Rangoli is to represent joy, exuberance and positivity in the household. A common belief says that in the presence of beautiful rangoli designs, Goddess Laxmi enters the house with all her wealth, luck, wisdom and goodwill. Brightening up homes and the festive fervour altogether.
Which is why IGP brings to you, latest Rangoli designs and creative Rangoli ideas that not only enhances the entrance to your doors but adds a touch of charm and artistry to the overall festive look of your home.
Here are some unique Rangoli design ideas for Diwali:
Rangoli with Meenakari Work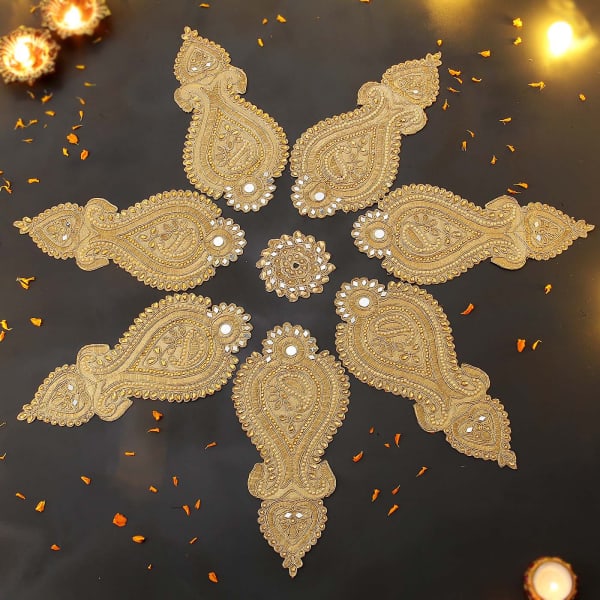 Inspired by the traditions of Rangoli, this Rajasthani Minakari design is a perfect complement to your homes. With its vivid green and red colours, it adds a different touch to your home and complements your festive decor.
Embroidered patch DIY Rangoli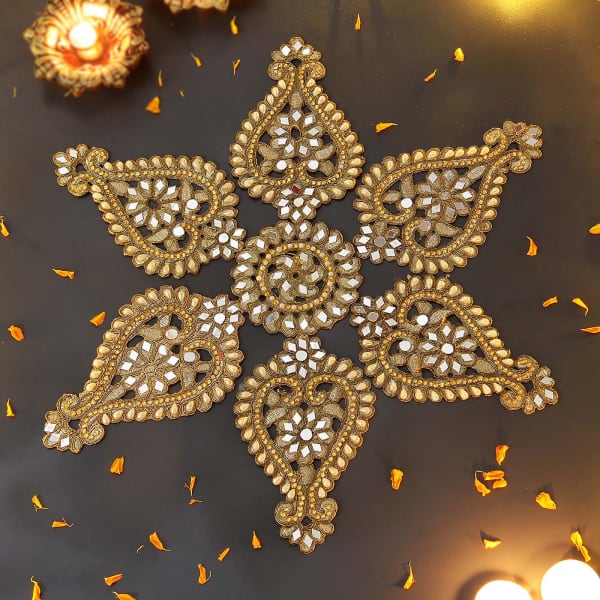 A set of 8, this Diwali enjoy some DIY Rangoli. Play around with the patterns and let your creativity out. Embellished with mirror work, the design is perfect to make a festive statement.
Peacock Urli with DIY Rangoli Set and T-Lights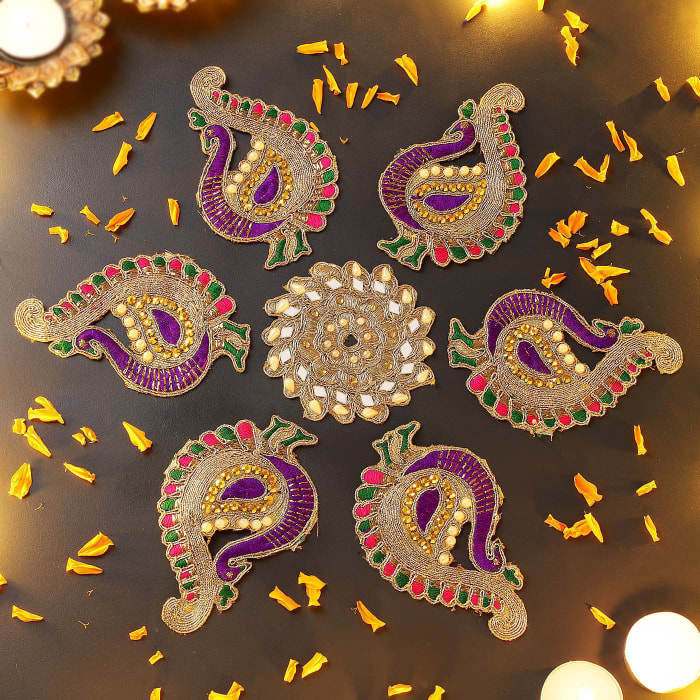 This metal Urli set comes with 10 T-lights and a DIY mirror work rangoli set. As illuminating as it sounds, it adds a touch of grandeur to your Diwali celebrations.
Designer Pom Pom Work Rangoli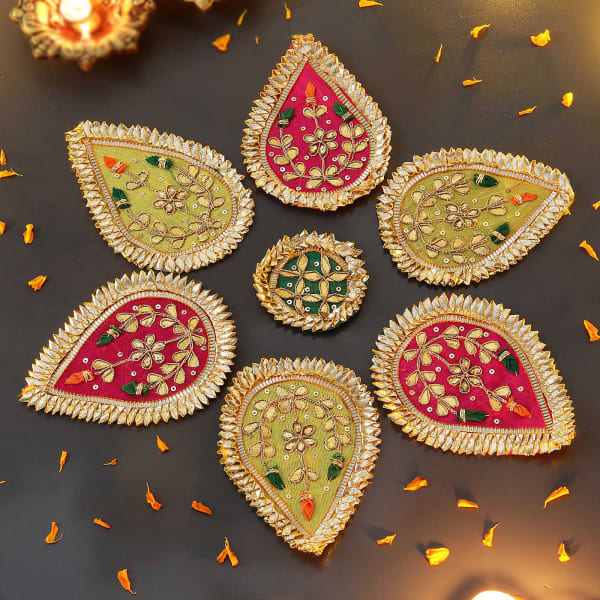 What if we say, we have a Rangoli design that will go well with any corner of your house? Try the pom pom work rangoli and adorn festivities with a pop of colour. Place it in your puja room or as a table top, it's sure to leave a lasting statement.
Categories: Diwali Gifts