Bura na mano holi hai!! Soon the air will be filled with cries of this mass favourite slogan and people will unmercifully be splashed with all kinds of colours. Holi is perhaps the only festival that removes all kinds of a distinction between people.
It makes everyone, be it of any religion, gender, background look the same- colourful and happy. Before we get to the topic of Holi gift, first let us know more about the festival.
Did You Know?
Holi is celebrated on the full moon day in the month of phalgun, which either falls on February or March every year. The arrival of the festival means the departure of the winter season.
We are all aware of Holika, the sister of demon king Hiranyakashipu and how she tried to burn down his son, the Lord Vishnu devotee Prahalad. But instead of Prahalad, it was Holika who met her death.
This event came to be known as Holika Dahan and is celebrated a day before Holi with the burning of woods. But why is it known as the festival of colours? Eventually, to celebrate the victory of good over evil in a grander way, people started playing with colours a day after Holika Dahan.
This festival is not only a revered one here in India but also all over the world. People of Indian origin living abroad have made it well-known to the non-Indians in the country and subsequently around the globe.
For people brought up outside India's soil, the festival holds great intrigue like many things about India does.
They, along with their fellow Indians, enthusiastically celebrate the festival of colours, giving another example of how this festival makes all of us come together despite our different backgrounds.
Why Should You Gift on Holi?
Be it Holi or any other festival in India, gifting plays a very important role. Gifts are credited for bringing relations closer and starting a non-spoken conversation between two or more unknown people. Gifts are what make a joyous occasion more celebratory.
If you are one of those, who cannot be with their family and friends on this Holi, spare some moments online and make their festival more special.
You can send a range of personalized gifts online starting from branded sweets and namkens made of desi ghee, superior quality sprays and guns for the kids of the house, holibhaidooj tikka to your dear brother to protect him from all evil forces, gujiyathandai gift hampers, holi apparel such as kurtis, t-shirt, kurtas and so on.
11 Holi Hampers Online
So are you ready to look colorful and happy and gift little boxes of joys this Holi? IGP brings you some of the most fascinating and high on spirits gifts for your Holi celebrations with one and all.
Keep scrolling and find 11 Holi gifts you would not want to miss giving your dear ones or yourself.
Cashews Almonds with Holi Gulal and Wooden Embossed Box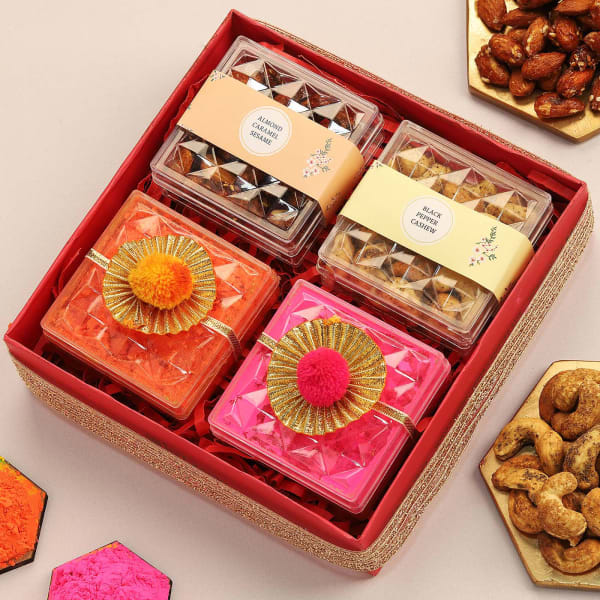 Yellow and pink gulal are a huge hit among people for Holi. Along with the colours, this Holi gift also has dry fruits in a wooden embossed box (isn't it cute? :o). Give it to your neighbours, distant relatives or friends and wish them a very happy Holi.
Holi Gulal with Soan Papdi and Kaju Katli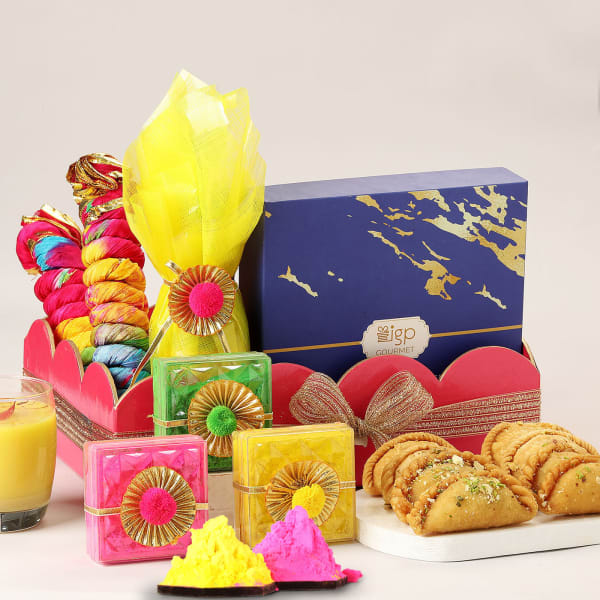 If it's a festival, sweets are a must. Why not include them in your gift as well? This delightful combination is sure to be loved by anyone.
Gulab Jamun with Holi Color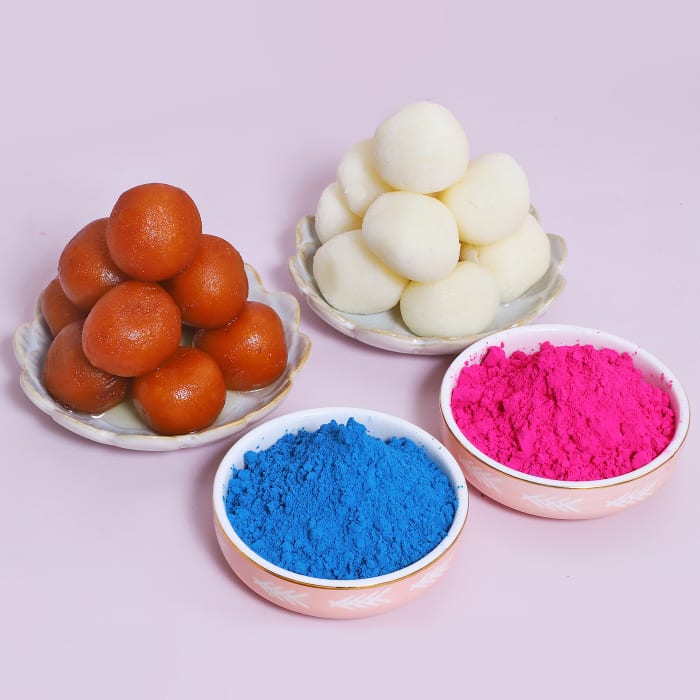 Want to make this Holi a memorable one for someone who is not so privileged in life? This hamper of Gulab Jamun from Kanha and yellow and pink gulal will bring a smile on the person's face and extend the warmth you feel towards him/her.
Tempting Gujiya with Mewa Kachori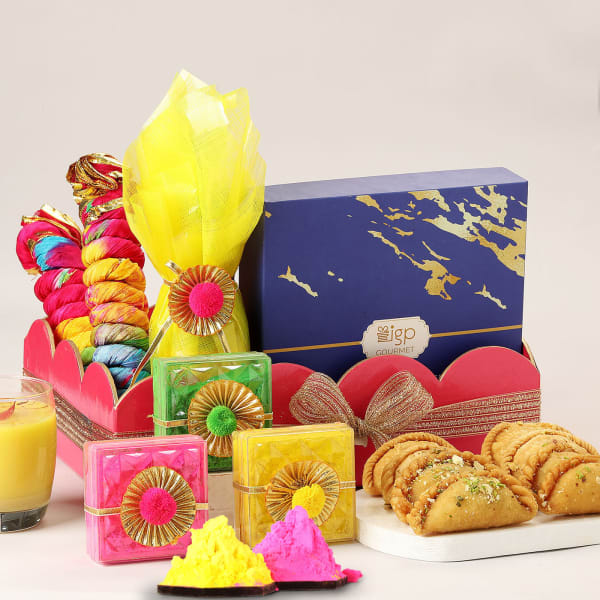 Your faraway living loved ones won't be able to join you for this year's Holi celebrations? Then delight them with this Holi combo of delicious traditional delights. This traditional Indian sweets combination will make them feel like they are celebrating with you.
Holi Gulal with Kaju Katli and Haldiram Namkeen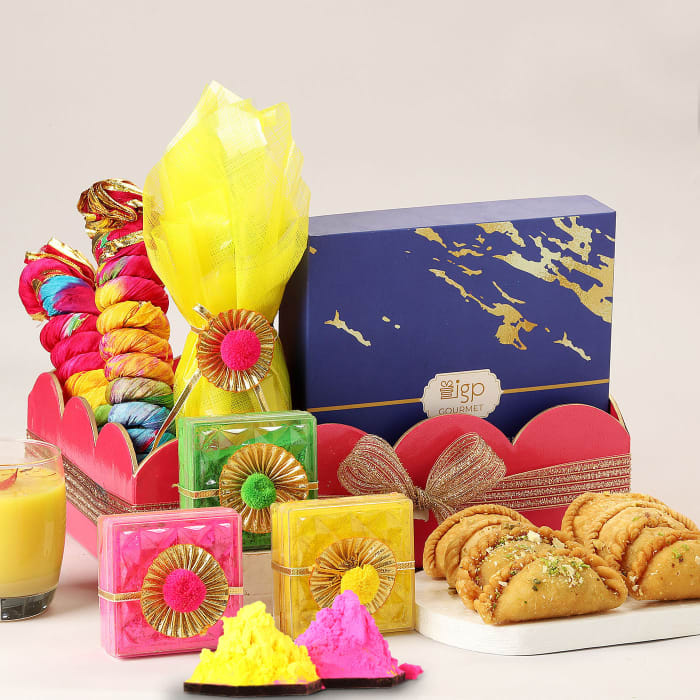 We don't know anyone, whether with sweet sensitivity or no, to decline a tempting plate of Kaju katli or namkeen during the festival. So get this happy Holi gift of both the treats along with gulal combos for yourself or your loved ones to celebrate the occasion.
Gujiya and Namkeen with Holi Gulal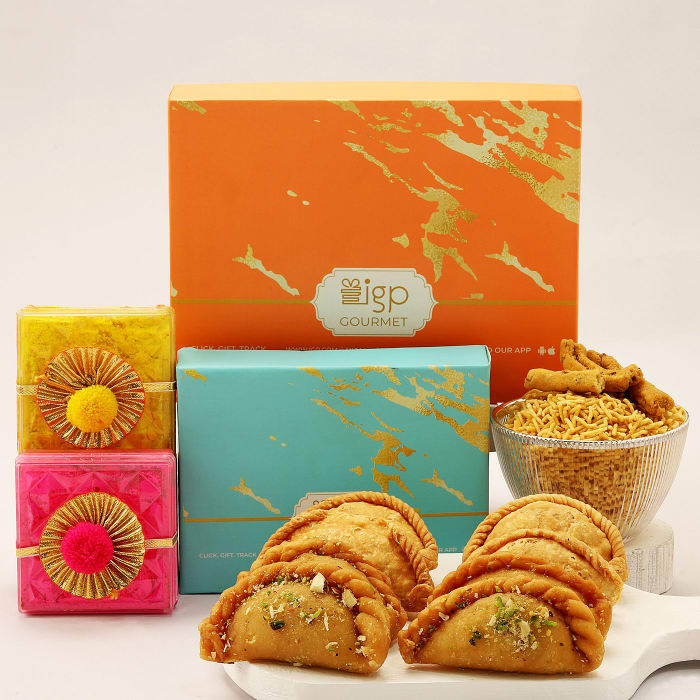 Never sent a Holi gift before? Well, that wasn't a reprimanding question but an inquisitive one. If this year, Holi gift ideas are on your mind, then why not cut the ribbon on gift giving for the occasion with a grand one? This rich hamper of kesari pagi gujias and roasted dry fruits with pink and yellow gulal is the perfect pick to surprise your loved ones with.
Holi Gulal and Spray Combo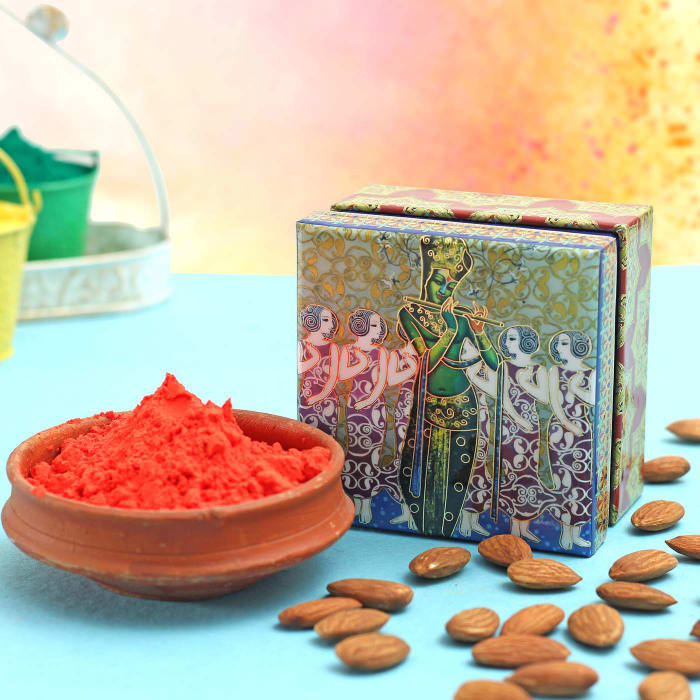 Are you planning to surprise children with a gift this Holi? Then you have to get them one that lets them be devilishly mischievous. This gift contains yellow and pink gulal with perfumed sprays. And might we add? Take care to not let all the adults know it was you who gifted it to the kids 😉
Kesar Gujiya with Holi Hamper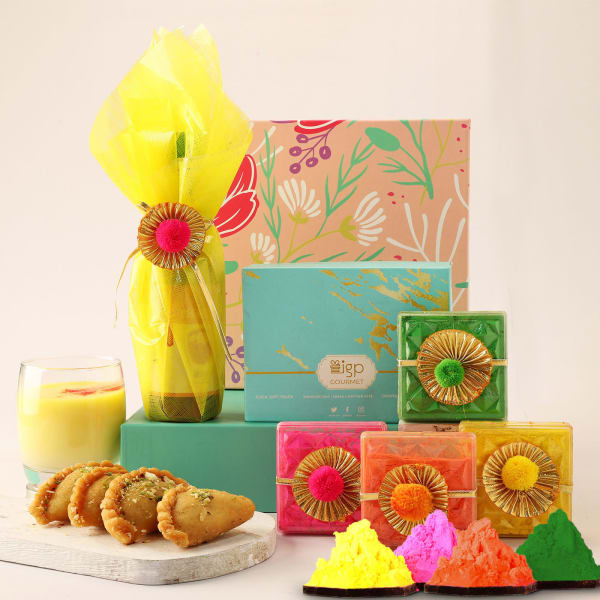 Another great Holi gift you can plan for your or your loved ones' kids. It has kesar gujia in a round box with silk gulal and gun pichkari.
Khoya Gujiya in Gift Box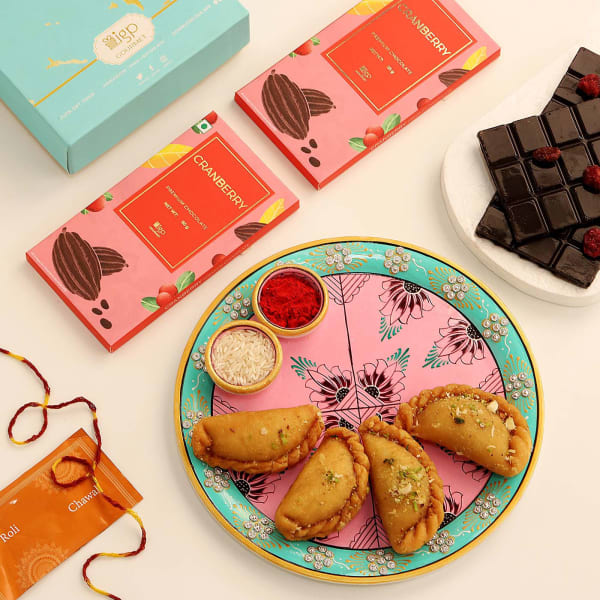 Know someone who has been waiting for Holi for a long time? And it's not because of the excitement of playing with colours but gorging on gujias! Give your gujia craving loved one a Happy Holi surprise with this khoya gujia gift pack.
Gujiya and Chocolate Combo with Holi Gulal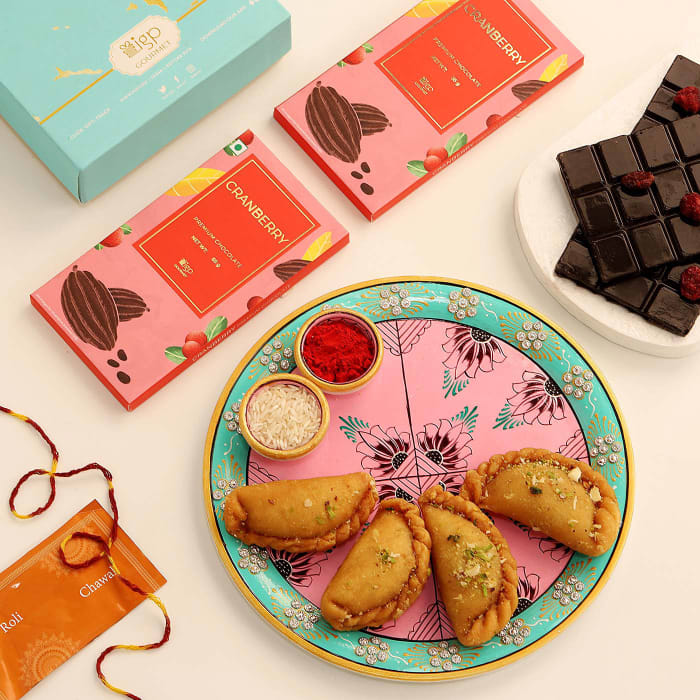 Your loved one can never have enough of chocolates, mithais and colours on Holi. Guess what? We have packed all three in one Holi gift hamper for your dear one. IGP specializes in such gifts- that are completely readymade but don't feel so to the recipient.
Holi Colors Combo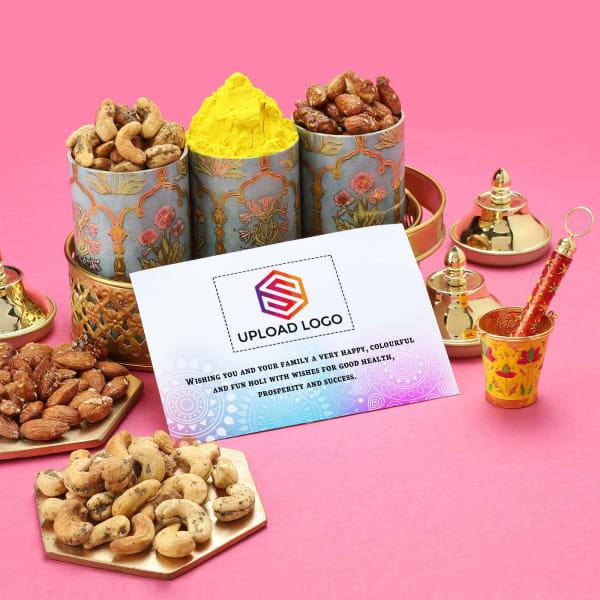 This one is for your loved one whose Holi celebrations start early in the morning and end late in the night.
This Holi gift features gulal, watercolors and balloons, guns, etc. for a complete masti wali Holi.
Also Read,
9 Ways to Celebrate a Safe and Eco-friendly Holi
Holi Gifts Ideas for Employees