Fathers Day Gifts, Under 500 Rupees
Father's Day is a special occasion to honor and appreciate the fathers in our lives and Finding the perfect Father's Day gift under 500 rupees can be a fun and thoughtful way to celebrate your dad.
Here are some affordable gift ideas that he will surely appreciate:
Father's Day Personalized Jabardast Papa Caricature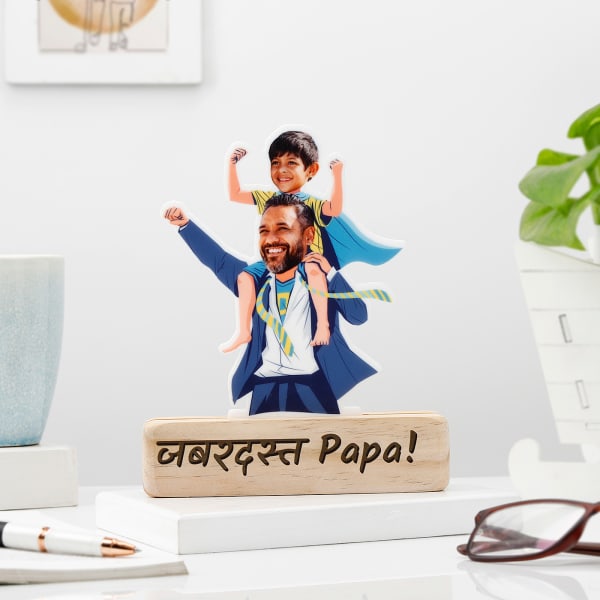 Relive your childhood memories together with this caricature featuring a father carrying his son on his shoulder. The wooden stand that holds the acrylic caricature features the words Jabardast Papa and keeps it sturdy when placed on a table.
Personalize the caricature with pictures of you and your dad, and cherish the times you travelled the world on your dad's shoulder.
Personalized No 1 Papa Mug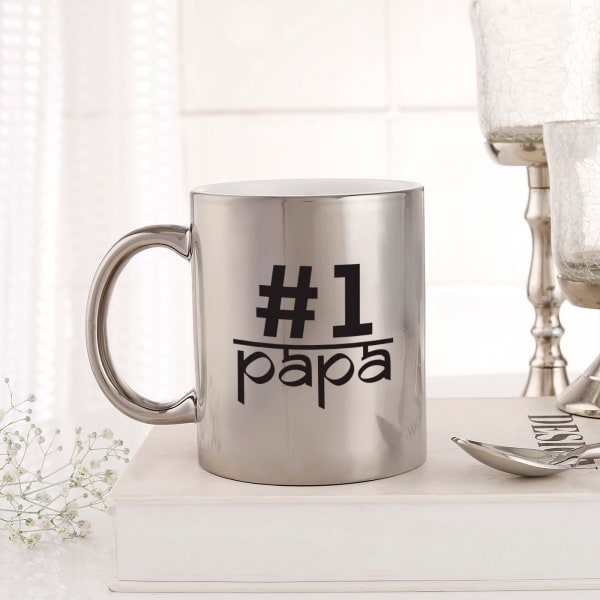 Celebrating the legend in our lives. Crafted from high-quality ceramic material this mug has a superb silver finish and is built to last. It is the perfect gift that your dad can use daily. This lovely mug features the words No 1 Papa written on it stylishly.
Personalize the mug by adding a name and giving it a unique touch. Gift this to your dad and put him in a happy mood whenever he enjoys his favourite hot beverage in it.
Pen And Cartridge Gift Box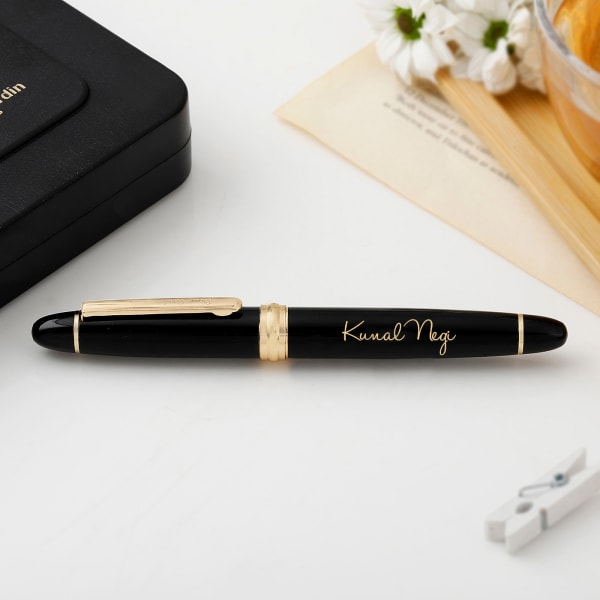 This snap closure gift box holds a premium pen with metallic black finish and gold-toned detailing. The pen has a blue ink cartridge and comes with 3 extra ink cartridges. Personalize with a name.
Money Plant in a Baby Groot Planter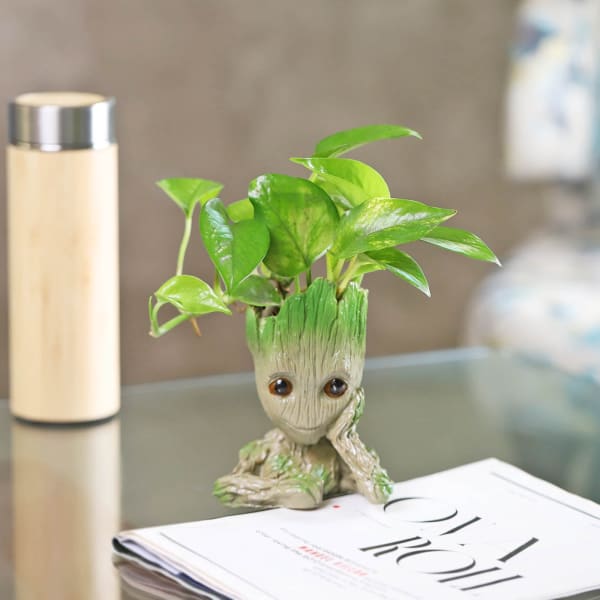 Surprise your loved ones with a gift that they will cherish for years to come. This money plant will bring them prosperity and financial abundance. It will also add some positivity and a touch of green goodness to their home or office.
Time To Shine Personalized Hourglass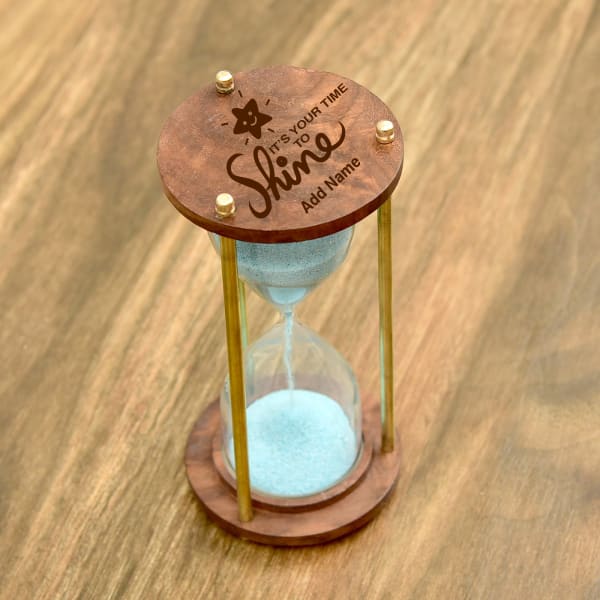 A perfect gift for someone who is fond of unique collectibles, this hourglass has a motivational quote on it and can be personalized with a name. The sheesham wood top and bottom pieces add a touch of class. The structure is well supported with brass rods.
Father's Day Floral Fushion Bouquet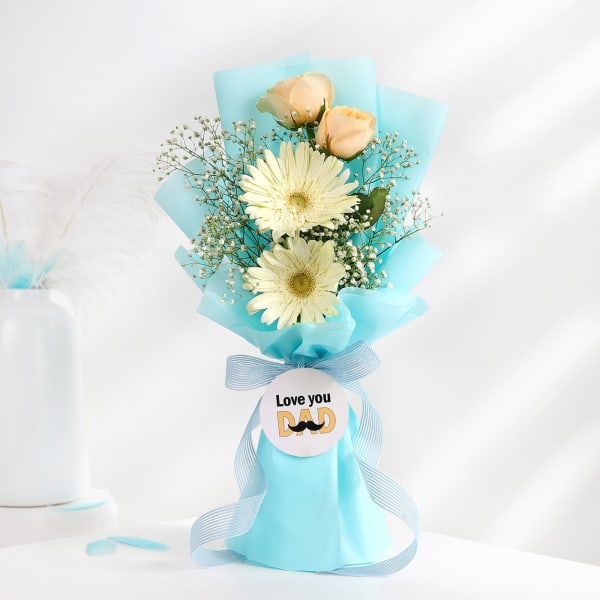 Strengthen the bond between you and your dad with these beautiful blooms. This stunning bouquet features a gorgeous assortment of exotic white gerberas and roses hand-selected and arranged by our expert florists.
An accompanying tag that says Love You Dad makes it even more special. This lovely bouquet is the perfect way to show some love and affection to your dad.
Black Leather Wallet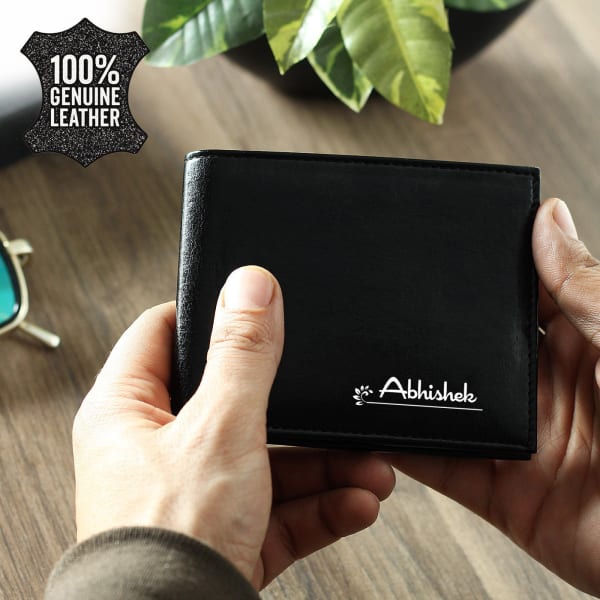 Keep your belongings safe in this stylish Leather Wallet in Elegant Black. It will complement your attire as a stylish accessory to carry around.
Perfect to store your Credit and ATM Cards alongside Cash as it has ample space. Personalize it with a name so that it always finds its way back to you.
Father's Day Pearls And Petals Mini Cake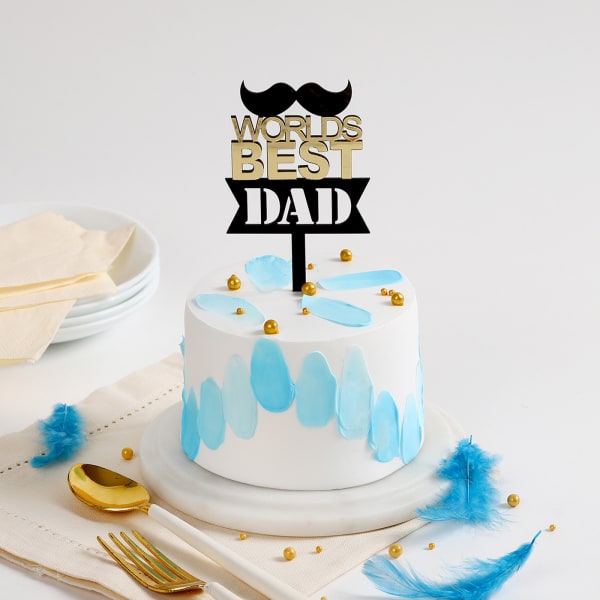 Celebrate Father's Day with this delicious cake. Made with the finest ingredients, this mini cake is baked to perfection and has a soft and moist texture that will delight your taste buds.
The cake is decorated with edible golden pearls and blue-coloured decorations on the top and sides. Each bite of this cake is a delightful explosion of flavour that will transport your dad to paradise. An accompanying acrylic tag that says World's Best Dad makes this cake even more special.
Photo Pop-Up Box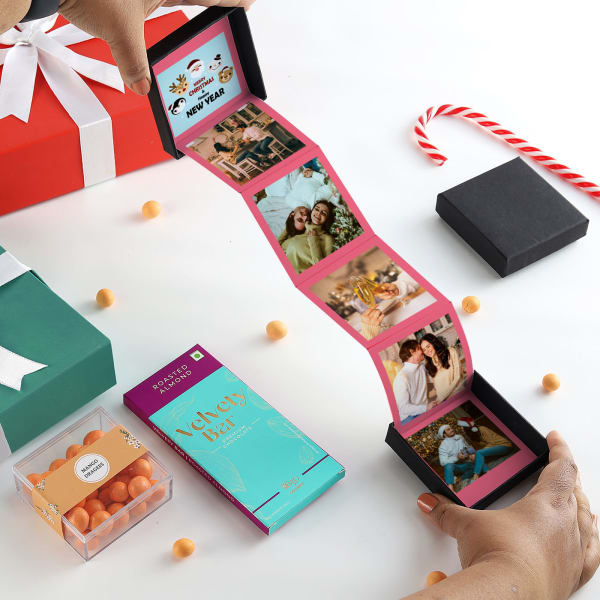 Send wishes and memories for a great festive season to your friends and family with this Pop-Up box. Personalize with five pictures printed on high quality photo paper. The box itself is handmade using eco-friendly paper.
 Men's Cuff Bracelet – Matte Silver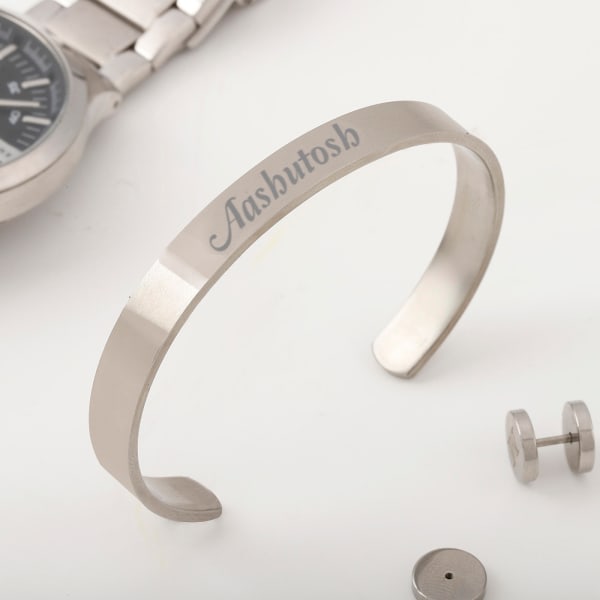 Modern men love to accessorize. Add a personal touch to your daily accessorising with this cuff bracelet. The stainless steel bracelet is silver plated and has a matte finish.
Gift it to the loving men in your life on their special day with their name displayed on the centre of the band.
Personalized Father Caricature Gift
Aren't all dads amazing superhumans who can manage to do endless tasks effortlessly? Gift your papa this personalized caricature for father's day and watch his face light up.
This is not only a great gift for father's day or dad's birthday, but for any day when you feel like showing him love.
We Love You Papa Pillow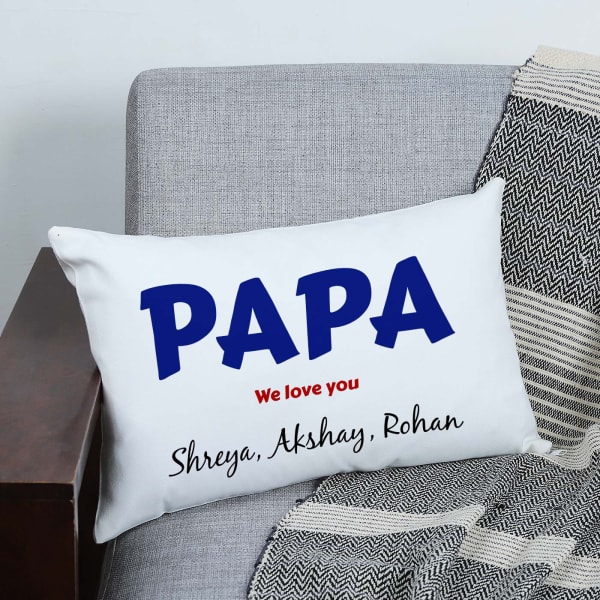 Papa is synonymous with comfort and what's more comfortable than a soft plush pillow? This rectangular pillow will look adorable on his living room couch or even in the bedroom.
Add 3 names to make it a super special memento for Papa.
Wooden Spectacles Holder with Mug & Coaster for Father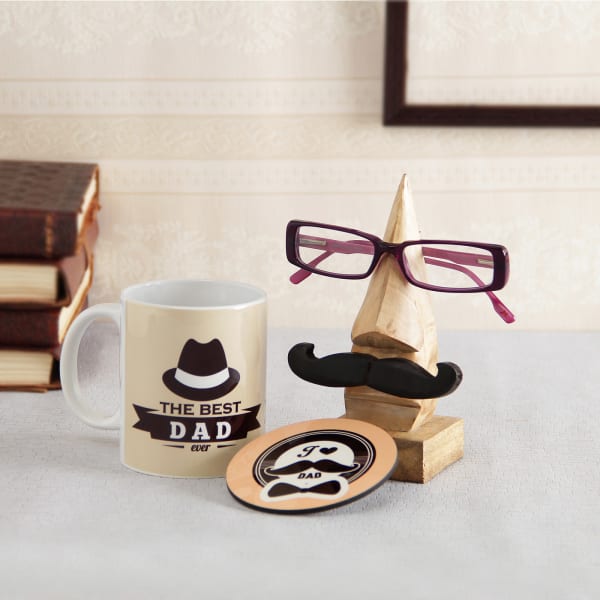 He led you for years and decades. He helped you out in every thick and thin of life. Express the regards in return by presenting this wooden spectacles holder with a mug and coaster set to your father.
Daddy Love Personalized Wooden Photo Frame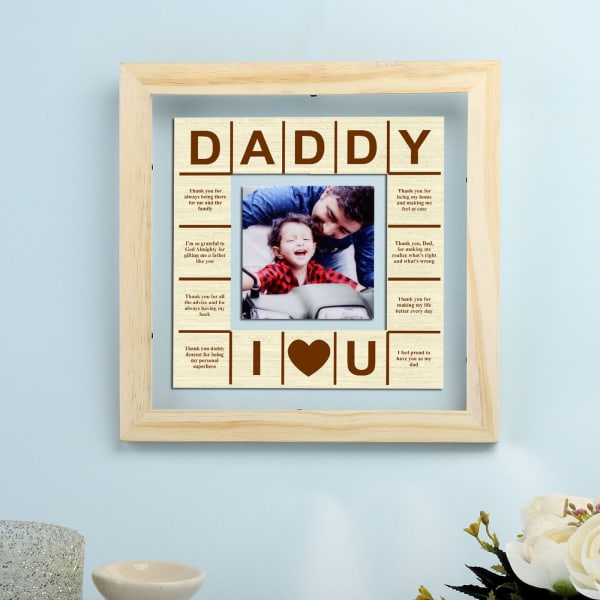 How do you thank an omnipresent person in your life? The one who stands by you through thick and thin.This lovely wooden photo frame does it all for you.
Personalize it with an adorable photo of you and dad in the centre and give any wall of your home a touch of love.
Radio Style Phone Amplifier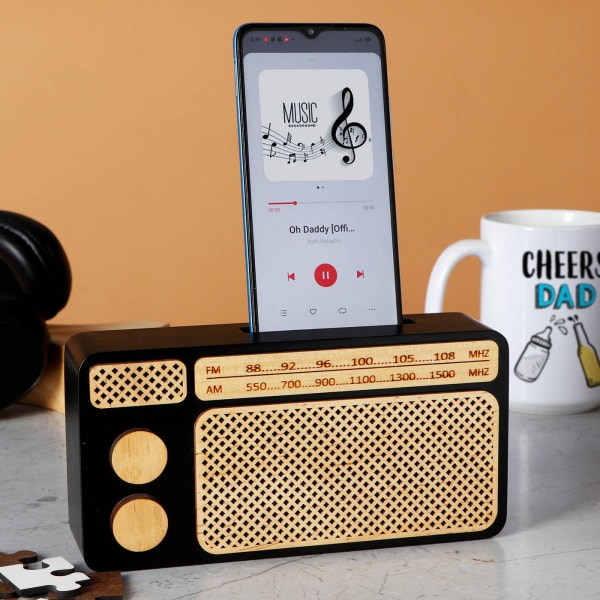 Modern phones have all the apps for music, but old timers still love their radios. Get the best of both worlds with this radio style amplifier.
The brown and beige amplifier gives the feel of an antique radio while giving amazing acoustics. The slot on top can hold all smart phones comfortably.